Looking for things to do in Melbourne this September, fellow food lovers? Then look no further. We've popped our favourite Melbourne restaurants and bars on speed dial to find out the best foodie events around town this September. From Father's Day feasts to Snickers bar desserts, you can wait 'til next month to start that beach body diet…
Sibley Signatures 1997 – 2014 at Prix Fixe
Hold on to your hats, Melbourne foodies. This September, things are taking a retrospective turn at Prix Fixe, Melbourne's ticketed dining sensation. The menu will feature some of acclaimed chef, Philippa Sibley's most well-loved dishes, including truffled quail and THAT 'Snickers' dessert. A word to the wise? Book now, cos this bad boy will be that popular.
Sibley Signatures | Throughout September
Prix Fixe in Melbourne CBD
Lunch $49pp 2 courses & glass of wine / $65pp 3 courses & glass of wine
Dinner $89 pp 4 courses
To book, visit the website

Penfolds Re-Corking Clinic
If you're the kind of fancy pants reader with your own cellar, this one's for you! The Penfolds team are running a complimentary series of wine 'health checks' at Crown Metropol from Tuesday 2nd to Thursday 4th September. At these re-corking clinics, the lucky owners of Penfolds wines aged 15 years and over can have their winey wares inspected and assessed by the winemaking team as part of a national clinic tour. Penfolds winemakers will review each bottle and, if necessary, open and visually inspect customers' wine, assess the quality, top up, certify, and re-capsule their beloved bottles of top-notch plonk. All bottles that are re-capsuled will be certified and signed by the winemaker, before being valued by leading Australian wine auction company, Langtons.
Penfolds Re-Corking Clinic | Tuesday 2nd – Thursday 4th September
Crown Metropol in Southbank
Free for owners of Penfolds wines 15 years of age +
To register, visit the website or call 1300 651 650. Bookings essential.

James Halliday Wine of the Year Dinner
Set in a funky pop-up hexadome supplied by the Arts Centre, sit back and sip on some high-quality vino while celebrating James Halliday's Wine of the Year Dinner. Winemaker, Brendan Carr will take guests through the winner (Margaret River's Xanadu 2011 Stevens Road Cabernet Sauvignon) and other highly awarded reserve wines, with a degustation to match. Chosen from over 9,000 wines, all the hard work is done for you. A must attend for serious Melbourne wine lovers.
James Halliday Wine of the Year Dinner | Wednesday 3rd September
Hexadome, Melbourne Arts Centre Forecourt
$120 pp for five course degustation with matched wines
For tickets, email
O.MY Dessert Degustation
Dessert lovers of Melbourne – you're in for an absolute treat! One of Victoria's finest restaurants, O.MY, is hosting a delectable 7-course dessert degustation dinner this Wednesday night. Housed in a charming heritage butcher shop in Beaconsfield, this fine dining restaurant likes to keep things close to home, using only the best seasonal produce picked straight from their garden. This seed-to-plate philosophy is more than evident in Wednesday's dessert menu, with lively flavours like cucumber and sorrel, strawberries and burnet and rhubarb and watermelon paying tribute to the first days of spring. Frankly, we can't wait to sink our sweet teeth in!
Dessert Degustation | Wednesday 3rd September
O.MY in Beaconsfield
$75 per person
Editor's note: Unfortunately O.MY's dessert degustation has completely booked out - there's more to come, so watch this space!
Mr Meticulous Masterclass presents: Ora King Salmon X Tommy Collins
Fish fanatics, this one's for you. Join catering wunderkinds, Tommy Collins, for a pescavore-palooza at Ripponlea's, Hawk & Hunter. An interactive food experience, you'll be treated to canapés and a three-course sit-down fishy feast with matching Petaluma wines, prepared by Head Chef, Michael Fox. Ora King Salmon has been heralded as NZ's seafood version of Japanese Wagyu beef. We are so. There.
Mr Meticulous Masterclass presents: Ora King Salmon X Tommy Collins
Wednesday 3rd & Thursday 4th September at 7:00pm
Hawk & Hunter in Ripponlea
$90 for three-course dinner, wine matching and canapés
Click here for tickets

The 11th Annual Emirates Melbourne Cup Celebration Dinner at Grossi Florentino
What better way to celebrate the progression of the Melbourne Cup trophy than at a Melbourne favourite—Grossi Florentino. With racing media commentator, Jason Richardson MC-ing this celebratory occasion, diners can look forward to a classy 'lounge suit' kinda evening.
Emirates Melbourne Cup Celebration Dinner | Thursday 4th September at 7:00pm
Grossi Florentino Upstairs, Melbourne
$155pp for four courses with wines, includes champagne on arrival
To book please phone Maria or Jeanette on (03) 9662 1811 or email
Image Credit: The Smith
Yering Station Wine Dinner at The Smith
Here at TUL, if there's one thing we love as much (more?) than food, it's wine. So imagine our joy when we heard the friendly folks from Yering Station would be touting their vinous wares at a fancy pants dinner at one of Prahran's best restaurants, The Smith. Winemaker Willy Lunn will guide diners through an intimate look at Yering Station's portfolio, accompanying a five-course meal. Think a 2010 Pinot Noir, paired with house-smoked duck ham with poached quince and foie gras parfait. Oh, plus there's a cheese finale.
Yering Station Wine Dinner | Wednesday 10th September at 6:30pm
The Smith in Prahran
$145 pp for five courses plus wine matching
To book, call 9514 2444 or email

Myer Spring Fashion Lunch
Melbourne fashion lovers, rejoice! The annual ladies' luncheon is on again to celebrate the launch of the Spring Racing season in Melbourne. Brought to you by Myer and The Victorian Racing Club, this lovely luncheon at Flemington will include a Myer fashion parade showcasing the new Spring Racewear Collection. The lunch will be a two-course endeavour supplied by Peter Rowland, with live entertainment, gifts, and door prizes. Don't miss out on this chance to glam up!
Myer Spring Fashion Lunch | Wednesday 10th September 12:00pm - 3:30pm
The Atrium at Flemington Racecourse
$180 VRC members, $190 non members
For tickets, visit the website

Cherry Blossom Festival at Sake
Shaun Presland has designed an eight-course progressive dinner for Sake in Melbourne. The unique feature? It's inspired by cherry blossoms! Focusing on spring produce, and matched with sake, shochu, and tea, this delicious evening is bound to put some spring in your step. Hurry though, there are only twenty-four seats available for this tasty treat!
Cherry Blossom Dinner | Wednesday 10th September at 6pm
Sake Restaurant in Melbourne
$120 pp for eight courses matched with sake, shochu and tea
To book, visit the website

The Water of Life: The Humble Tumbler Whisky Course
Still looking for things to do in Melbourne? Well, you're in luck, because for three evenings in September, The Humble Tumbler in Fitzroy, is hosting a whisky short course. Whether you're a fan of Scotch, Irish, American, Japanese, or Australian whisky, you won't miss out. They're all covered in this jam-packed course! Written and hosted by Fred Siggins, these educational evenings mix together people, fun, whisky, and food—all on the rocks.
The Water of Life: The Humble Tumbler Whisky Course | Wednesday 10th, 17th & 24th September 6:30pm - 8:30pm
The Humble Tumbler HQ in Fitzroy
$300, includes 6hrs of whisky appreciation, carefully selected cheeses and other edibles & The Humble Tumbler course book
To book, visit the website

Spring Wine Fair at The Botanical
Melbourne wine lovers, on your marks… Now is the time to stock your cellar for spring, and South Yarra's favourite bar and restaurant, The Botanical, is offering you the opportunity to do just that at their Spring Wine Fair. You'll meet all the best producers, taste the newest drops, and save up to 50% on wines purchased. Want to sip while you shop? Enjoy Happy Hour prices at the bar! Hip-hip-hiccup.
Spring Wine Fair | Saturday 13th September
The Botanical in South Yarra
$15 entry for early birds, $20 at the door | Includes Reidel tasting glass & roast pork roll
Book online here or by calling Winestyle on (03) 8644 4040

Artisan Pasta Masterclass at Olivigna
Olivigna winery in Warrandyte offers a range of masterclasses, and this one is our pick of the bunch. Learn the craft of how to make traditional pastas, from pappardelle to ravioli. You'll then get to feast on your creations with accompanied salad, bread, olives, olive oil, and a glass of Sangiovese. So roll up those sleeves, Urban Listers, and get ready to work your upper arms for some seriously tasty carbs.
Artisan Pasta | Saturday 13th September 10am - 1pm
Olivigna Winery in Warrandyte
$130 including a glass of Sangiovese
To book call 9844 4676 or email


Image Credit: Allium by Michelle Jarni for The Urban List
Allium Food & Wine: Cheese & Wine Night
Homer and Marge, bread and butter, sun and sand… some things are just better when they're together. In case you need further convincing… cheese & wine. On the third Wednesday of every month, our friends at Allium Food & Wine in Malvern are graciously hosting a #humpdaycheese masterclass, combining our two great loves. Here, you'll indulge in a selection of the world's top artisan cheeses matched to a beverage theme. Find out all about the four cheeses on show, and why they have been selected to go with their partnered drop. Learn also from brewers, wine makers, and experts in distilled spirits. We'll say cheese to that.
Cheese & Wine Night | 17th September, 7pm – 9pm
Allium Food & Wine in Malvern
$39 pp with matched wines from Frogmore Creek Estate, Tasmania
To book, call 9576 0356

Once Upon a Tuscan Spring at La Svolta
Spring has sprung and what better way to toast to this than with a delicious and authentic Tuscan-themed dinner at La Svolta. La Svolta's Valerio Calabro, and Italian wine specialist, Marco Senia will educate you on Tuscan cuisine, culture, and wine regions while you enjoy some culinary delights such as squid ink gnocchi with seafood ragu, or sweet-and-sour braised wild boar with polenta chips. Bellissimo!
Once Upon a Tuscan Spring | Thursday 18th & 25th September at 7:00pm
La Svolta Hampton (18th) & La Svolta Prahran (25th)
$110pp for seven courses including matched wines
To book contact Hampton: (03) 9521 8990 or email or Prahran: (03) 9510 3001 or email

Uruguayan Dinner at Piqueos
Our favourite South American restaurant in Melbourne, Piqueos, will be bringing the Latin love to Carlton North this September with their Uruguayan dinner. Enjoy a five-course degustation dinner matched with six outstanding wines from Uruguay. On the menu? Empanada Gallega—tuna, capsicum, and red onion matched with Bodega Carrau, Tannat Rose from Montevideo. Next up? Mejillones Provenzal—mussels, parsley, and chilli, matched with Bouza Albarino from Montevideo. And don't even get us started on dessert! Former Uruguayan TV presenter turned Untapped Fine Wine aficionado, Lucia Galdona, will also be on hand to educate diners on the wondrous wines of her region.
Uruguayan Dinner | Tuesday 23rd September from 6:30pm
Piqueos in Carlton North
$120 pp for five courses and 6 wine matches
To book, call 9349 2777 or email

Bring It On: Weird Beer in 2014 Masterclass
If you like your beer with a twist, make sure you check out this masterclass, run by co-hosts James and Miro, at The Humble Tumbler in Fitzroy. Celebrating the weird and wonderful that the beer-world has to offer, you'll be trying all things sour, barrel-aged, or tinkered with. Not for the unadventurous. We think they've got the timing right, though—who doesn't enjoy a charming frothy on a sunny September Saturday session. Say that five times fast.
Bring It On: Weird Beer in 2014 | Saturday 27th September 3:00pm - 5:30pm
The Humble Tumbler HQ in Fitzroy
$95, for a 2.5 hour class
To book, visit the website

Dinner with Mikko
As nuts about your Derwents as you are your dolci? Combine your love of art and food with 'Dinner with Mikko', at Guy Grossi's Merchant. Join one of Melbourne's most iconic architects and illustrators, Michael Lindell, and indulge in a delicious four-course dinner with matched wines. Nom.
Dinner with Mikko | Tuesday 30th September
Merchant in Melbourne CBD
$150 pp for four courses with canapés on arrival
To book, call 9614 7688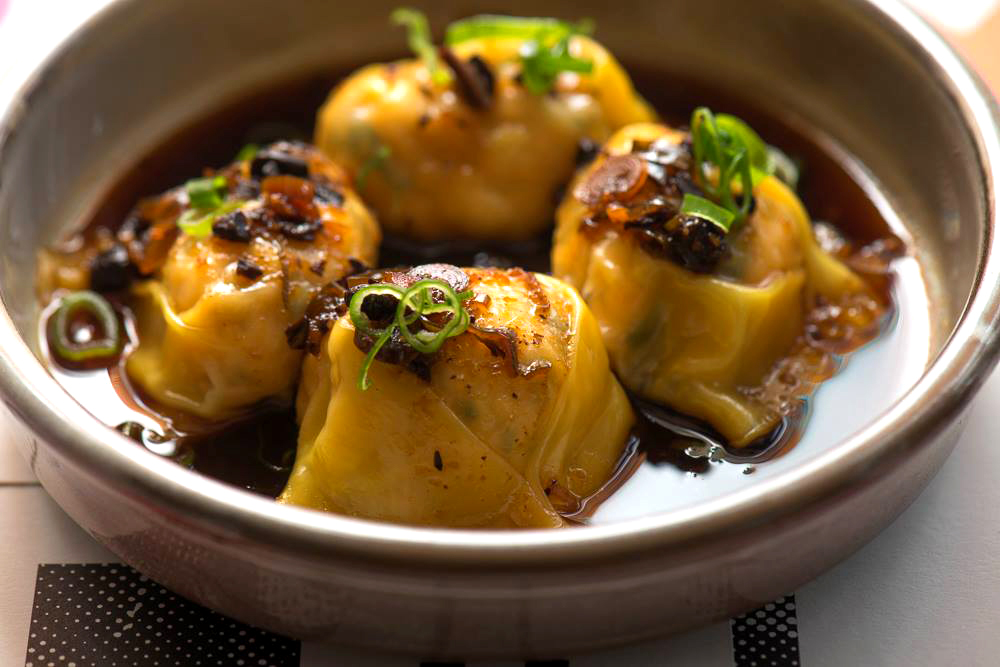 Image credit: Charlie Dumpling Facebook.
Sake vs Wine Showdown Masterclass at Charlie Dumpling
Just like Edward and Jacob, you're either team sake or team wine. We're pretty sure everyone is team dumpling, though! This evening at Charlie Dumpling in Windsor will host a showdown with five wines and five sakes, accompanied by delicious dumplings. While you're the judge of the better match, you'll also have fun exploring the fundamentals of wine/sake appreciation and food matching. Designated driver on speed dial, recommended.
Sake vs Wine Showdown | Tuesday 30th September 6:30pm - 8:30pm
Charlie Dumpling in Windsor
$95, for a 2 hour class
To book, visit the website
And…that's what's on in Melbourne this September, fellow food lovers! Dig in!
Main image credit: Artful Desperado