Have you been tasked with putting together a ripper afternoon with your work team but can't seem to string together anything better than beers and bowling? No worries, we've done the hard work for you and rustled up a list of thangs to do that'll get more 'shit yeah!'s than yawns.
Here are 10 legit fun things to do with your work family (that aren't bowling).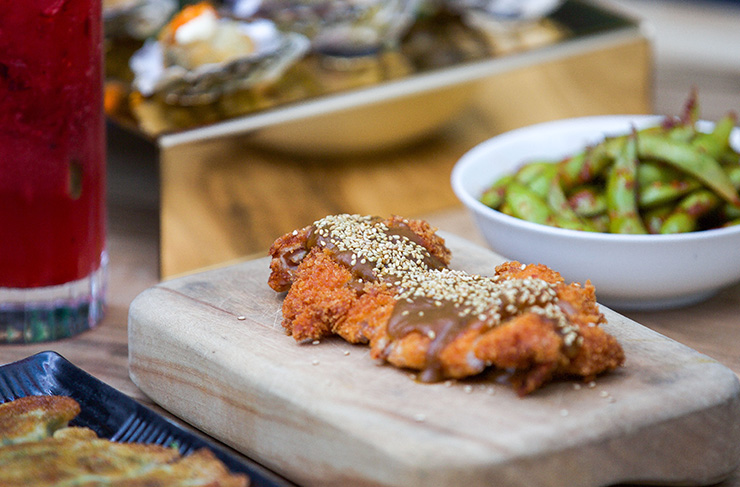 Photography: Michelle Jarni
Karaoke at Tokosan
Prahan
Keen to try your lungs at something other than yelling at Craig from HR for eating your Go-Gurt? Lock in a few hours at Tokosan in Prahran where you can treat the team to karaoke, a Japanese street-style food menu, covered beer garden and cocktail bar. Plus, enjoy $1 oysters on Monday night and $20 all you can eat sushi on Tuesdays. Craig from HR couldn't ask for anything more.
Lasertag In An Old Jail
Coburg
Weed out the weaklings in your team by taking them Lasertag-ing in an old jail! Not only will it help your staff bond, but it'll foster a strong sense of competitiveness (outside of footy tipping). This team-based tactical challenge is the perfect mid-afternoon treat and will go down smoothly with a long sesh at The Woodlands Hotel afterwards.
A Bier Bike Party
South Wharf
Pull on your lederhosen and dirndl, because it's time for you and your staff to enjoy a few steins of bier as you feel the wind through your hair (and maybe some sweat on your back). How? Because our city's much-loved German-styled Munich Brauhaus has its own Bier bikes for hire, which means you and your entire team can board a big ol' bier bike and take in some sights along the Yarra.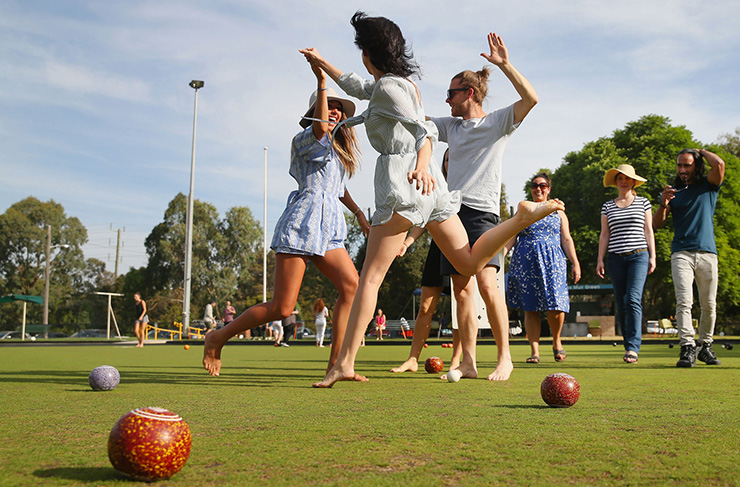 Photography: Dandenong Bowls Club
Barefoot Bowls
Fitzroy
At a sweet 15 bucks a-head, not only can you find out who in your office has the hairiest toes, but you can also sling a few cantaloupe-sized 8 balls down some astroturf with a beer in-hand. These guys are also selling themselves as the 'unofficial home of barefoot Bowling in Australasia', so you know they're legit. Based out east? Try The Dandenong Bowls Club instead. Barefoot runs on Fridays and Sundays and costs just $10pp. Noice.
A Mountain Goat Brewery Tour
Richmond
What's better than beer? A free tour of a place that makes it. The Mountain Goat Brewery in Richmond does this very thing by throwing down free tours every Wednesday night. This makes Wednesday nights the perfect opportunity for you to put your beer knowledge to the test against your colleagues, and perhaps enjoy a few bites to eat at a gourmet food truck food afterwards.
Trivia, Thai & Tunes At Colonel Tans
Prahan.
What's better than a free tour of a place that makes beer? Free trivia at a place that makes insane Thai food and serves a boatload of booze! Colonel Tans (also known as your favourite party palace, Revolver) is in the heart of Prahran and hosts a ripper trivia night every Tuesday. Newcomers get a free jug, and old-comers get another stab at winning eight free Thai dishes. Quite frankly, nothing brings an office closer than arguing over Rebecca Gibney's place of birth.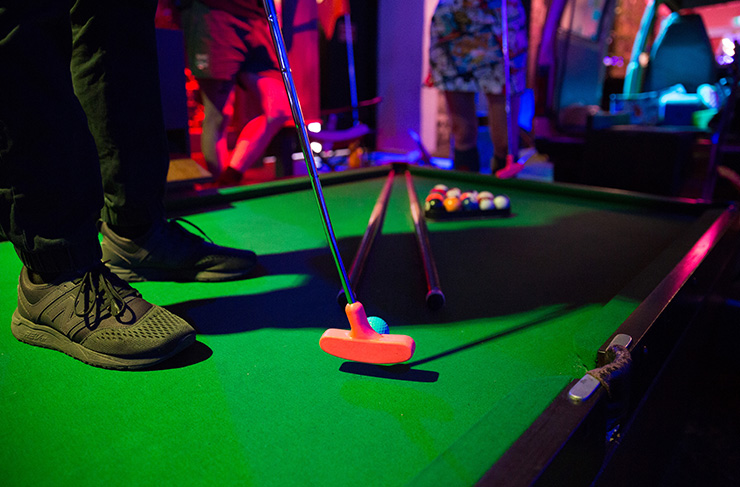 Photography: Annika Kafcaloudis
Mini Golf & Cocktails At Holey Moley
CBD
Honestly, find us someone who doesn't froff at a round of mini golf. You have? How about lolly-inspired cocktails and pizza? We thought so. Holey Moley is Melbourne's resident watering hole [in one]. For $16.50 per person per 9 holes, even your poorly paid intern can have a bag of fun at a bunch of hilariously themed holes.
CBD Ghost Tour
CBD
Looking to give your staff a boo for a bargain? Take them on a Lantern Ghost Tour in the CBD for only $36 a person to spice up those water cooler chats. Yes, it's a tad cliche, but it's something new and will put Craig for HR down a peg or two. Also it's a good chance to realise just how many people have been murdered near your favourite cafes. Turns out...it's a lot.
Throw Axes At Stuff
Collingwood
Have you and your team already done every team building activity under the sun? Not possible. You haven't been introduced to Melbourne's first urban axe throwing venue, Maniax. For a flat fifty bucks, you'll enjoy a two-hour axe throwing session that includes an axe-throwing lesson from an axe-throwing pro, axe-throwing target practice and an axe-throwing tournament to crown one of your colleagues the axe throwing champion. Take your whole office along for some axe-throwing fun.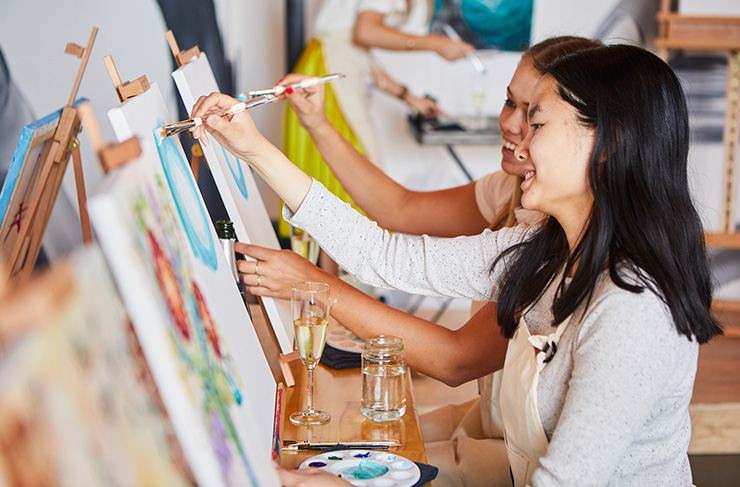 Photography: Michelle Jarni
Wine & Painting At Cork & Chroma
Collingwood
God's two greatest gifts to man and wo-man? Painting and drinking. And finally, someone's combined the two. Introducing Cork & Chroma, your new favourite extracurricular hobby. For $60, they provide all the arty stuff. You can BYO wine and if you are a little peckish, you can buy delicious nibbles in studio.
Need more inspo? Here's 100 epic things to do in Melbourne. Start ticking them off, baby.
Image credit: Michelle Jarni