Cheesemonger Olivia Sutton isn't easy to stump when it comes to cheese…until you ask for her favourite.
"Oh god," she says, mentally scanning some internal catalogue. "That's tough. It's like having a favourite child. There's this blue gin cheese we've got in at the moment? That's pretty exciting."
Wait, blue gin cheese? Re-wind that. Olivia grabs what looks like a purpose-built cheese trowel and carves me off a small, mouldy wodge. It's creamy and funky and tangy and…yep, there it is…a lick of gin on the tongue.
"It's pretty good right?" she says. "It's this northern Italian cheese family. They've been making cheese for like 50 years, and for the last two they've been working with a gin company to get the taste perfect."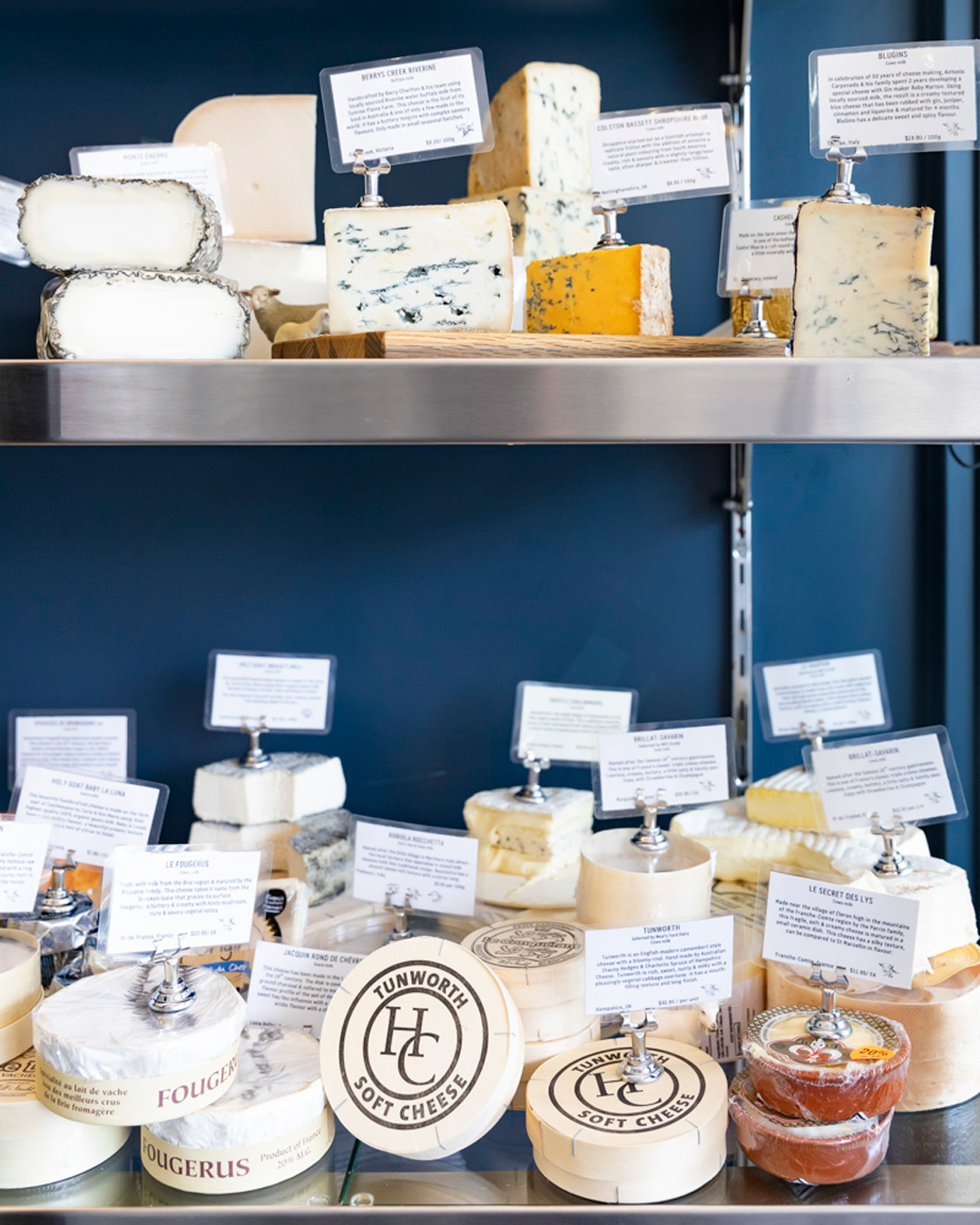 It's that level of obsessive, encyclopaedic cheese knowledge that makes Harper & Blohm special. This is Willy Wonka's factory for cheese nerds. I'm sure Olivia could not only name every cheese in the shop, but also tell you the farmer's family history to five generations, and probably the name of the cow. In fact, there's only one other business in Melbourne I can compare to H&B: Maker & Monger. As a long-time M&M fan, that's not a comparison I make lightly.
Olivia started Harper & Blohm back in 2014, having worked at Sheridans Cheesemakers in Dublin, Port Melbourne's Calendar Cheese Company and George Calombaris's Reserve in Fed Square (RIP).
"We started Harper & Blohm out of the Prince Wine Store in Essendon," she says. "And we've been doing the farmers markets for a while too. Eventually, we just outgrew the space. I was looking for somewhere new, maybe Collingwood or Fitzroy. I had a thing for South Melbourne for a while."
Eventually, a friend's macaroon shop became vacant on Sydney Rd, and Olivia decided to pounce. This is the result: a rustic, Euro-style, cheese-themed provedore. And it's not just cheese anymore. Olivia has decided to branch out in the new space. There are glace cumquats, swimming in syrup, Harper & Blohm water crackers, a spiced Warialda pastrami that's calling my name, daily salads like fennel, radish, quinoa and barrel-aged feta, delicate meringues and frozen take-home meals, the list goes on.
"We're trying to only stock the things we love," Olivia says. "So we only do one sort of coffee, a Market Lane single origin. And we only sell one kind of olive." She taps a big jar on the counter. "These are from Tollunka Creek in South Australia. They only grow olives for eating, no olive oil or anything. They're amazing."
Of course, stuff like pastrami and olives are really just there to enhance Olivia's first love: cheese. She's been a cheese fiend ever since growing up on the family's farm on Tasmania's King Island. You can get just about any cheese here, as long as it's in season. Olivia also does cheesecakes, cheese towers, fromage subscriptions and (drumroll) some of the best cheese toasties in town.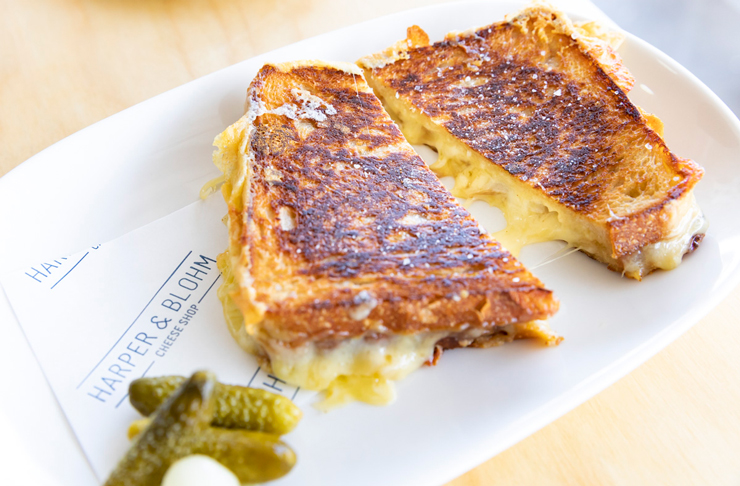 This is where the comparison to Maker & Monger starts to make sense. Both businesses only stock the very best cheese money can buy. And both are renowned for doing gnarly, oozy, no-holds-barred, brain-sizzling, triple cheese toasties.
Olivia started slinging these at farmers markets, where they quickly sold like hot cakes (scratch that—hotcakes wish they could sell this fast).
There are currently five main sangers on the men at H&B. The Classic 3 Cheese (cheddar, gruyere and Raclette with sweet caramelised onion), Barry's Blue (a funky mix of Tarwin blue cheese, pear, rocket and walnut), the Welsh Rarebit (rib-sticking cheddar, stout, Worcestershire sauce, mustard and leek), Mushroom (mushrooms, Taleggio, truffle pecorino and rosemary), and the KimCheese (housemade kimchi, cheddar and Monterey Jack). Each sandwich comes pressed between two slices of buttered Dench sourdough, sprinkled with rock salt.
This is the real reason I trekked halfway across town to Harper & Blohm. Toasties make up about 30% of my diet. I practically have shares in Maker & Monger. I stay up nights debating the merits of cheddar versus Monterey Jack. So to say I was 'keen' to try Olivia's cheese toasties is putting it more mildly than a shy Emmental.
Well, toastie addicts, good news: these are fucking brilliant toasties. Off the richter-scale delicious. The presentation is cute too. Each sanger arrives in a stamped H&B box, resting on a sheet of crisp, branded paper.
I tried the KimCheese—a medley of fromage-ian happiness, cut with pickly, lightly spiced kimchi. The obligatory salt flakes on top make the whole thing fairly zing off your tongue. "I hadn't heard of these before," Olivia says. "Apparently they're big in Korea. A friend asked if I had a KimCheese on the menu, and I was like, 'Huh?'"
If you consider yourself a toastie fan or even just a casual supporter, add Harper & Blohm to your bucket list. To die without putting one inside you would be truly sad.
Are they better than M&M? Sheesh, it's damn close. I might need to go back for further 'research'. Watch this space.
Want to learn more about Harper & Blohm? Check out our Directory page.
Image credit: Mel Desa