It's not often a restaurant gets written up in design mags, but Hinoak is a very sexy exception. It's a brand new Koran BBQ joint in Glen Waverley, right opposite Syndal station. You'll spot it as you drive down Coleman Parade—a tiny matchbox building, fronted with vertical timber batons, and a big Chinese character carved into one wall (the character for 'fire', just FYI).
Finally, a place where architecture nerds and drooling foodies can sit side-by-side and eat beef. This has been a long time coming.
Let's start with the fit-out—because just look at that thing. The guys at Biasol handled the design (you can see their handiwork in Middle South East and a bunch of other places around town). The light filters through the slatted timber exterior, creating a funky barcode effect inside. Big vertical slashes of light that fall on two banks of timber tables, each studded with BBQ hot plates. The bar is finished in terrazzo and lit with LED, rather than pendants. The walls are brushed concrete, raked super smooth. Trust us, you'll spend the first half of dinner just gazing around and making 'oooooh' noises.
"Our concept for the project took design cues from the work of Japanese architect Kengo Kuma," says Biasol founder, Jean-Pierre. "We explored the relationship between humanity, nature and design."
And also food. Hinoak isn't just a pretty face—it's also churning out some of the best Korean east of the CBD. The team have modified the traditional Korean BBQ plate. This one still uses charcoal but produces less smoke than the usual suspects (you'll notice there aren't any exhaust fans above the tables). Less smoke means a subtler flavour, a healthier meal, and also clothes that don't smell like beef for three days (not that smoked beef is the worst smell in the world).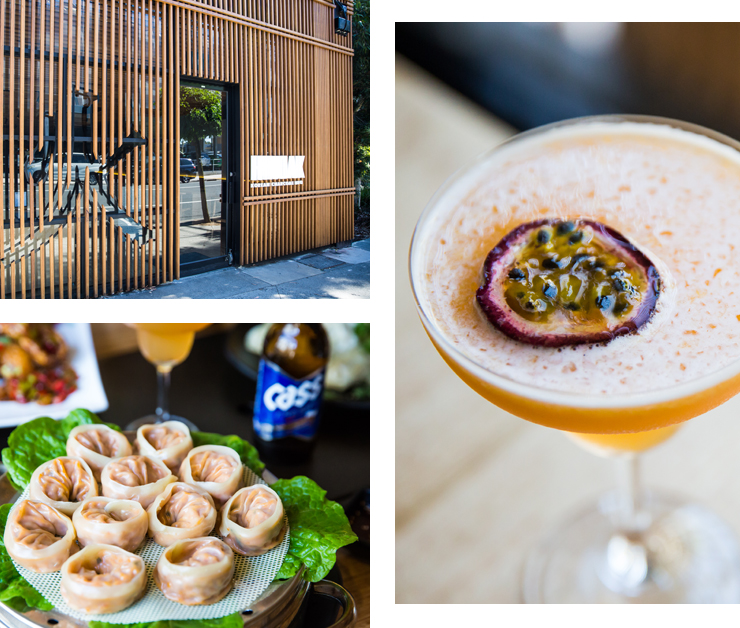 The menu is broken down into bite-sized starters and full-blown BBQ sets. We recommend getting a bit of everything. Start with a plate of Korean Fried Chicken (go sweet chilli, go Medium spice). And don't forget a couple of kimchi pancakes for the table. The pan-fried prawn dumplings are also a must—crispy on the bottom, soft and pillowy on top. Wash it all down with a frosty Cass beer.
On to the BBQ sets. This is what you're here for right? There are a few ways you can go. The Char Char Char set includes pork belly (yum), marinated beef ribs (keen), Wagyu scotch fillet (stop it) and Wagyu short beef ribs (get out). Personally though? We recommend the Miss Korea set: Wagyu chuck tail, Wagyu beef short ribs, Wagyu scotch fillet and Wagyu oyster blade. Beef, beef and more beef.
Don't worry though—all set BBQ menus come with a cavalcade of Korean banchan (side dishes). Think fried kimchi, chillies, field mushrooms and onion, sweet pickled veg and steamed greens. The idea is to get a bit of everything on your plate, aim your mouth and just go nuts.
Of course if you'd rather go a la carte, there are a bunch of sizzling plates, BBQ meats, spicy hot pots and soups (the Beef Bulgogi Hotpot is out of control, just sayin'). Have a chat to your waiter and see what they recommend. The menu's big enough to keep even Korean newbies happy for days.
Drinks wise, you HAVE to try the soju. This is a clear, colourless Korean liquor, and Hinoak mix it with a bunch of fruity flavours like peach, apple and moscato (grape). There's even Korean banana rice wine if you're feeling adventurous. If you want to give them all a try, sign up for the Onboard Flight Korea (cute name): a tasting board of six in-house soju infusions.
There's your standard mix of local wine, basic international beers (the Korean Cass is probably our favourite), and bubbly cocktails, mixed by the dream team behind the bar. The Lychee Sweet Love is a standout—lychee-infused soju, lychee liqueur, fresh lychee and dry vermouth (you'd better like lychee...).
But we know you guys—you're heading straight for the Korean Espresso Martinis, aren't you...an ultra-smooth blend of Hwayo 41, Kahlua, Mozarts chocolate and Hinoak's in-house blend espresso.
Want to learn more about Hinoak? Check out our Directory page. We've also got Melbourne's best Korean over here.
Image credit: Jenna Fahey-White