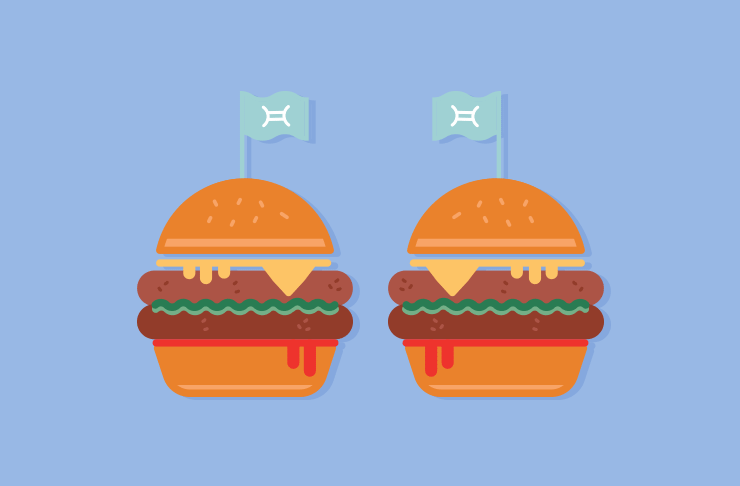 ​
Over here at The Urban List, we want our readers to know what's in store for them for the week ahead. So we're bringing you horoscopes for real people - who want their cosmic predictions with a side of honesty. Here are your horror-scopes, including suggestions for where to drown those mystical sorrows when you find out what you're *really* in for this week.
Pisces
If someone comes to you for a vent this week, the best thing to do could be to just listen intently. If they ask for advice, follow your gut Pisces. Sometimes the full blast of your real opinion isn't always helpful though (as much as you'd want to!). If problems do arise among friends, see what you can do to smooth things over. When the weekend comes you may need a release after all the drama of the week!
Where you need to go this week: If you need a good feed and a drink to unwind then head down to Fitzroy Social and they'll look after you.
Aires
If you hang on every little detail this week your head is going to explode Aires! Step back and try and take in the big picture instead. Take things slowly throughout the week and maybe into the weekend as well. If your bed is calling you don't resist too hard, you're meant to be together.
Where you need to go this week: Sometimes laziness can lead to productivity…maybe. Well Being Lazy Is The Best Thing Ever anyway.
Taurus
The love bug has bitten you this week Taurus! You'll spend the beginning of the week a bit distracted while you're caught up in your romance. Thursday and Friday will see you come back down to earth a little bit but only long enough to get all your work done. Come the weekend your romantic side will spring out again, spend some time with someone special or if you're heading out then keep an open mind!
Where you need to go this week: The Carlton Yacht Club is a great spot for a date or after work drinks with their amazing cocktail menu!
Gemini
Your words are not working this week Gemini, no matter how hard you try. Sending an email might be a better option than trying to talk in person. Ironically, by the end of the week you're downright poetic (weird right?). You're getting your thoughts out and people are understanding you! You might want to take this opportunity to tell someone what you really think.
Where you need to go this week: Dessert just brings people together! If your sweet tooth is aching then check out some of Melbourne's Best Dessert Pancakes.
Cancer
Your gaze is a bit narrow this week Cancer and you're at risk of overlooking things. This could be a good opportunity to clean out some stuff (check under the couch, there's always something good under there). Home issues might spring up too, not just chores but neighbors, pets, roommates etc. Take any excuse to get outside and spend some time away from it all (after you've done your chores of course!)
Where you need to go this week: If you need to get you Zen on then check out some of Melbourne's Best Yoga Studios.
Leo
Keep the adventuring to a minimum this week Leo. Straighten out our finances before you start doing anything extravagant. Maybe just spend some time with friends (that's usually cheap) and stay in this weekend? You never know, a quiet night in with a couple good friends could end up being the best you've had in months.
Where you need to go this week: We all need to stay in sometimes and have our cheat meals. Check out Melbourne's Best Fat Feeds.
Virgo
If you're feeling a bit all over the place this week, it could be worth putting some time aside on Monday to just tidy you desk or clean out your car. Putting little things in order like that can make a huge difference Virgo. Tuesday and Wednesday could be a good time to start a new project, depending on how organized you feel by then. As you head into the weekend you will start to relax a little and a night out on the town could be just what you need.
Where you need to go this week: If you're feeling super organized, maybe its time to start planning a trip! Sun Country could be your next stop!
Libra
You just cannot hold a grudge this week Libra! You've got more important things to do than to let that kind of energy get you down. You'll be sailing through Wednesday and Thursday if you keep those good vibes going. Channel that energy and get your flirt on this weekend! Get dressed up and head out on the town with some friends!
Where you need to go this week: Looking for somewhere new to go for drinks this weekend? Check out some of our Favorite Hidden Bars In Melbourne for inspiration.
Scorpio
You might want to take some notes on Monday Scorpio, because something that happens then might come back around later in the week. Do some planning if you can and get your week in order early. If all goes off without a hitch you can spend your weekend how you want! Don't feel too pressured to go out with friends, if you feel like going out, go, if you want to stay in, stay. You do you!
Where you need to go this week: Maybe you're due a bit of retail therapy, and a bag is functional so you can justify spending money right? Yeah… so check out Carryology!
Sagittarius
Others may drive you crazy this week Sagittarius, but why bother with it? Save your lectures for more important matters and turn your attention elsewhere. If you can keep yourself out of the drama you'll find yourself having a pretty awesome week! Other people's problems won't get you down and you'll turn out to be really productive. The weekend is looking mighty fine right about now!
Where you need to go this week: Tacos make everything better. Seriously, if you're struggling through the week then grab a taco and you'll feel better instantly. Here are some of Melbourne's Best.
Capricorn
You're going to get some news early in the week that will probably set the tone for the coming days. You might find yourself seeking something familiar; talking to an old friend, visiting your parents or re-reading and book. This could trickle over into the weekend and you might just want to chuck on some pyjamas and put on a movie (that actually sounds pretty good). If friends ask you to head out and you're feeling up for it, you'll have a blast with them too.
Where you need to go this week: If you need some quick relaxation then check out these Express Beauty Treatments.
Aquarius
If you've got some boring or tedious stuff to do this week Aquarius you may as well get it over with early. You're week is going to be a lot better if you get the busywork done sooner rather than later. Thursday and Friday your mood might spin a bit and you won't know what you want to do with yourself. Take a chance and let a friend decide where you'll go this weekend.
Where you need to go this weekend: Your friend may be deciding but that doesn't mean you can't help them. Flick them this list of Melbourne Restaurants Nailing Service Right Now for some ideas.