Back in the dark ages—before Burch and Purchese redefined cakes, before macaron towers were bigger than houses, before salted caramel took over the city—desserts were a far simpler affair. Back then it was fine to serve chocolate ripple cake at a dinner party, and no one thought you were childish for ordering deep-fried ice cream at a restaurant. Ah, the good old days... Join us for a bit of sweet reminiscing as we rediscover some of Melbourne's best retro desserts.
CREPE SUZETTE | ROULE GALETTE
To end a retro-themed dinner party with a bang, take a super-thin pancake and light it on fire. Either it'll be an impressive spectacle, or you'll need to call the fire brigade. Minimise the risk by getting your crepe Suzette at Roule Galette instead. This cute French creperie offers savoury galettes (try the three-cheese version, it's amazing!) and sweet crepes with toppings, ranging from the traditional (good old lemon and sugar) to the on-trend (caramel and salted butter. Drool.). The divine crepe Suzette is flambéed with Grand Marnier to create a caramelised, citrusy sauce that'll make you realise why this dessert—a must-have at any 1970's dinner party—is still a classic.
CHOCOLATE RIPPLE CAKE | ECOBLU & THE OLD PAPER SHOP DELI
The problem with chocolate ripple cake—that's a packet of the namesake biscuits sandwiched together with whipped cream—is that it's really easy to make, and even easier to eat. Whip one up and before you know it you've devoured the whole thing and have a belly full of sugar and a head full of regret. Save yourself the food coma by having just one slice at The Old Paper Shop Deli in South Melbourne, where the biscuits retain a bit of crunch for textural interest. Or head to Caulfield North's Ecoblu, where the biscuits are dunked in sherry before being smothered in cream, making it a chocolate tipple cake. Yum.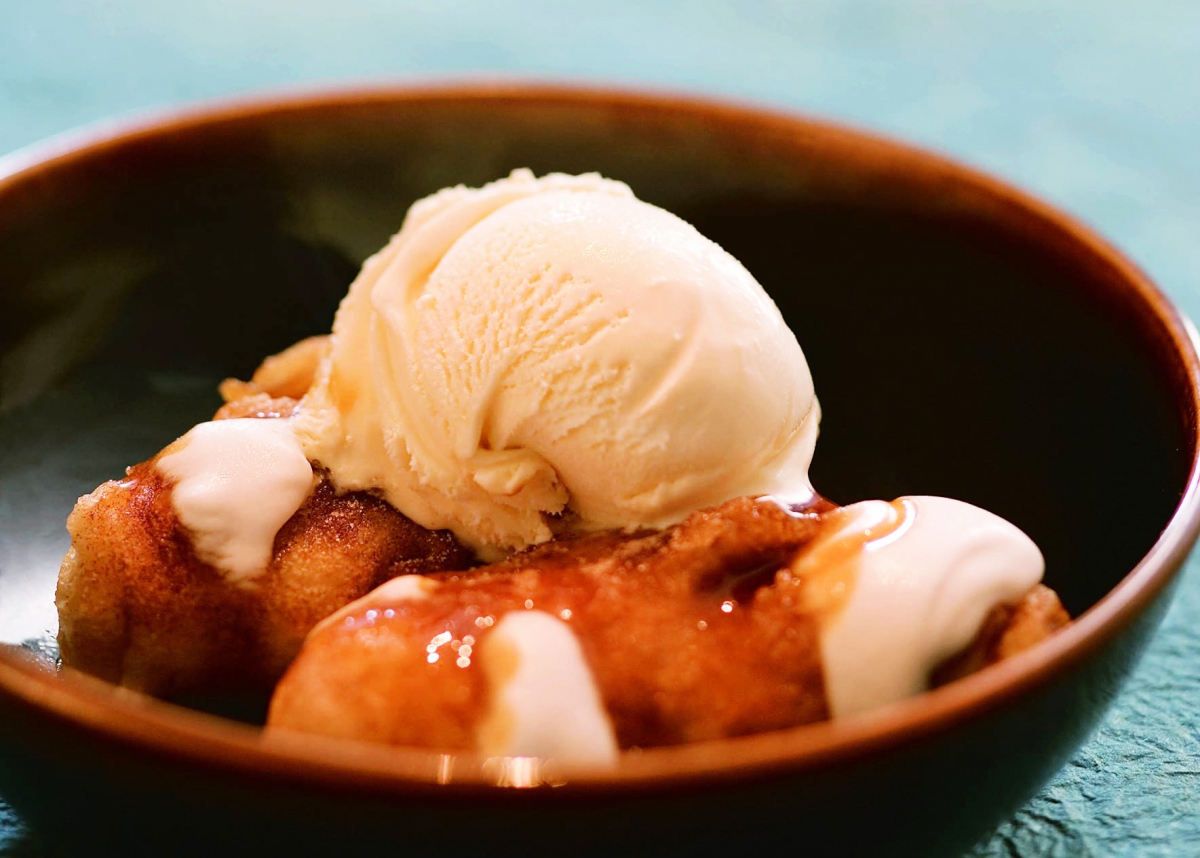 Image credit: Gingerboy Facebook.
DEEP-FRIED ICE CREAM | KUM DEN
Once you've stopped giggling at this Chinese restaurant's name, head into its time-warp interior and get stuck into the menu of traditional suburban favourites you probably remember from your childhood. There's nothing wrong with that—such classics as chicken and sweet corn soup and honeyed prawns are still favourites for a reason. Plus, they set the scene nicely for your trip down memory lane at Kum Den, which ends, of course, with deep-fried ice cream. It's not the most attractive of dishes, but breaking through a crispy ball of hot golden brown batter and digging into the miraculously-still-cold vanilla ice cream inside is a joyful experience. Kum on, do it!
BANANA FRITTERS | KUM DEN & GINGERBOY
There's something about a battered, deep-fried banana with a sphere or two of ice cream alongside it. Something rather, erm, retro, which makes the aforementioned Kum Den the perfect place to devour one. (Did you think we were going to say phallic? Get your mind out of the gutter, people!) For a modern twist on the classic, Gingerboy serves pandan ice cream with its cinnamon-sugar-dusted banana fritters. It's pure oral pleasure, especially when accompanied by a Gingergirl or a Blood Brother—two of this Asian-inspired restaurant's signature cocktails.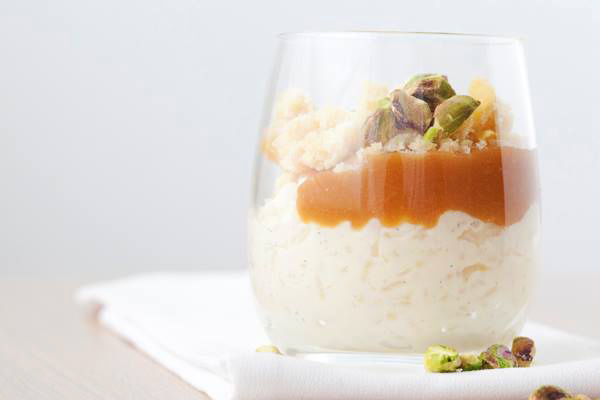 Image credit: Hellenic Republic Facebook.
RICE PUDDING | HELLENIC REPUBLIC & ARDA TURKISH CUISINE
Rice pudding, that sweet, creamy yet slightly lumpy dessert, is a love-it-or-hate-it affair. We reckon these two examples fit firmly in the 'love it' camp. Hellenic Republic's contemporary version is a flavour-filled textural delight—it's nicely souped up with salted caramel, pistachios, and shortbread crumble. Arda's offering is more traditional; the thick, almost solid pudding has the barest hint of vanilla and is simply topped with a sprinkling of cinnamon. Get a serve to take away and if you can resist eating it all in one go, it's fantastic for breakfast.
NEAPOLITAN ICE CREAM | GELATO MESSINA
Remember those tubs of vanilla, strawberry, and chocolate ice cream that used to sit in your family's freezer, two-thirds empty because there was always one flavour no one liked and two that everyone fought over? Create your own by getting a take-away tub of three delicious flavours at Gelato Messina, the Fitzroy ice cream store that doubles as a hipster magnet. We guarantee no flavour will be left untouched.
SUNDAES | MISTY'S DINER & KOKO BLACK
Any day is a good day for a sundae, and Misty's sundaes are especially good if you like 'em with a hefty side serve of American nostalgia. Decorated as though it's a 1950's American-diner-themed theme park, Misty's over-the-top sentiment extends to its menu, which includes a massive burger with five beef patties and a thickshake made with nine (yes, nine) candy bars. Thankfully, the sundaes are more of a simple pleasure—vanilla ice cream with a choice of toppings (pick the blue heaven, you know you want to), whipped cream, and the obligatory cherry on top. At the other end of the scale is Koko Black, with its elegant European-style interiors and refined chocolates and desserts. Here, the sundaes are called 'spectaculars' and feature gooey chocolate or caramel sauce, cashew nut brittle and chocolate 'soil'—a crunchy mix of white and dark chocolate that beats the pants off chocolate sprinkles. Spectacular, indeed.
TRIFLE | STEER BAR AND GRILL
When you were a kid, wine trifle—layers of sherry-soaked sponge cake, fruit, custard, and jelly, or a variation thereof—was pretty much the only legitimate way you could have alcohol. Is it for that reason that we still love it today, or is it because the classic combination is not to be trifled with? Steer's version—sponge cake and vanilla ice-cream layered with sherry jelly and topped with berries—is a popular variation on the family favourite. Don't think you're ready for this jelly? That's cause this trifle's too retro-licious for you, babe.
Want more sweet stuff? Check out our article on Melbourne's best winter desserts.
Main image credit: Half Baked Harvest.