Well, the rumours are true. St Jerome's Laneway Festival is indeed pulling up stumps and heading elsewhere.
The good news? The 'elsewhere' is still Footscray. Laneway will officially move from its home of nine years (the Footscray Community Arts Centre) to new digs at Footscray Park in 2019.
There's a few reasons for the change, according to festival organisers. For one thing, the old site was getting screwed over by new apartment buildings and Metro Tunnel project works. Classic Melbourne. There were also crowd flow and bottleneck issues that hadn't been addressed for years.
The new park location will allow for "a more flexible, convenient placement of stages and amenities", apparently, plus some sweet views of the CBD and Maribyrnong River. Plus shade. Sweet, glorious shade.
"It was important for us to stay in Footscray and we're excited to unleash the full potential of this beautiful park," say festival founders Danny Rogers and Jerome Borazio.
"We're so proud to be able to continue building on our reputation for utilising some of the most unique and interesting sites around the country – just wait til you see Footscray Park in full flight."
Here's a map of how the new park space is gonna look: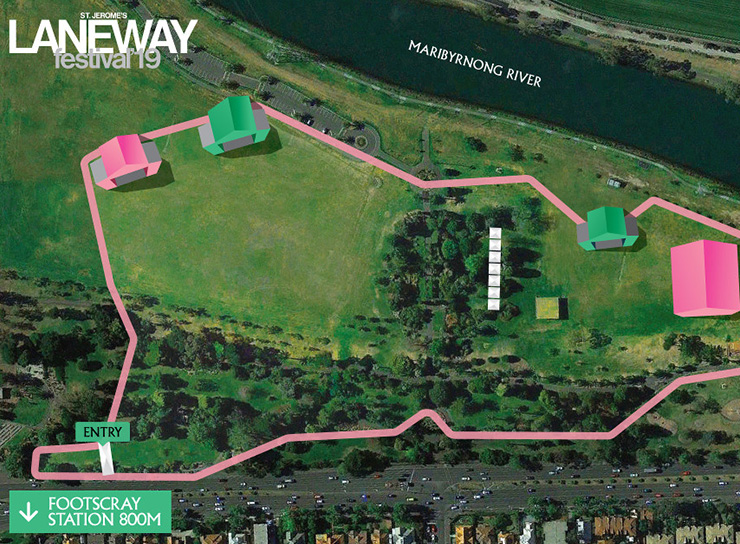 2019 will be Laneway Festival's 15th birthday (fuck we feel old). Festival dates and the full line-up will be announced "soon", according to the website. We'll keep you updated with all the info.
In other festival news, FOMO 2019 just dropped their new line-up, and Nicki Minaj is headlining...
Image credit: Laneway Festival