**Editor's Note: Le Grand Cirque will close in August 2014.**

Celebrity chef, Manu Feildel, has jumped ship from Sydney, closing L'etoile and launching Le Grand Cirque in the place of South Yarra's short-lived Mama Baba. A collaboration with George Calombaris' MAdE Establishment group, the My Kitchen Rules star will strip his native cuisine back to basics, with a focus on shared plates.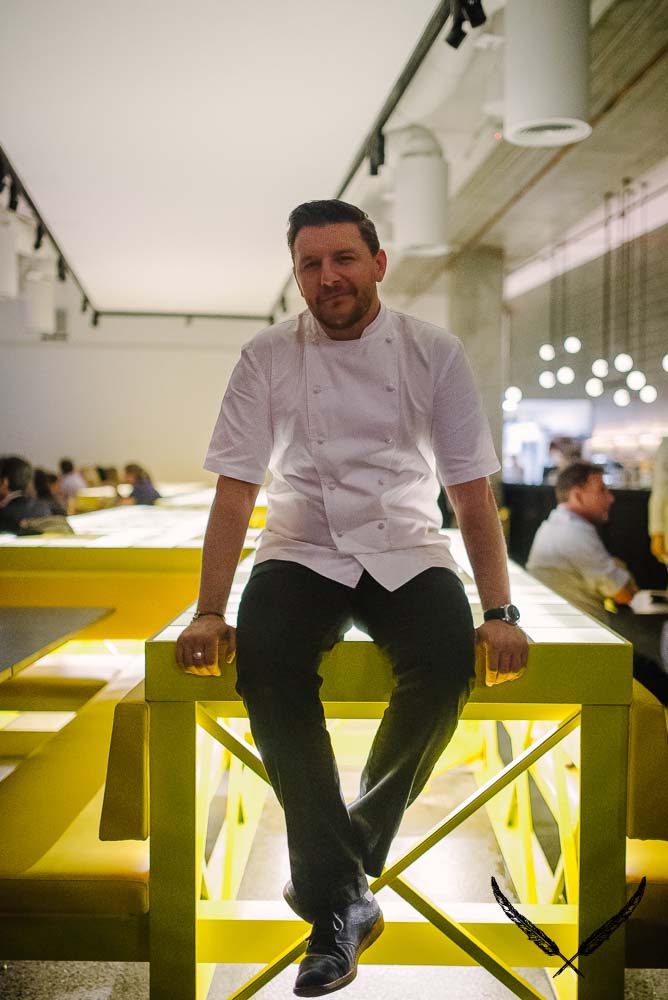 Taking its inspiration from the theatrics of the circus, Le Grand Cirque is a riot of colour that feeds Feildel's hunger for fun. "This is very much a dream come true for me," he says. "It's my whole life under one roof. Entertainment has always been in me, and joie de vivre in my cooking. It's my joy in life."
Feildel, who will divide his time between Sydney and Melbourne, as well as squeezing in TV commitments, has bowed to the will of the people. "They don't want to sit around the table for hours waiting for the next course," he says. "I've done the fine dining, 12-course degustation meals and I've got the three hats. Instead of being stubborn and egoistic, I want a relaxed atmosphere, with simple, down-to-earth cuisine that's full of flavour."
Le Grand Cirque is all about bringing friends together around the table for a good laugh with great food and wine, with small shared dishes good for two and larger ones that will feed four. "You'll be guided by your stomach as well as the waiter," Feildel says.
The menu includes oysters, aniseed cured salmon and a tartare of beef with Jerusalem artichoke chips. There's a rich and tender cassoulet, short ribs stewed for 12 hours in red wine sauce, and a pig plate with pork belly, black pudding and caramelised apple, as well as a terrine of pork with prune and Armagnac jam.
Dispelling the myth that the French don't do salads, healthy options include a grated carrot affair with tarragon vinaigrette and dried black olives, and there's also a celery remoulade with crab and chives. "We have ribbons of cucumber with a beautiful crème fraiche and mustard dressing with dill, which is to die for," Feildel says. "There's a textural beetroot salad with roast beetroot and pickled carrots with goat's curd."
[token node gallery]
A fantastic wine list includes 150 bottles, favouring French plonk but also championing Australian vino and other world tipples, as well as champagne and creative cocktails, including a yummy pernod cup with chamomile, cucumber, white pepper, elderflower, mint and soda. "It's kind of bringing the pastis, which is a very French aperitif, but then mixing it into a long, refreshing cocktail with a beautiful energy," Feildel says.
Le Grand Cirque has been designed by architect Clare Cousins, who was tasked with realising Feildel's circus vision without tipping over into tacky theme restaurant territory, and she's done a magnificent job. "We wanted to have fun with it and utilise a lot of colour," she says.
The narrow entry is shrouded in curtains and mirrors, invoking an old ticket booth. "The host will greet you there," Cousins says. "It's a very theatrical experience. With the large space we wanted to have that intimacy as you first walk in, then you turn the corner and get the full impact."
A steel structure painted bright yellow and surrounded by banquette seating forms the spine of the dining room, with a glass brick surface that's under-lit. It's been dubbed 'the catwalk' and will host performance artists from time to time. "It's almost a nod to the Eiffel tower and industrialised architecture," Cousins says.
Elaborate light fittings above the entrance and the bar suggest trapeze artists, while a more relaxed lounge area has bright blue screens, red stools and white Carrara marble tables, in a nod to the French flag. The kitchen has been clad in dark steel, framing the show within. "That's really what the space is all about, Manu and his food," Cousins says. "We had dinner there for the soft launch and it worked really well. It's exciting."
Le Grand Cirque opens Friday 28th March
Image Credit: Ryan Noreiks, The Urban List.