Stop, dilemma time! What happens if you love all things flowering and green but are space deprived, don't have a garden or, like me, have the knack of killing even cacti? Enter Mister Moss.

The genius idea of creative whiz Jenna Spence, Mister Moss came to life as a solution for garden-loving people who, alas, don't have a garden. There are a range of plants on offer – from ferns and lilies, to kangaroo paw and kitchen herbs – all wrapped up in super cool neon or natural string.

The perfect gift for family, friends, or even yourself, Mister Moss are super easy to maintain – WIN!

Here's our chat with Jenna about all things Mister Moss…
TUL: Tell us about your background…
I studied Communication Design at RMIT before heading out into the workforce. My previous jobs have always been very art and design focused – I've worked as an Art Director at Badjar Ogilvy, a graphic designer and a visual merchandiser.

TUL: How did Mister Moss come about?
Well, I thought it would be a great idea to create something for friends who didn't have a garden or room for plants. I had such a great response that I built a basic website and things have grown (bad pun, I know!) from there.

TUL: What materials and plants do you use?
I use a variety of plants that are suitable for different conditions: indoors, outdoors, full sun, etc. The plants are made with a secret soil combination to make sure they live happily.

TUL: Why is Mister Moss so great?
Mister Moss plants are so easy to maintain (all you need to do is dunk them in a bucket about once a week to water them) plus they're great if you don't have a garden or are low on space. Mister Moss makes a great statement – everyone should have a cheerful hanging plant in their office or at home!

TUL: What's the best part about your job?
I love the variety. One minute my hands are in dirt, next thing I'm designing new products.

TUL: What are your best sellers?
Definitely the low care Peace Lily.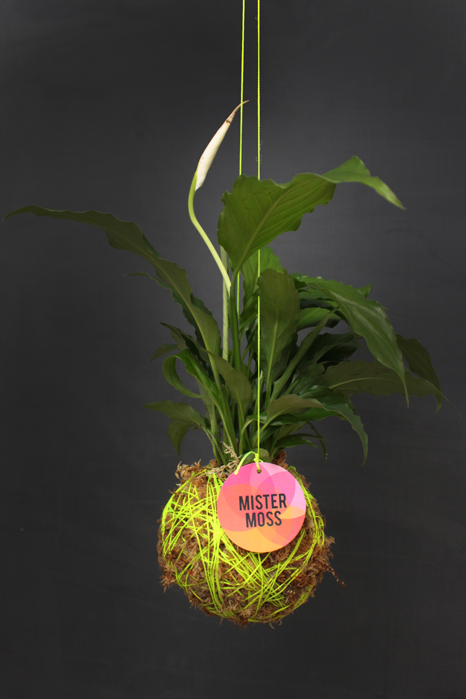 The best selling Mister Moss Peace Lily

TUL: Do you have a favourite Mister Moss plant?
I love the Mister Moss Lemon Tree. (TUL note: Us too!)

TUL: What's on the horizon for Mister Moss?
I am currently busy developing new products for Mister Moss as well as a new HOME range. Some exciting things are coming…stay tuned!

TUL: What has been your proudest Mister Moss moment so far?
It would have to be early on when Mister Moss and myself were featured on The Design Files. Lucy Feagins literally changed my business over night.

TUL: Will Mister Moss be at any events or trade shows?
A few weeks ago I finished my first trade show at Life Instyle in Melbourne, which was great – I got to meet so many wonderful new people. I'm still recovering so haven't booked in for another trade show…YET! That said, we'll be seen at a few upcoming events. Keep your eyes peeled at the Spring Carnival…

TUL: Where can we buy Mister Moss?
We have a range of fabulous stockists with more coming soon! You can also buy Mister Moss directly from our website.
Mister Moss | Website, Facebook & Instagram
Want to read more home styling tips? We've asked Scally Duggan Styling how to refresh our rooms for Spring.
Image Credits: Mister Moss