We've all been there. The clock is creeping towards 3:00pm, your tummy is making all sorts of growling noises, and the urge to scoff that sugar-laden muffin is at an all-time high. Surely one bite won't hurt?!
STOP RIGHT THERE!
While you may think that blueberry muffin is calling your name (it isn't), there are plenty of healthy low-sugar snacks on the market that are much better options.
Yup, we've searched the market to find you, dear Urban Listers, 5 more healthy low-sugar snacks that are delicious, filling, and positively NOT boring (because while we love our vegies…carrot sticks are kinda snoozeworthy).
REAL GOOD FOOD STREET MIX
One of our favourite healthy snack options is always good ol' trail mix – a mix of nuts, seeds and just a touch of sweetness (courtesy of either fruit or choccy) for a sustained energy boost. Real Good Food nail the trail mix concept with their range of organic Street Mixes – Original, Almond & Cranberry, Chocolate, and Choc Berry. So yum! They also do a Tamari Roasted Almond variety, which is perfect is you want to skip the fruit and chocolate and go straight for the nuts instead. As an added bonus, Real Good Food Street Mixes are all dairy and gluten-free. Winning!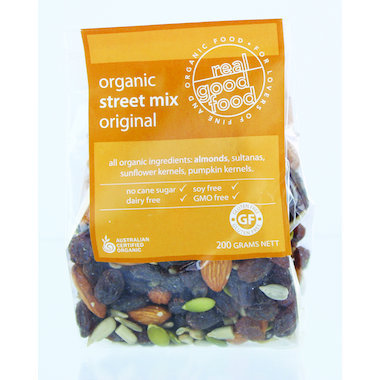 KARMIC COLD PRESSED JUICE
We find that if we don't keep our fluids up during the day, the urge to snack is made even greater by 3:00pm – cue the endless chugging of water, plus a juice here and there. "But juice is soooo high in sugar!" we hear you cry. Ahh no, not if you're drinking Karmic Cold Pressed Juice. Made from 100% cold pressed ingredients, Karmic's juice range has less than 5% fructose making it a healthy, low-sugar snack option. While single juices aren't available to order online (just cleanses), you can drop by Magic, Giddiup, and T-Roy Brown's to pick up as many Karmic juices as you so desire!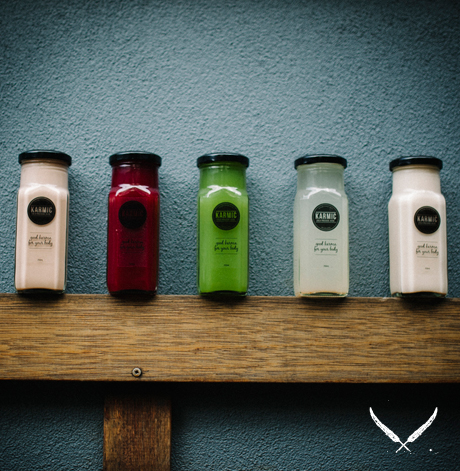 CONSCIOUS CHOCOLATE
If you are going to go down the chocolate path, we suggest going down the raw, organic one. A much healthier snack option than regular bars, Conscious Chocolate's range of raw, hand-made chocolate is certified organic, plus it's fructose, gluten, dairy, soya and egg free! The organic raw cacao used in Conscious Chocolate is packed with theobromine, a natural stimulant which will give you that lift in the arvo without the crash that usually comes after. Oh and did we mention how ahhhmazing the Conscious Chocolate flavours are? Top picks include Chocolate Chilli, Goji & Coconut, Cheeky Cherry, and our favourite, The Nutty One featuring brazil nuts, cashews, hazelnuts and walnuts. Too good.

THOMAS CHIPMAN VEGETABLE CHIPS
Chips as a healthy snack?! Yep, you better believe it ! Thomas Chipman Vegetable Chips are all sorts of delicious…plus certified organic, gluten free, nut free and made from Aussie produce. The Thomas Chipman range is everything you're looking for in a chip – perfectly thin, perfectly crisp vegie chips and perfectly more-ish. We're big fans of the Mixed Root chips, however we'd happily tuck into a bag of Parsnip, Beetroot or Sweet Potato any day!

WALLABY FOODS SUPERFOODIE SLICE
The days of 3:00pm feasting on cakes and slices made by Sharon in Accounts is over…we'd much rather a Wallaby Foods Superfoodie Slice instead. Hand-made in Byron Bay, Wallaby's fruit and nut slices help to quieten a growling stomach and satisfy your sweet tooth without any added sugars. The Wallaby range is also gluten-free so you won't be missing out on any of the healthy snack action if you're on bad terms with the G word. Flavour-wise, Wallaby Superfoodie Slices hit it out of the ball park – think Banana, Coconut, Walnut & Chia, Blueberry Lemon, Coconut Lime, and Apple Raspberry, however our pick is definitely Cappucino Cacao.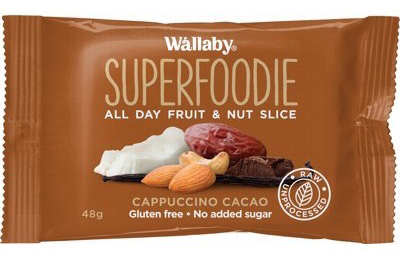 Need some more healthy snack ideas? Don't miss our first edition of healthy snacks to keep at your desk.
Image Credit: Buy Organics Online, Tash Sorensen (The Urban List), Born Organic, Yarra Valley Snack Foods, Health Nuts.