There was once a time when the omnivores of Melbourne's dining scene would flick their noses up to a menu's vegan section. It probably didn't help that it sat at the bottom right corner of page two, disconnected and neglected from its meatier counterparts, and usually consisted of a pasty, chickpea patty and nothing else.
Thanks to the rise in veganism—and the fact that the climate diet is trending—we're seeing more menus that champion the vegetable front and centre. Lucy Liu has been flying the flora flag for a while now, with veg-friendly sides to complement the bold profiles of their mains for the plant-curious, and larger, substantial vegan dishes for those who want to work their way through the menu entirely meat-free.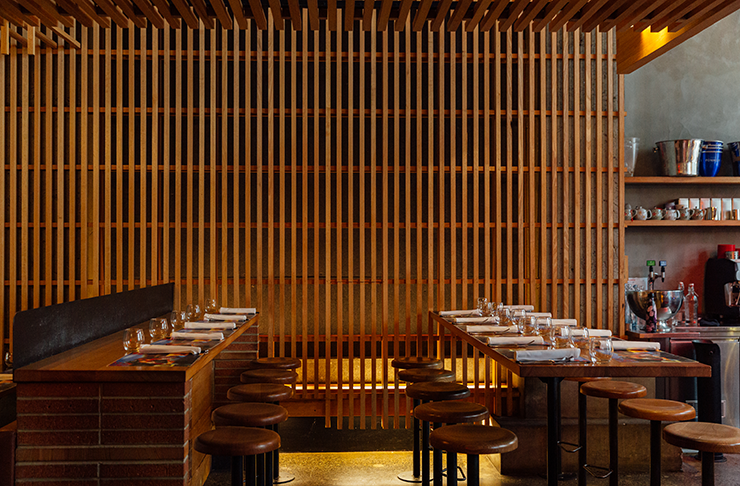 Like all multi-course dining experiences, introducing your palate to lighter, refreshing flavours is a great way to begin. Their caramelised tofu ticks all the boxes here with a delicate richness that's balanced out by a pineapple and betel leaf base.
Not delving into the dumpling selection at Lucy Liu is basically culinary sacrilege. Whether you subscribe to vegan eating or not, the spinach and water chestnut dumpling is your go-to. It's light enough to keep your appetite where it should be, while that classic Szechuan dressing brings a cut-through that provides a near-perfect segue to the larger plates on their way.
If you've eaten at Lucy Liu before, you'll know that some of their spicier dishes can slap, and the spicy tomato dressing that's partnered with tempura tofu holds true to the reputation. This one's sure to wake up the palate if it isn't already, while the crispy tempura batter provides an offset to put out any fires.
Tying things up is the green chilli dahl, which again has some kick, and a helluva lot of flavours to round out the menu. Any concerns of not being able to handle the heat are taken care of the house-pickled cucumber and roti bread.
We're serving up plenty more over at our Food & Drink section.
Image credit: Annika Kafcaloudis