Oh Melbourne, sometimes you just make us so darn proud. We have so many top-quality food and drink specialists that have started as small business ventures and have expanded to some of our city's best exports. We're taking a moment to celebrate the chocolate gurus, coffee roasters, and beer brewers this city has to offer, by showcasing our top five food and drink creators straight outta Melbourne.
Pana Chocolate
Whoever said that chocolate wasn't good for you has sadly never stumbled across the genius that is Pana Chocolate. Pana Barbounis' raw, organic chocolate is lovingly handmade and wrapped right here in Melbourne. At Pana chocolate they take three things very seriously: making excellent top quality goods, making chocolate that's good for your insides, and also running an environmentally sustainable business. Even the gorgeous wrapping paper is good for the planet, as the boxes are made from 100% recycled material and the foil wrapping is fully biodegradable. Pana chocolate is low GI, vegan and gluten free and has no dairy or soy so just about anyone can get amongst.

With ingredients sourced from all over the world including raw organic nuts, organic goji berries, organic coconut flakes and pure 100% essential oils. At the moment we are currently obsessed with their fig and wild orange variety, but they also do a very decent mint, rose, and an 80% cacao variety that is sure to keep you on your toes. Pana chocolate is available all over the country and even in Europe.
Griffiths Bros Coffee
It all began way back in 1879 when James Griffiths established one of Autralia's first coffee and tea distribution companies. Fast forward to today, Griffiths Bros is settled in Mulgrave with a 300kg roaster, cementing their status as the oldest and one of the largest roasters in Australia. Quality green beans are sourced from major coffee countries such as Brazil, Colombia, Kenya, Papua New Guinea and Ethiopia, as well as sourcing tea from responsible producers in Sri Lanka. 135 years later, Griffiths Bros maintain the same objective; to provide superior coffee blends to hospitality and food service industries in Australia.

Griffiths Bros are also concerned with fair trade and organic coffee, making their beans as sustainable as possible without compromising on taste. If you can get out to Mulgrave, we recommend visiting their bean store to make sure you're getting the right blend and machinery to create the perfect cup of joe from home. Griffiths Bros beans are also stocked in Melbourne's best cafes, leading supermarkets and specialty food stores, along with their brand new online store. Ordering all your coffee supplies and getting them delivered straight to your door? Too easy!
Melbourne City Rooftop Honey
Did you know that honeybees are currently facing an extinction threat? In an attempt to help the honeybee, Vanessa Kwiatkowski and Mat Lumalasi have started up Melbourne City Rooftop Honey to bring bees back into the city. The hives are set up in the rooftops of cafes, restaurants and residential areas all over the city, creating a sustainable local business. Interestingly, we're not the only city taking on such a venture; urban beekeeping is alive and well in cities like Paris, Toronto and San Fransisco.

MCRH sell a number of bee-related products, so while the focus is on the honey, there are plenty of other options available. There honey comes in both pots and test tubes or the smaller sized 'stingers'. This is brilliant if you want to sample a few different varieties of Melbourne-made honey without buying multiple sticky pots. We are particular fans of the Christmas creamed honey, which is simply whipped and absolutely begging to be spread on a crumpet in the near future. They also sell beeswax, candles, and even seed pouches for plants that are bee friendly. MCRH products are currently served and stocked in 32 different venues around the city, including Pope Joan, Cumulus Inc, Feast of Merit and The Town Mouse.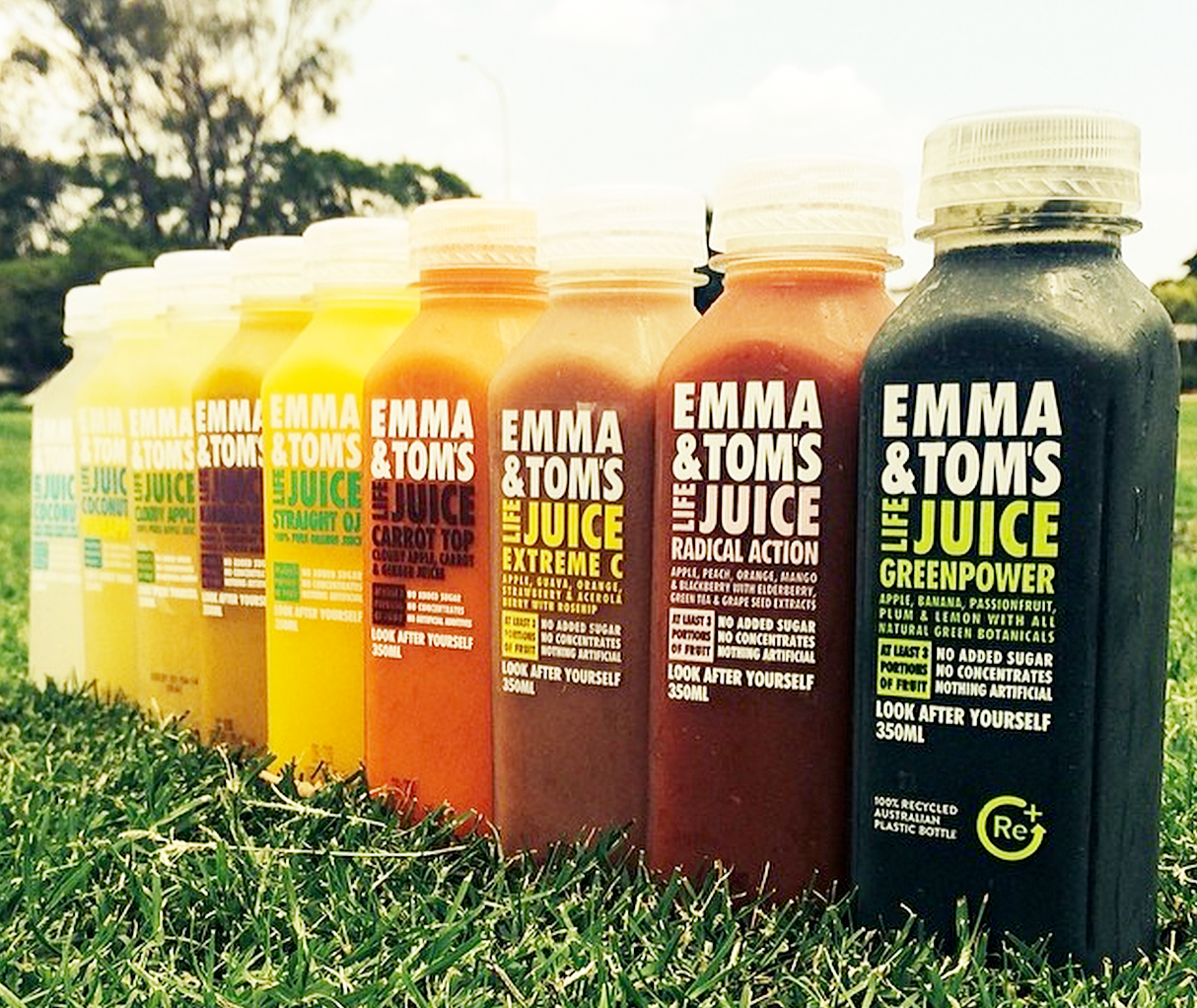 Emma & Tom's Life Juices
Emma & Tom's whole fruit smoothies would have to be one of Melbourne's biggest exports, making a product that is both healthy and delicious. Emma and Tom have been great mates since they were 12 years old, and in 2004 they decided to take their friendship to the next level by becoming business partners for a product they both strongly believed in. Emma & Tom's make their smoothies by crushing the fruit as opposed to juicing it, so all the pulp and fleshy goodness goes into the bottle. There are also no preservatives, added sugar, artificial flavours, colours or concentrates – what you see is what you get. Another great thing about Emma & Tom's is that each bottle provides 20% of your daily fibre intake.

Emma & Tom's started with their Life Juices, with flavours such as Karmarama, Extreme C, and Green Power, which is filled with apple, passionfruit, plums, bananas and green botanicals. These juices are an excellent pick me up when you're craving something sweet but want to feel good at the same time. They have recently added Sparkling Juices to the mix, including ginger beer and lemon lime bitter concoctions to the mix. For hot summer days and quick rehydradtion, the Quenchers, made up with 30% fruit juice and no added sugar, are a good way to go. Emma & Toms also dish out Brewed Iced Tea, Well Being Waters, and also Life Bars if you find yourself getting a bit peckish.
Mountain Goat Beer and Brewery
It all started in the early 90s for Dave and Cam, with their first Mountain Goat beer, the Hightail Ale, hitting the shelves in 1997. It was extremely humble beginnings for these two mates, and after a lot of persistence the gathered the funds to set up their own brewery in Richmond. 17 years later Mountain Goat remains 100% independent with the original founders still at the helm of the operation, and beers are brewed on site in Richmond and larger batches in Laverton. There is something so awesome about drinking beer where it's been brewed, and on Wednesdays and Fridays after 5pm, you can do just that at Mountain Goat's Richmond microbrewery. The also do free tours on Wednesdays at 6.30pm for those interested to learn how they do what they do so well.

Mountain Goat have got their brews down to a fine art, with their certified organic steam ale, the original Hightail English amber ale, and a cracking IPA. We particularly love their Summer Ale, which comes in a can so it is totally perfect for those attending music festivals this summer. They also do a darn good 2 Step Cider that's snappy and crisp with a hint of sweetness and contains no added concentrate or sugar. Put simply, Mountain Goat has got your summer beer sipping sorted.

Image Credit: Pana Chocolate and Emma and Tom's