For a long time, absinthe was the Melbourne drink you have on a dare, or because you want to see visions, or you think flaming cocktails are the height of cool (no judgement–we're a sucker for singed eyebrows too). But for Rebecca Lombardo and Vince Morino, the owners of Fitzroy's new-bar-on-the-block, Absinthesalon, that whole absinthe scene doesn't have a lot to do with the drink itself, or its heritage.
"Most of the 'absinthe' people drink these days is the Czech stuff," Morino says, "which is really just green colouring and alcohol. We want to introduce Melbourne to the real thing."
Walking into Absinthesalon is one of those classic Melbourne Narnia-type experiences: a black door on Rose St, surrounded by peeling posters and old graffiti, swings back to reveal a small, elegant miracle. A field of tulip lights hang from the ceiling (a little nod to Oscar Wilde), the walls are covered in murals that chronicle the history of the Green Fairy, and 36 back-lit bottles of Absinthe stand proudly on the gorgeous 'reverse-bar'. To one side is a green-lit Prohibition-style courtyard, which feels like somewhere the Little Mermaid would hang after a long day at work.
Lomardo and Morino wanted to recreate the famous 19th-century Parisian salons where absinthe became a kind of cultural sensation, the 1800s equivalent of turmeric lattes, places where poets and politicians mingled and talked art, philosophy and culture.
"It was originally brought back from the Algerian wars," Lombardo says, pointing to a painted mural of a French solider, eyes boggling out of his head. "Usually it's made from wormwood, anise and fennel, but there are heaps of other ingredients you can add. Stuff like star anise or cloves. We stock the traditional stuff: French, Swiss and Australian absinthe."
You won't find any shot glasses on fire at Absinthesalon. Instead, each table is fitted with a curious Belle Epoch decanter (they call them 'fountains here') with four little taps poking out the sides. Your waiter helps you pick your absinthe from the bottles on display, then tips a carefully measured pour into your crystal glass. Now for the fun bit. You balance a sugar cube above the glass and let ice-cold water from the fountain drip through onto the absinthe, dissolving the sugar and causing the liquid to clarify and separate. It's hypnotic and, in a way, much more badass than just whipping out a Zippo and shouting 'Skull skull skull'. Eventually, the herbs and oils in your absinthe separate completely, and it's ready to drink.
Absinthesalon comes with one house rule: there's a three drink maximum, there to encourage an appreciation of fine absinthe, rather than a piss-up. "Besides," Morino says, "Any more than three of these and you'll really be flying. It's the herbs – they go to your head. We get some big guys coming in thinking they can handle it, but you see them slow down after the first glass. It packs a punch."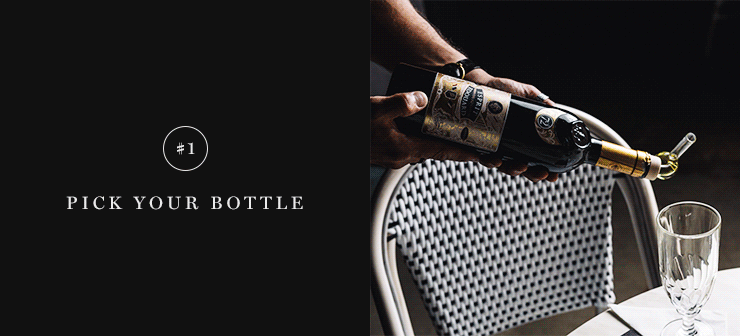 In another cute twist, Morino and Lombardo are starting to host poetry reading and art openings in the space (check their website for upcoming details). It's another nod to the salons of the past–a little slice of Belle Époque, right here on Brunswick St. We'll drink to that any day.

Images credits: Griffin Simm