Celebrating two years as the vibrant bloom among the shops and cafes of Burwood Road in Hawthorn, Canary Jane's Flowers is one of the gosh darn prettiest florists to be found in Melbourne. Set in a kitsch 1950s kitchen, complete with black and white checkerboard flooring and resident canaries Wild Bill ("the scruffy one") and Doris ("the princess"), Canary Jane's is the neighbourhood go-to for fresh flowers and girlie and fragrant gifts.

With a lifelong love of vintage and the films of Doris Day, Canary Jane's is the magical creation of Rebecca Stacey. Rebecca took a break from her hectic schedule to talk to us about "the language of flowers", how to woo your sweetheart, and her favourite Hawthorn haunts for a caffeine fix or sinfully sweet treat.

TUL: So, how did you get into the floristry business?
When I was 22, I was given a redundancy package and thought "now is the time to do something you really want to." I had often thought about becoming a florist, so I enrolled at NMIT in Fairfield and fell in love with floristry, flowers and the industry. I started working while studying and have never looked back. Eight years on and I still love the industry and the flowers!

TUL: When did you open Canary Jane's Flowers and why did you decide to go out on your own?
We opened Canary Jane's Flowers in March 2012...the time has just flown! I decided to go out on my own after a car accident in South America. It was the push I needed to realise life is too short and you can't achieve anything just waiting for it to happen.

TUL: What does the name Canary Jane mean?
It comes from my lifelong love of Doris Day, and in particular the movie Calamity Jane. I watched the VHS every Saturday for years until it eventually broke!

There was an actual Calamity Jane, "Martha Jane Canary" back in Western times. Who was very different from the girl Doris played. She was gruff, a drunk and an absolute tomboy! So the name is a play on that. It is why my logo has the western rope font and the canary wears a neckerchief.

Also, the shop has two canaries, Doris and Wild Bill, named after Doris Day and Wild Bill Hickok.

TUL: Were you always in love with flowers?
I remember flowers from my childhood. I would often pick some for Mum and the house. I always managed to have the knack of picking the flowers Mum wanted left on the bush but they were always the prettiest!

TUL: What is your all time favourite flower?
My all time favourite would have to be an anemone, preferably the purple or magenta.

TUL: What is the worst part of your job?
Scrubbing out the buckets and vases with diluted bleach. I do this every second night before the market flowers arrive. It's a sure fire way to ruin your hands and nails!

TUL: And the best?
The people! Before I had my own shop, I would have said the flowers, but now it is by far the people. The customers are usually in a great mood walking in and I love helping them create the perfect bunch to express what they are feeling.

TUL: What does your typical day/week involve?
The first thing I do every morning is wake up my canaries, Doris and Wild Bill. They get so spoilt and are such a joy to greet every day. Mornings involve unpacking market flowers, stocking the shop, making up orders and serving.

Running my own business means lots of not so fun book work and organising upcoming events and weddings on lunch breaks. In the afternoon everything slows down. I get to scrub all the vases, do lots of cleaning and get everything ready for the morning.

TUL: What kind of flowers would you give & why...?
I like to give seasonal flowers as they're of better quality and also reasonably priced.

To woo that special someone – Not roses! Be original, think of what your partner would really love. What's their favourite flower or colour? You will get more brownie points remembering than going with the cliché!

For your best friend's birthday – Something bright and happy! If it was my bf's birthday this week, I would get her a big beautiful bunch of dahlias elegantly wrapped.




For a condolence gift – Something small and thoughtful. There is nothing worse than a house full of flowers and no vases. A lovely posy of scented pastel sweet peas, freesias and stunning roses in a glass vase would say you care without causing a nuisance. I find it is often nicer to give a bigger bunch a few months down the track when everyone else's have faded away and they are not so overwhelmed.

For a 'just because I care' gift – A seasonal tussy mussy filled with fragrant flowers is always a great gift. I make lots of them filled with berries, fruits, perfumed foliages and dainty flowers. They can be made traditionally or quirky, depending on who they are for. It's a perfect way of saying you've been on my mind!

For a hostess gift – Something with its own water source! If your host is busy you don't want the flowers to sit in the sink until the next day when they have time to deal with them. A gorgeous vase filled with stunning tulips or ranunculus would suit most decors and they are ready to sit on the table without fuss.

To your potential mother in law – Lisianthus are gorgeous long lasting flowers that look feminine yet elegant. I'm yet to hear anyone say they dislike them and they come in the most beautiful colours.

TUL: Flowers are meant to have different meanings. What are some of the common misconceptions, eg. I have heard that yellow flowers mean rejection…
Yes, if you go back to Victorian times, every flower has a different meaning. Putting them together in a bouquet almost creates a conversation, or as it's commonly known "the language of flowers".

People often associate yellow roses with friendship whereas the Victorians saw it as "infidelity".

My very favourite meaning is Lilac, meaning "first emotions of love": basically the cute swoony feeling you get on a crush.

I know you will be shocked to learn your favourite flower peonies mean anger and shame. (TUL editor: Oh no!) Quite rough for such a gorgeous bloom! Sunflowers which are so bright and happy are said to mean "false riches". Whereas a gladioli means "you pierce my heart". Be grateful to never receive a bunch of basil as it represents hate!

TUL: Are there any key trends in wedding flowers at the moment?
Weddings have definitely changed. Brides have steered away from the gigantic bouquets of years ago and are wanting a simple, almost picked-from-the-garden looking posy. Finally, brides are seeing beyond roses and expressing their personalities through their flowers! We have done so many vibrant and fun weddings of late.

There is a big trend towards tonal bouquets focusing on textures and even ombre bouquets! Yellow is definitely making itself know this year. Lots of navy/ yellow or lemon/grey mood boards have been popping up!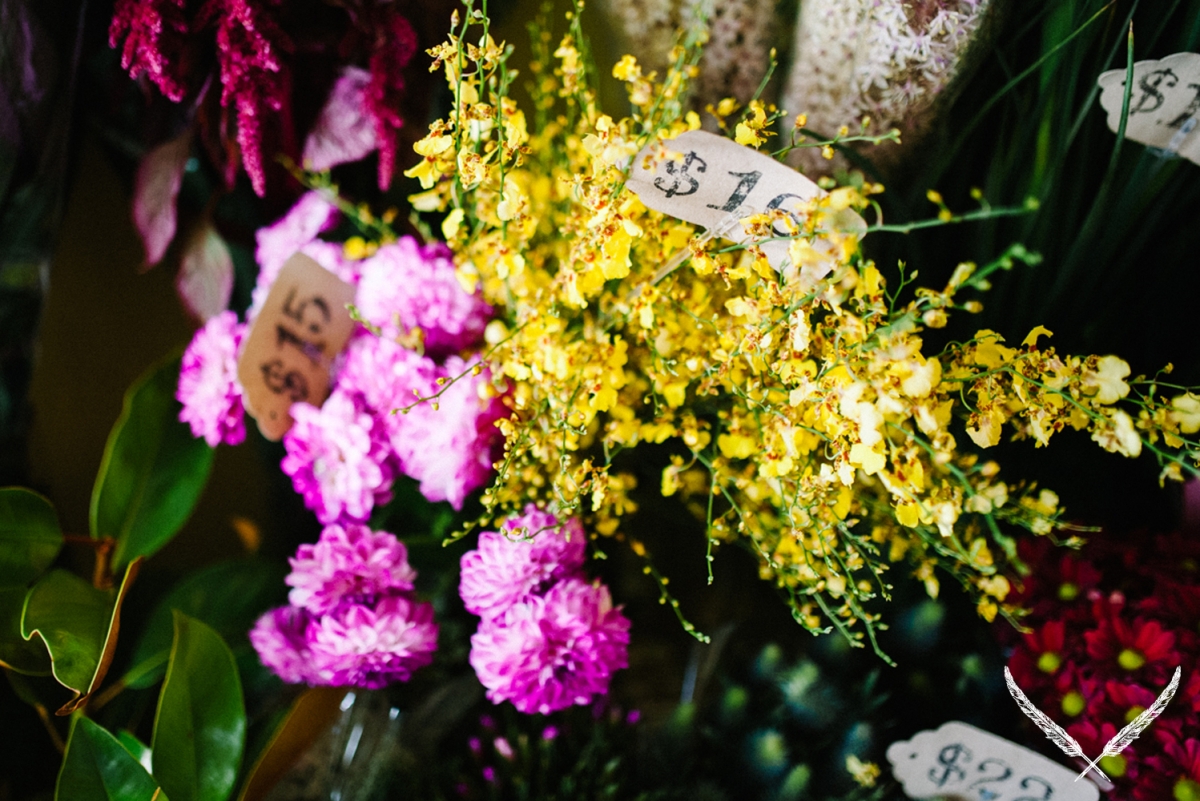 TUL: Top tips for getting the most life out of your flowers?
Fresh water is the key! If you change the water every two days and give the stems a little snip you will get so much more out of your blooms.

TUL: What is the funniest message you have ever had to write to accompany a flower delivery? And the most romantic?
One stands out immediately, it was signed off by "the tantric wolf prince" – that's about as much detail as I can go into!

The most romantic ones are the ones that come from the heart and mention little quirks and idiosyncrasies that show time and thought has gone into the message. I'm in the dark as to what a lot of them mean but know the recipient will swoon when they read it.

I often send my sister flowers with cards made up from secret admirers or congratulating her on expecting twins etc. I know the mail room reads the messages so I can stir her up without getting in trouble as she is getting an awesome bunch of flowers!

TUL: I assume you have to get up super early to go to the flower markets? So you probably love coffee. Where do you get your morning cup?
I love love love coffee! I've limited myself to 3 a day! I usually duck into Muharam Cafe and try to avoid their ridiculously good cupcakes. Then I always pop into Not Telling next door for round two! Round three is from Tapa, I like to share the coffee love around the neighbourhood.

TUL: What are some of your favourite Hawthorn haunts?
I have such a sweet tooth and am smitten with Life on Mars on Glenferrie Road. They have the best pancakes and muffins with the biggest muffin tops I have ever seen! Momoco Sushi and Bombay Beat are my go-to take aways when working late doing weddings. Then, there is always the faithful Elgin Inn. Nothing beats a shandy and a parma on their deck after an epic day! Mind you, Jeff doesn't seem too happy to dilute his beer with lemonade for my tastes!

TUL: With Valentine's Day around the corner, I bet you're getting busy! Where would your dream date destination be for Valentine's Day?
Oh man, I never get a Valentine's date! After working a 90hour week all I want is sleep and a foot rub! I'm pretty chuffed when my boy takes me out for ice cream! My ultimate would be a drive out to the country and setting up an old fashioned picnic under a shady tree for just the two of us. Mind you, I would try and get some antiquing in somewhere.




TUL: What is your favourite romantic Melbourne restaurant?
I love Siglo (Editor's note: who doesn't?!). Nothing beats a warm night on their breath-taking deck sipping a cocktail and grazing till all hours.

TUL: The most romantic place on earth that you've been?
Valle del luna in Chile at sunset was one of the most romantic places ever. The colours and surreal environment was a once in a life time experience. (Worth the hike up a dodgy hill!)

I also love the Alhambra in Granada, Spain. Every building is so ornate and the gardens are to die for.

TUL: What's the best way to spend $50 in Melbourne?
Definitely on an awesome meal! I love Maedaya Sake & Grill on Bridge Road, followed by some frozen yogurt at Frozen by A Thousand Blessings. My other favourite night out is entrees at Zum Zum on Rathdowne Street, Carlton, followed by an utterly indulgent dessert and Pedro Ximeniz at La Luna Bistro.

TUL: And $500?
Shopping! I would head into Circa Vintage Clothing and buy some divine frocks, followed by a trip to the Waverley Antique Bizarre for some 50s and 60s furniture.

TUL: You've got a really great retro style. Where do you shop for your 50s finds?
I really need to head out of town to get the goods! I love little old country towns with op shops run by cute ladies. I can find dresses for under $20 and amazing old glass ware and vessels for the shop. I grew up in Newcastle and every time I go back I'm straight into the vintage and op shops.

TUL: Love is….
Opening the shop door first thing in the morning and taking a deep breath! I love the smell of all the flowers. Once I've been in here awhile I become desensitised and don't smell it until I come back the next day. It makes me realise I love my job and today is going to be brilliant!