Sick of all the road closures? Wondering when the heck the Metro Tunnel is going to be finished (spoiler: not till 2019). Well we've got some good news.
Open House Melbourne are giving all of us PTV users the opportunity to take a walking tour through the underground Metro Tunnel worksite. Forget those dinky viewing platforms, this is the whole she-bang. And it's all FREE (!!) to the public. Registering is essential, so keep an eye out here to book in quickly (no times are up yet, but keep your eyes peeled).
Just a heads up, they don't look like the above pic quite yet...More like this: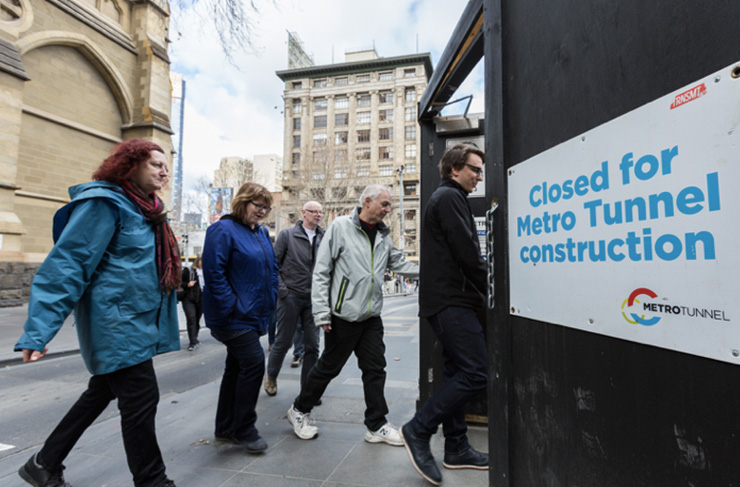 Here's how it's gonna work. The project team will take you through the sites (including A'Beckett St, City Square and Franklin St) and show you just how they're undertaking such a massive project (like, uh, digging 11 storeys deep) in such a busy city.
You might even feel more leniant about the train delays when you see how they have to squeeze in a construction site alongside trams, pedestrians and the bustling Melbourne CBD. They'll explain how the completion of Metro Tunnel will streamline and untangle our rail network, giving us "more trains more often". Goodbye being pressed into a stranger's armpit at 8am...
You'll also get a sneak peek at how the new stations might look, where one day you'll be standing and shivering in 4° temperatures on your way to work. It just classic Melbourne, isn't it?
THE DETAILS
When: The tours are running 28 + 29 July
Where: Metro Tunnel sites around the CBD
For more info, click here.
In other news, we just discovered Australia's first non-alcoholic gin.
Image credit: Melbourne Metro Rail Authority