Alright guys, time for a little education on one of the Melbourne hospitality industry's favourite morning dishes – bircher muesli. In the early 1900s, Swiss physician Maximilian Bircher-Benner developed a muesli recipe for patients in his hospital, where a diet rich in fresh fruit and vegetables was an essential part of therapy. Bircher-Benner's ground breaking breakfast was inspired by a similar strange dish that he and his wife were served while hiking in Zee Alps. (TUL note: Make sure you read on for Neil Perry's take on the original bircher recipe).
Even though it was originally served with lemon juice and sweetened evaporated milk, patients dug it, the Swiss dug it, and here we are one hundred years later, still enjoying it. Albeit slightly fancier versions.
Although we're all grieving the removal of warm and toasty porridges from the menu, the arrival of spring has brought back our bircher favourites. In celebration, The Urban List has rounded up some of the best bircher muesli in Melbourne. We'd love to hear what you think!
Texture in a bircher is super important, and the Small Victories glug-ratio is absolutely unmatched in Melbourne. Soft muesli accompanied by toffee nut clusters and rice bubbles, garnished with their house made yoghurt and slices of green apple. You won't leave hungry either because they certainly aren't stingy on the serving sizes.
Small Victories | 617 Rathdowne Street in Carlton North
03 9347 4064 | Facebook | Twitter
Birchers are often accompanied with 'cereal' offenders (zing!) – green apple or rhubarb taking the stage most of the time. However the bircher at Pillar of Salt is a tropical change of heart with smashed banana, natural yoghurt and roasty, toasty coconut shavings. It'll have you swinging from a date palm in no time.
Pillar of Salt | 541 Church Street in Richmond
03 9421 1550 | Facebook | Twitter | Instagram
You ain't never seen a bircher like this. An entire poached pear encrusted with pistachios placed delicately on top of a cylinder of moist bircher, fuelled with raspberries and seeds. This is plating-up at its pinnacle. Smash out one of these bad boys along with the best coffee in Melbourne, and you will be one happy little Vegemite.
Axil Coffee Roasters | 322 Burwood Road in Hawthorn
03 9819 0091 | Facebook | Twitter | Instagram
Albert Park's Petty Officer certainly doesn't cut any corners with their bircher – featuring a moist accumulation of rose water poached quince, candied walnuts and house made labne. Alongside this unusual combination, we recommend sipping on their delicious Pimms and lemonade.
The Petty Officer | 113 Victoria Avenue in Albert Park
03 9686 3000 | Facebook | Twitter | Instagram
This bircher is downright decadent. Poached pears, yoghurt and pistachios with...wait for it...rose petals. Tres romantic if I do say so myself! There are generous lashings of honey with this one too, so it's a definite win for those with a sweet tooth.
Little Henri | 850 High Street in Thornbury
03 9484 8857 | Facebook | Twitter
This is the experimental bircher of the bunch. On the menu it says date and coconut bircher with strawberry-banana jam and almond clusters, but in your mouth it is Nirvana. Period. You also won't get guilted by your egg-loving friends who say 'why get something you can make at home?'. You can't recreate this, it's perfection.
Wide Open Road | 274 Barkly Street in Brunswick
03 9387 6079 | Facebook | Twitter
Often cafes resign themselves to one kind of muesli on the menu – natural, granola, or bircher – or even worse, no muesli at all. Luckily, Liar Liar caters for us muesli nuts. If you feel like something a bit different but don't want to move past Glenferrie Road, they serve their bircher, granola and untoasted muesli with raspberries, a dollop of labne and honey.
Liar Liar | 90 Kinkora Road in Hawthorn
03 9818 8864 | Facebook
There's something so comforting about the bircher at Dukes – it's the type of breakfast you can depend on come rain, hail or shine. The perfect consistency, the Dukes bircher contains generous amount of apricots and raisins with strawberries, blueberries, a smattering of granola and a dollop of yogurt on top. If this ever leaves the menu, we'll be truly devastated.
Dukes Coffee Roasters | 169 Chapel Street in Windsor
03 9521 4884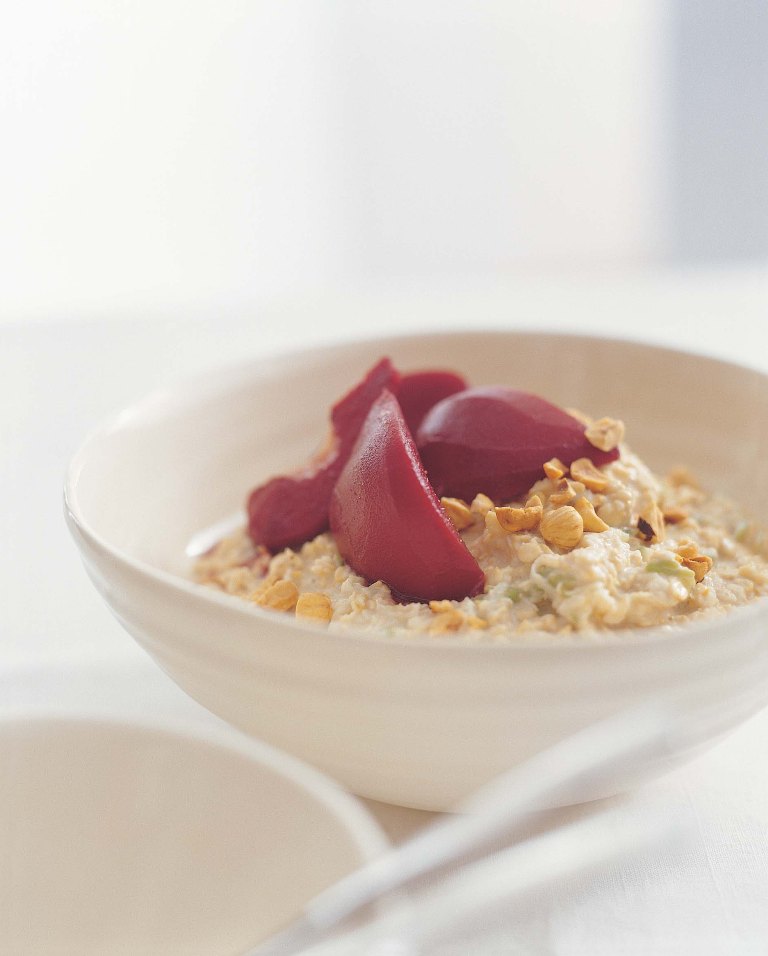 Neil Perry's take on the original bircher muesli recipe. Image Credit: Inside Cuisine.
For those of you at home...
As an added bonus we thought we'd include the first recipe for bircher muesli ever, courtesy of old mate Maximilian Bircher-Benner. To make it more palatable to our spoilt, modern day palates, we have tracked down Neil Perry's slightly tweaked version of this classic. Perfect for a weekday brekkie when you don't have time to visit our fave cafes above.
You'll need...
200g rolled oats
Juice of 2 lemons
125ml water
2 Granny Smith apples
500g plain yoghurt
150g honey
Poached fruit, such as poached pears or rhubarb, or fresh fruit, to serve
40g crushed roasted hazelnuts, to serve
Method...
Mix the oats, lemon juice and 125ml water together in a bowl. Cover with cling wrap and leave to soak overnight. In the morning, grate the apples before adding them to the oat mixture. Add the yogurt and honey and give it another good mix. Then, simply scoop the bircher into four separate bowls, top with either the poached or fresh fruit, scatter the crushed hazelnuts and enjoy! Serves 4.
Need some more breakfast recipe inspiration? Check out our super easy guide to making French toast and chia pudding at home.
TUL Note: Ella Stening is a freelance writer based in Melbourne, Australia. She can be found compensating for her addiction to eating out and drinking lots of wine by writing about it all over the web. Or with her cat, Louis.
Main Image Credit: Pinterest.