This city's love affair with food trucks started small, with just a handful of trucks and a lot of talk about them on Twitter. Now there's more food trucks in Melbourne town than you can poke a disposable chopstick at, and with all that variety around it's hard to know which truck to stalk, er, follow. We've clocked up some serious food miles in our ongoing quest to decide which trucks offer Melbourne's best meals on wheels. Here are our current fave Melbourne food trucks – now truck off and try em.
Hammer & Tong
This isn't a food truck – it's more of a restaurant on wheels, offering a selection of restaurant­quality dishes from the popular bricks­and­mortar eatery Hammer & Tong 412. Fancy a soft shell crab burger, or maybe a lobster roll followed by lavender yoghurt custard? Just as its namesake Fitzroy restaurant does, the Hammer & Tong food truck nails it.
Gogi
Next in their high-end food truck fleet, the guys behind Fitzroy's Hammer & Tong 412 are about to launch the all-new Gogi Korean food truck. Officially launching at the Night Noodle Market in November, Gogi's menu will feature goodness like the Gogi dog (a Korean-inspired hot dog), beef and spicy pork tacos, and Korean fried chicken. The truck is named after the Korean word Gogi, meaning 'meat'. Get up and go-gi, Listers!
Toasta
Hands up if you love toasted sandwiches. Hands up if you want your toastie old­school (just cheese, please), new school (think brisket and BBQ sauce) or too cool for school (gouda, bacon, brussels sprouts and walnuts). Hands up if you've stopped reading this because you're chasing the Toasta truck around town....With some superb fillings and gluten­free bread available, Toasta offers some of the best toasties in Melbourne – hands down.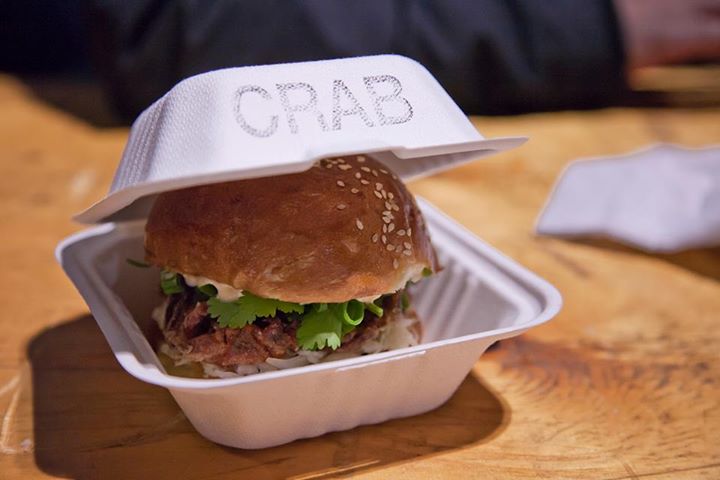 Image Credit: Hammer & Tong Food Truck Facebook
Nem N' Nem
A regular spot in the line­up at Yarraville Gardens Food Trucks has cemented Nem N' Nem's reputation for vibrant Vietnamese hawker­style food, fresh from the food truck. You'll want to try everything on the menu, so bring a picnic blanket and some friends, order one of everything and share your food. Don't miss the classic beef wrapped in betel leaves or the tacos – yes, tacos, stuffed with Vietnamese coleslaw and crunchy fried chicken.
Ghost Kitchen
Wanna know what the next big thing in food will be? Just quietly, we reckon it might be Taiwanese. The Ghost Kitchen food truck is gaining a loyal following for its Taiwanese street snacks, such as salt n pepper popcorn chicken and spring onion pancakes; it also offers the luscious guo bao. For the uninitiated, that's slow­cooked pork belly sandwiched in a steamed bun – Taiwan's answer to the burger and a strong contender in the next takeover bid for our tastebuds. Get on it.
The Brûlée Cart
There's hell on wheels, and then there's heaven on wheels, aka The Brûlée Cart. Offering little pots of blowtorched perfection, this Melbourne food truck with a sweet twist is the perfect way to cap off a night of trucking feasting. Brûlée flavours include choc­Cointreau, salted caramel and the divine lavender and honey; one taste and you'll be carrying a (blow)torch for this truck.
Korean Fried Chicken Truck
The name says it all – everyone's favourite KFC. In a truck. Genius. Korean Fried Chicken has exploded onto the Melbourne food scene (not literally, or there'd be a fowl mess), and once you've tried it you'll be as addicted as the rest of us. Wrap your tastebuds around a hefty chicken burger or get messy with the crispy fried wings – they really are finger­lickin' good.
The Little Mushroom Co
The feel­good factor is higher than a hippie at Woodstock here. Everything on The Little Mushroom Co menu is vegetarian (with vegan options available) and the truck itself is solar powered; your juicy grilled mushroom burger or decadent haloumi burger may just come with a side serve of inner peace.
Afrofeast
Food trucks don't just traverse the streets – their cuisines cross the globe, with offerings from countries near and far. Adding yet more diversity to the Melbourne food truck line­up is Afrofeast, which specialises in African street food. Try the boerewors (rich, hearty sausages), and if you've got any room left tuck into some bunny chow – that's a hollowed­out loaf of bread filled with curry, not rabbit food!
Happy Camper
Get a pizza the action at this super cute 1960s Airstream trailer, which has been converted into mobile pizza kitchen, Happy Camper. Toppings are fresh and simple, designed to make the most of high­quality ingredients – think salami, Margherita or good old Hawaiian. Oh, and you know how leftover pizza makes the best breakfast? Fresh pizza is even better – so if you're lucky enough to catch this truck when it's serving breakfast pizza, you'll be a happy camper indeed.
Dos Diablos
If Mexican food gets you all fired up, check out Dos Diablos. The vintage food truck used to be a CFA canteen truck; now it responds to emergency call­outs for tacos. Just try to resist its siren song.
Image credit: Trailer Park Facebook.
Melbourne's many food trucks don't always set up in the same place; half the fun is chasing them around town. But if you're after food, not the thrill of the chase, there are a few places where you're almost – almost –guaranteed to find a few trucks each day. Check their websites or Twitter feed – or visit Where the Truck – before you go to avoid disappointment.
Ruckers Hill | Northcote
One of the original places to host some of Melbourne's best food trucks, Ruckers Hill still draws a crowd – especially when local faves Taco Truck and Beatbox Kitchen pull up. In fact, trucks are here often enough that the hill should be renamed Truckers Hill. Settle in for a night­time picnic with a great view of the city lights, or grab dinner to go before a show at Northcote Social Club; either way, you're onto a wheely good thing.
Yarraville Gardens Food Trucks | Yarraville
Until recently, any number of food trucks could roll up to green oasis, Yarraville Gardens, providing an instant party – a very well­ catered one – in the west. Recently, Maribyrnong Council decreed that only six trucks can turn up at any one time, so the party's more subdued – but that's not necessarily a bad thing. Before, you had no hope in hell of eating something from each truck in one sitting; now, that's a much more achievable goal. Take that, council wowsers.
Hank Marvin Markets | St Kilda East
Set to open in summer, Hank Marvin (rhyming slang for 'I'm starvin') promises to bring a bevy of your favourite food trucks in Melbourne to Alma Park, St Kilda East. The Brûlée Cart and Hammer and Tong are already on board, plus the super cool Bianco Latte ice cream cart will be dishing out their delish gelato. (Sure, Bianco Latte is a cart, not a food truck, but when flavours include peanut butter and jelly, who cares?) Hank reckons that's only the beginning; we reckon we can't wait.
Trailer Park at Village Melbourne | Melbourne
Trailer Park brings all the food trucks to the yard – well, to Village Melbourne, anyway. The setting is akin to a beer garden, with picnic tables and a bar, there's a laid­back yet buzzy atmosphere and of course there's heaps of great food – park yourself here and enjoy a rotating selection of Melbourne's finest food trucks.
Want more? Check out our round one of Melbourne's best food trucks!
Main image credit: Korean Fried Chicken Truck Facebook.