Melbourne in the Springtime is nothing short of glorious, and these lovely warm weekends we've been enjoying are often made that little bit better with something ice-cold and delicious. Yes, there are undoubtedly many amazing gelaterias and ice creameries all over Melbourne, but now is the time for frozen yoghurt!
Froyo is perfect when you've got a craving for something sweet but you want to be good to your insides at the same time. It cools you down, fills you up, and – depending on your topping selection – can be very good for you. We love froyo because it's the ultimate choose-your-own-adventure dessert; from the base flavours to classic and extravagant toppings, there's a lot of fun to be had. Here's the scoop on the best frozen yoghurt in Melbourne.
AYOMO | SOUTH MELBOURNE
Short for 'A Yoghurt Moment', Ayomo are adorable and delicious. Their Greek yoghurt is swiftly taken over to the Flavour Lab, where full cream milk and all natural ingredients are added. They've become known for their macadamia-flavoured frozen yoghurt, and it's the perfect balance of tart and sweet. Toppings include seasonal and freshly picked berries and homemade crumbles. Their set up in South Melbourne is a great place to drop in on, and they also do cold pressed juices and smoothies.
YO-CHI | CARLTON AND BALACLAVA
For those looking for froyo with a health kick, Yo-Chi is for you. 98% fat-free, made with real yoghurt, no additives or preservatives, vegan options are available, and fresh fruit is cut daily for you to cover your froyo in. If you're really on the go, they're doing Smoochis now – yoghurt based smoothies that come in every flavour, from peanut butter to apple crumble. Their newest flavour, persian delight, is perfect for those who love the subtlety of rosewater without it being as sweet as Turkish delight. Currently there's a Yo-Chi in Balaclava and one in Carlton, but they're about to expand into Hawthorn and Yarraville.
YOGURDDICTION | MOBILE
Froyo on wheels is music to our ears. The Yogurddiction truck stocks three non-fat, certified kosher yoghurt flavours and up to 25 different toppings, from cereals, chocolate, and an oh-so-cute selection of drizzles and sprinkles. In even more exciting news, they deliver froyo to your door if your order is $30 or more, just double check their website that your neighbourhood is on their delivery list. When these guys aren't roaming the streets of Melbourne, they can be found at festivals and parties. If you want to see where they're setting up shop for the day, best to like them on Facebook.
YUMMOO | HAWTHORN AND BRUNSWICK EAST
Yummoo froyo is less than 2% fat, less than 1% sucrose sugar, 100% awesome. We love throwing in white chocolate and cranberry pieces over the passionfruit froyo, or if we're feeling decadent, caramel bananas on soy cinnamon donut flavoured froyo is a real treat. Yummoo also offer take home containers of 500ml and 1 litre if you just get enough of Melbourne's best frozen yoghurt – it makes for an excellent midnight snack during these balmy evenings. Yummoo is located in both Hawthorn and Brunswick East, so head to the one closest to you.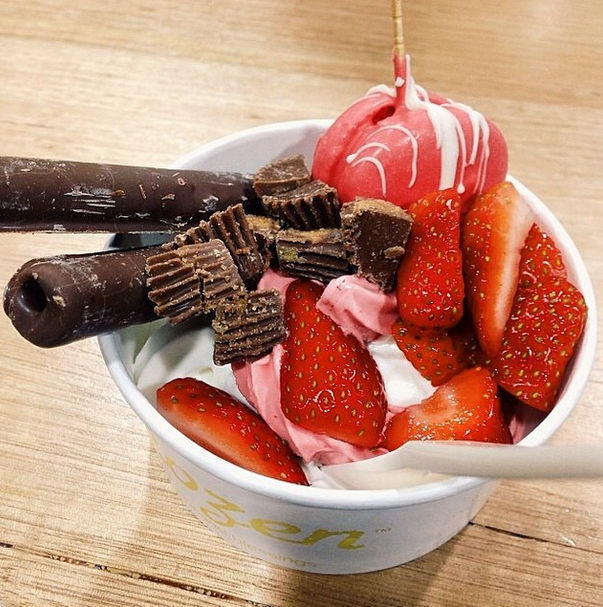 Image credit: Frozen by A Thousand Blessings Instagram.
FROZEN BY A THOUSAND BLESSINGS | VARIOUS
These guys are not low-fat, but whatever you do, don't mistake that for not healthy. Frozen by A Thousand Blessings use stevia instead of sugar in their natural and green tea froyo, they use biodynamic milk and yoghurt, and they even do an almond milk froyo for those looking to avoid dairy. From homemade organic stewed rhubarb to chocolate dipped macarons, the toppings at Frozen are a great mix of good for you and treat yo' self. There's bound to be a Frozen near you, with four locations spanning the city, in Richmond, South Yarra, CBD and Doncaster.
IGLOO ZOO | MALVERN AND CHADSTONE
These guys do some of the best frozen yoghurt in Melbourne, keeping it simple with three flavours – original, green tea and pomegranate. The igloo crunch is a great idea for those 40-degree days, where the froyo and three toppings of your choosing sits on a bed of shaved ice. The Igloo Warmers are also very tasty options, if you're feeling decadent go the Igloo Toffee, where the froyo is placed on top of honey and chai cake and then covered with a toffee sauce. Igloo Zoo's froyo is 99.5% fat free and high in antioxidants; find them in Malvern or Chadstone shopping centre.
YO BAR | DOCKLANDS
Spoil yourself in the healthiest way possible with YoBar, located at Docklands. The yoghurt is 98% fat free and they've got 6 different flavours, including soy chai for our vegan friends. There are 30 different toppings to choose from here, and while there are certainly healthy options available, the fruit pearls and chopped up lollies are sometimes a little hard to say no to. Yobar is located just under the Melbourne Star, and we think it's a pretty cute summer date to go for a ride on the massive Ferris wheel during sunset, sharing a cup of froyo.
Honorable mentions go to franchises likeTutti Frutti with over 80 rotating froyo flavours, Cacao Green's Honey Earl Grey Froyo, and Yo-Get-It's high in protein low in sugar frozen yoghurts, which make for an excellent post-workout snack. Delish.
Image credit: Ayomo Facebook.