Eating decadently delicious desserts is something that doesn't happen as often as it should. Sure, after you've stuffed yourself full with a ridiculously good dinner you'll ask to look at the dessert menu, but how many times have you been so blown away by the selection that you're happy to consider ROLLING out of the restaurant? Well, dear listers, we're here to restore your faith in the dessert dish by revealing Melbourne's fanciest schmanciest most OTT desserts! So get your stretchiest pants on and prepare to start dishin' out those calories 'cause these bad boys are definitely worth the roll.
Om Nom | Melbourne CBD
Renowned pastry artist and Master Chef guest celeb, Christy Tania is the big name behind Om Nom in Flinders Lane. After gracing the kitchens of Vue De Monde, Jacques Raymond, and a plethora of other impressive restaurants all over the world, it's no wonder her moody dessert bar is one of Melbourne's best kept secrets. Om Nom is all about dessert and you'll find some of the most artistic, unimaginable desserts ever to be seen – no exaggeration!
For a truly elegant experience try the Mont Blanc, inspired by snow covered white peaks found in the French Alps of Chamonix. Think crisp meringue coated with dark chocolate and crunchy fenilletine, topped with yummy chestnut crème. Gently crack the beautiful mountain-like dessert open to discover layers and layers of sweet blackberry sorbet and a mix of vanilla and chestnut ice cream. Not only does the Mont Blanc taste like a work of art but it is without a doubt 100% Instagram worthy! Head on over to ooh and ahh with your best pals or take that special someone out for a romantic evening of pure decadence, dining on some of Melbourne's best desserts!
Steak Ministry | Glen Waverley
'The Bomb', Steak Ministry's signature dessert, features a tasty selection of powerful components that work together to create an amazing 'smoking' effect and standout flavour explosion! Tap into a white chocolate and hazelnut dome with a Grand Marnier liquid centre that explodes as soon as you break through the chocolate copper coating and be blown away! Watch as rivers of the beautiful liquid centre ooze out onto the exploding chocolate soil that lies beneath, and be ready to scoop it all up leaving nothing behind. Warning: the bomb isn't for the faint-hearted and should only be attempted by real dessert enthusiasts.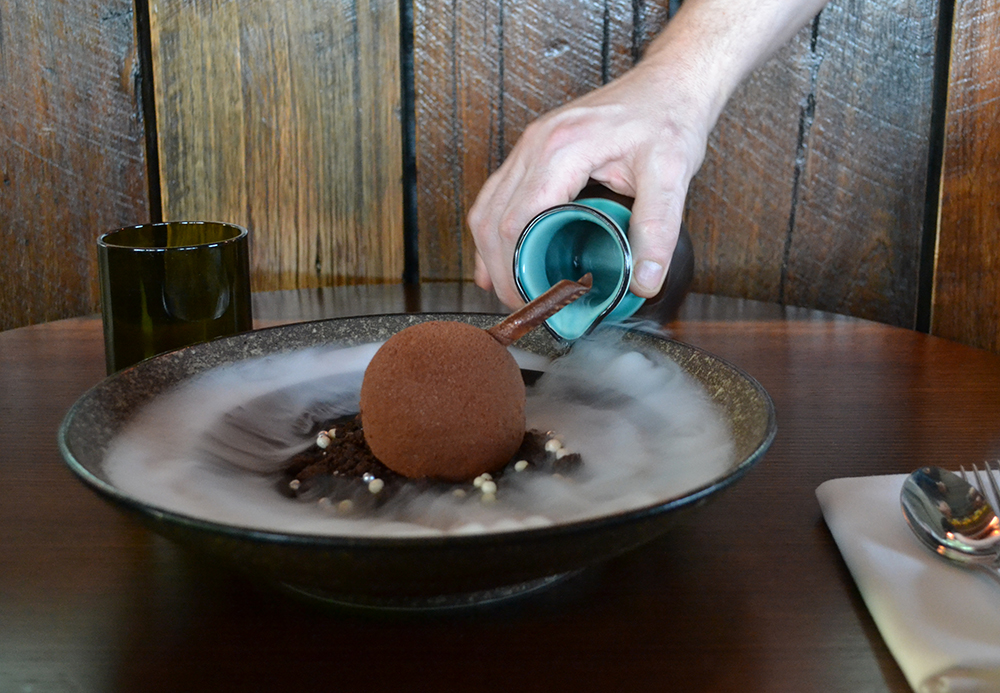 'The Bomb' at Steak Ministry Bar & Grill
Morris Jones | Prahran
The clan at Morris Jones in Prahran not only know how to dish up some of the best OTT desserts out there but they're super friendly, lovely people too! We think it's because Matt Butcher's desserts bring so much joy! Take the Kin-da Surprise for instance; a throwback to that good ol' fashioned chocolate egg with those toys no one could put together BUT unlike its predecessor this baby is full of positivity. Enjoy a colourful mix of delicious Tonka bean chocolate with salted caramel and yuzu curd complete with sherbert, popping candy and wait for it…BUBBLE GUM sauce to pour on just before you eat. If that's not a carnival in your mouth, we don't know what is!
For something a little more adult, why not try the amazing violet crumble made with nitro dipped honeycomb (that actually gets lit at the table) alongside yummy chocolate soil and scoops of mouth-watering violet ice cream. The mix of flavours is phenomenal. Prepare to have a restaurant of curious onlookers when this baby gets delivered to your table.
Rockpool Bar & Grill | Melbourne CBD
If chocolate is your flavour of choice, it's important that you make room for dessert when dining at Rockpool in the CBD. Yes, you're going to blown away by your perfectly cooked steak and designer side dishes, but trust us, when the dessert menu gets passed to you, you must say these three words: chocolate mousse cake. Why? Because this outrageously tasty dessert is exactly how you need to end your meal! Picture chocolate upon chocolate intertwined with a soft gooey caramel center and a flavour so rich you'll be dreaming about it for days…And days.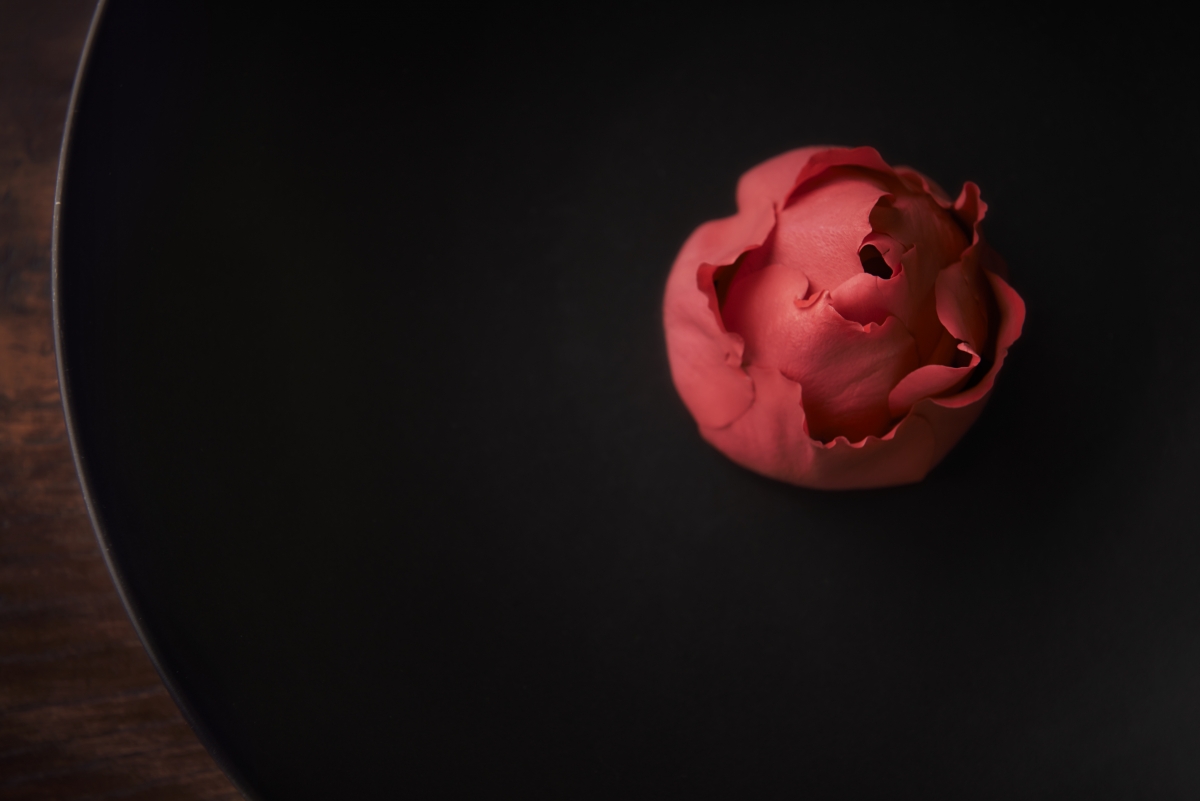 Rose cheesecake at Brooks
Brooks | Melbourne CBD
What do you get when you deconstruct a gorgeous red rose and put it back together? A deliciously indulgent cheesecake of course! Well that's what you get when you treat yourself to a positively lavish dessert at Brooks in the CBD where Head Chef, Nic Poelaert, does a great job of ensuring every one of his amazing creations doesn't go unnoticed. Order the rose cheesecake and you'll receive just that: a completely edible but actual rose skillfully placed in the centre of your plate.
Spoon into the rose to reveal a sumptuous cheesecake with masses of mulberry sauce beautifully ensconced beneath. To say it's incredible would be an understatement for this, boys and girls, is truly a work of art – on a plate. Absolutely every element of the dessert is edible, so go crazy and don't be doing any sharing. You've got this.
Burch and Purchese | South Yarra
Having people over for fancy dinner but don't know what to serve for dessert? We've got you covered. Head on over to Burch & Purchese in South Yarra for an awe-inspiring range of cakes and desserts all made on the premises and available to purchase in the Sweet Studio. Chef/Owner Darren Purchese's signature layered dessert style comprises a delectable amalgamation of jellies, sponges, mousses, cream, crumbles and spreads to create a deluge of sweet treats ready to be gobbled up.
Our pick: the Raspberry and Laurent Perrier Champagne cake served in an acrylic tube featuring a long list of ingredients including raspberry jam, lemon curd, blood peach cream, champagne, white chocolate mousse and more! Serve these up at any dinner par-tay and you're going to be pop-u-lar!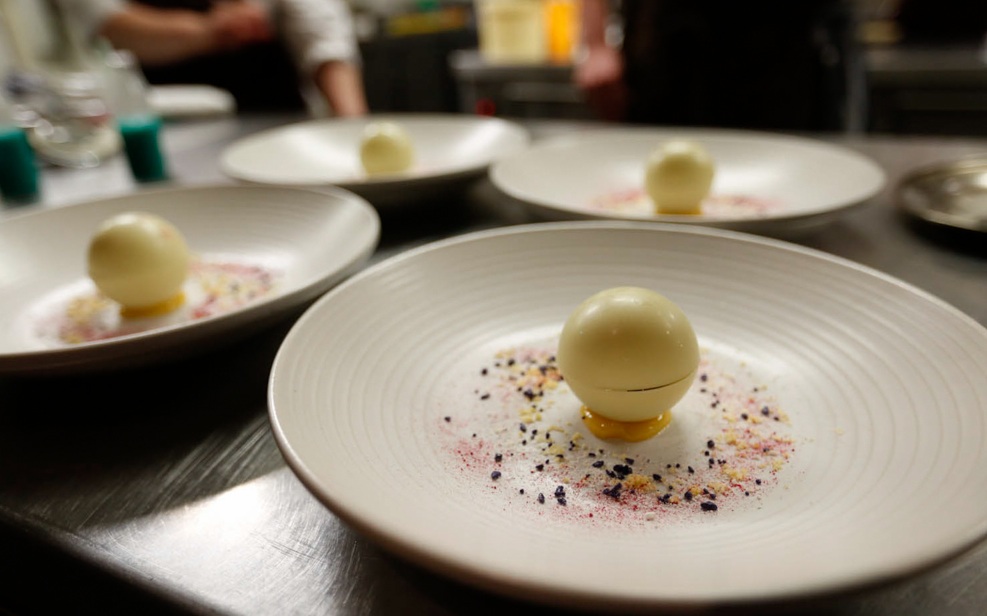 Kin-da Surprise at Morris Jones
Check out more of the best desserts in Melbourne.
Main Image: The Mont Blanc at Om Nom.
Facebook