Many Melbourne businesses are drawing upon the good ol' days for inspiration. With everything from vintage-inspired clothing and makeup, to retro-style cafes, bars and specialty foods with a modern-day twist, it isn't that hard to see why this craze has found its way back to the land of the contemporary! In fact, we kinda like it. So pull out your polka dots and get that '50s music cranking 'cause we've got a whole lotta great places to satisfy your inner retro-child!
Canary Jane's Flowers | Hawthorn
Complete with a kitschy fit out, gorgeous vintage dressing table, checkerboard floor and an ever-changing window display, Canary Jane's Flowers in Hawthorn Is a florist and gift shop with a distinct 50s vibe. Owner Rebecca Stacey, decked out in vintage gear, heads up this popular retro-inspired flower shop, combining her floral experience in weddings and functions with her creative passion for flowers, to create everything from beautiful wedding arrangements and bouquets, to bespoke bunches and event arrangements – (the space may be retro, but the floral arrangements cater to all tastes).
Canary Jane's sources locally grown flowers and greenery as well as a great selection of beautiful scented gifts (like decorative pink flamingos) to complement the beautifully created arrangements. Pop in, order online or give Canary Jane's a call. Rebecca and the team (including two resident canaries) are only too happy to help you with anything from choosing the perfect bunch for a special occasion to picking the right gift for someone special. Plus all Melbourne orders placed before 2pm will receive same-day delivery! Pretty neat hey?
Dames of Distinction | Melbourne CBD
Dames of Distinction is your one-stop shop for all things retro when it comes to lingerie and beauty. With a huge selection of stunning original vintage pieces as well as reproduction vintage style brands, you'll find everything you need to suit your inner dame. From super sexy lingerie and shape wear, to gorgeous retro-style stockings and pretty loungewear, everything has been created with a signature touch of retro-class.
Dames of Distinction also houses its very own beauty salon, offering specialist vintage hair styling, setting, makeup and wedding/event services so you can make sure you look the part from head-to-toe. And, if you've always wanted to learn just how to achieve that gorgeously flawless vintage look, take advantage of Dames of Distinction's private parties and workshops. There are four packages to choose from, covering everything from perfecting the cat eyeliner, to discovering how to create a vintage hairstyle, choosing the best shapewear and more. Upgrade to add a high tea with champagne and you've got yourself the perfect girls' day out or hen's party.
Kenny & The Sunshine Girls | North Melbourne
For retro hair and makeup, Kenny & The Sunshine Girls is your go-to salon for everything from a simple cut and colour, to a 50s themed party, wedding, 30th or outstanding up-do. The sunshine girls, Dana and Poppy, have a long history in the hair and beauty industry, having worked across a range of editorial and commercial projects including Melbourne Fashion Week, Lady Petrova, as well as hundreds of bridal parties and special occasion events.
Kenny & The Sunshine Girls prides itself on being a homely environment for clients. Be prepared to drink copious amounts of tea (the girls' fave) as you settle in amongst the hanging planters and become acquainted with the pet budgie, Kenny. The way they sum it up? It's kind of like visiting your nana but you come out with fabulous hair. That's reason enough for us!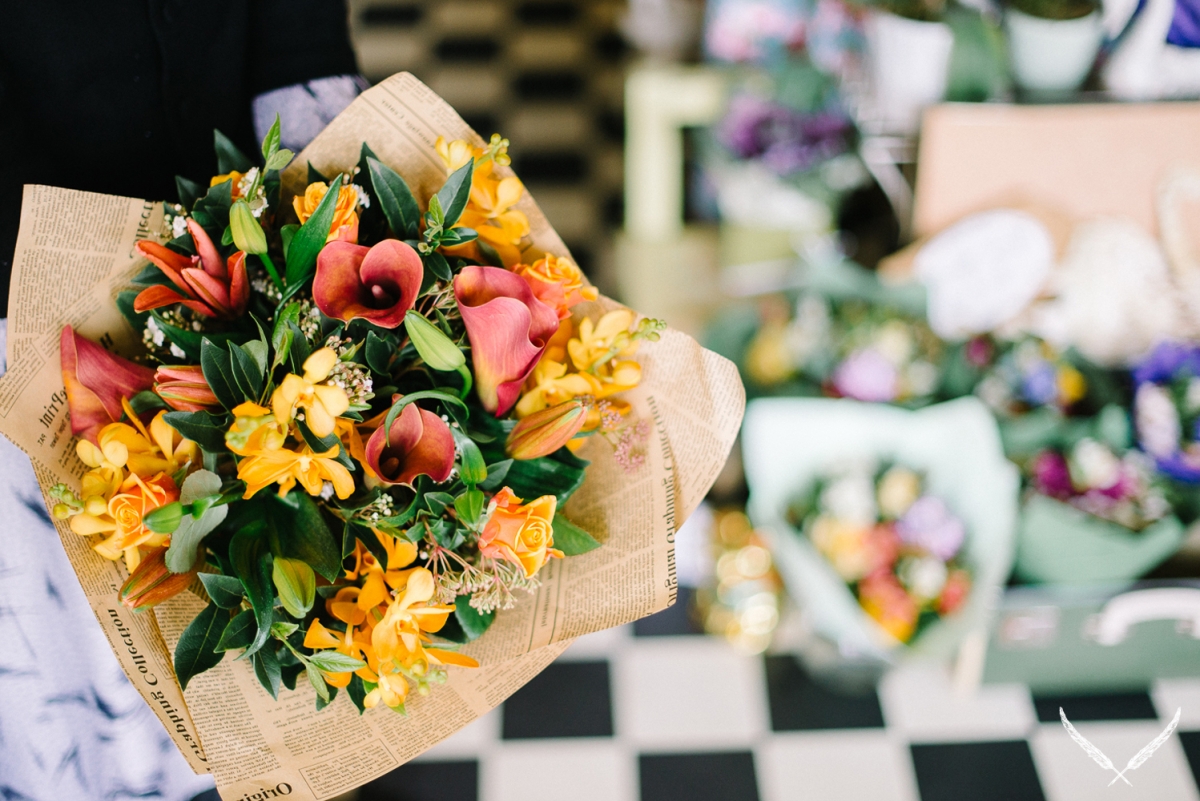 Hawthorn's Canary Jane's Flowers is a girly '50s paradise....and those blooms!!
Madame Brussels | Melbourne CBD
If you haven't been to Madame Brussels and you call yourself a retro-lovin' Melbournian, you really need to get yourself there quick smart because this iconic rooftop bar is definitely one of the city's best. Head up the never-ending staircase to find yourself surrounded by a bed of bright green AstroTurf, white picket fences and stylish garden furniture, while a team of staff all sporting vintage tennis gear tend to the mass orders for jugs of Pimms. It's pretty much the garden party you wish you'd thrown for all your friends, but with all the trimmings. Think cute little lemon sponge cupcakes with pink icing, yummy chicken, chive and mayo toasted sandwiches and a rather fancy cheese platter. This place is super popular so make sure you get in early to secure a spot or prepare yourself for a bit of a line.
Uncle Rocco's | Port Melbourne
When it comes to retro style, it's not always about the ladies, and that's why Uncle Rocco came to town – well, Port Melbourne to be exact. The team of highly trained hair pros at Uncle Rocco's are experts when it comes to the unshaven man. They'll trim and shape your beard to perfection within their old school barber-shop, ensuring you leave looking anything but shaggy (more like shaggedelic). Plus, to avoid any laziness in between appointments, they'll send you home with only the finest oils to keep your beard in tact. The guys are also pretty good with the scissors too, so why not book in for cut and a beard trim next time you're in town?
Jerry's Milk Bar | Elwood
Jerry's Milk Bar in Elwood is certainly no newcomer to the retro circuit. Having stood proudly at 345 Barkly Street for over forty years, this milkbar cum café/diner specialises in offering tasty café-style fare to its loyal fan base. It's 50s style retro charm with red vinyl seats, mirrored walls and of course, an old-school wooden bar, makes it a favourite amongst families in the area who have been visiting Jerry's for years. Or that could be the on-site courtyard and in-built playground, perfect for keeping the kidlets occupied while you sink your teeth into your three-stacker pancakes with berries and maple syrup.
There's pretty much any shake or spider flavour imaginable on the menu and a pretty delish list of brekkie dishes too, like the Canadian Breakfast of fried eggs and bacon, served on two pancakes with a side of maple syrup (yum) or the savoury French toast made with cornbread in a Moroccan-spiced egg wash. It tastes as good as it sounds, trust us!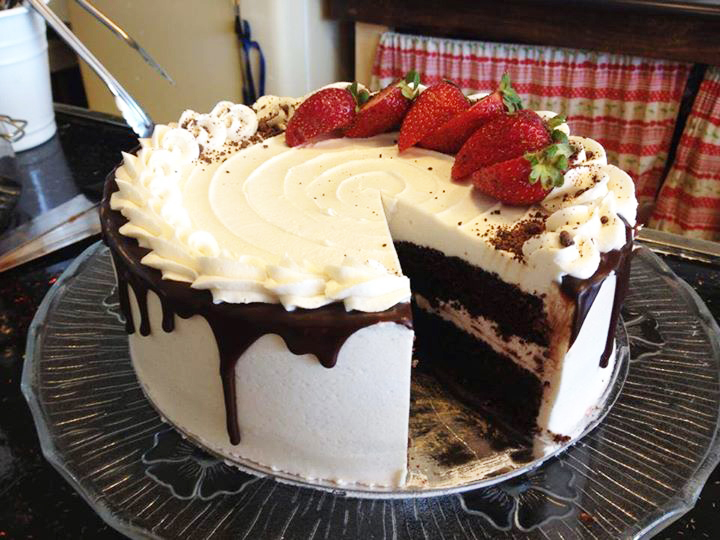 A bakeshop with a distinctly old-school feel, Mister Nice Guy's cakes are deeeeelicious!
Mister Nice Guy's Bakeshop | Ascot Vale
Mister Nice Guy's Bakeshop is a specialty cake shop with a sweet-as-pie old-school aesthetic, offering vegans and those with special dietary requirements a delicious place to stock up on all their favourite baked goods. With everything from mini cupcakes, regular cupcakes, cakes and cheesecakes, to pumpkin pie, baked doughnuts, bagels and more, there really is something for everyone to get their hands on.
The guys behind Mister Nice Guy's are none other than husband and wife team, Deb Kantor and Lucas cook. While Lucas is the frosting extraordinaire, Deb handles the behind-the-scenes baking and is responsible for the entire retro look and feel of the business that everyone (including TUL) loves. All Mister Nice Guy's delicious cupcakes and other baked oddities are made daily, using only the finest kosher, vegan, mostly organic and fair trade ingredients that are soy free (or gluten free on request). Plus they can cater for birthdays, parties and special events too!
Circa Vintage Clothing | Melbourne CBD
Located on the first floor of Mitchell House in the CBD is where you'll find Circa Vintage Clothing, home to a huge range of stylish vintage clothing for both men and women. Housing a plethora of retro dresses, blouses, playsuits, swimwear and more, this stunning mecca of all things vintage is your number one stop for any retro-inspired affair, or the perfect place to find something unique to your repertoire.
Peruse the many racks or browse the online store to find good quality, original garments dating back to the Victorian era, right through to modern times. And if you need a hand, owner and vintage fashion author, Nicole Jenkins is only too happy to help!
Did we miss your favourite retro business, Urban Listers?
Image Credit: Style Me Famous, Ryan Noreiks (The Urban List), Mister Nice Guy's Bakeshop Facebook