A humble plate of chips is no longer enough for the hungry mouths of Melbourne. Whether they're hand cut or shoestring is irrelevant; it's becoming less about the shape and style, and more about the flavoursome toppings we can smother them in. If you have a hankering for some chilli cheese fries, poutine, or are keen to find out what exactly goes on top of Trucker Chips, we've got you covered with Melbourne's best loaded fries.
Let's just take a quiet minute to appreciate the person who invented loaded fries. God bless, whoever you are. You've brought a lot of cheesy, meat-covered happiness into the world.
Burgerlove
South Melbourne
Burgerlove have proved their affection for the humble burger, but they still see loaded fries on the side. A cheesy, gooey mistress. Their chilli cheese fries are absolutely insane, with house-made chilli, melted cheese, jalapenos and the god of all sauces, SRIRACHA. Finish with an ice cream sanga and you're halfway to the greatest food coma ever.
Belleville
Melbourne
CBD gem Belleville has some seriously delish dishes, no doubt about it, and the loaded fries are no exception. The Belleville Poutine isn't exactly a traditional poutine, but who cares? It's f*cking delicious. You've got oodles of cheese, delicious house-made gravy, a fiery hot sauce and some spring onions scattered on top (for health, obvs). The best part? You can get them until 1am Thursday through Saturday. Whack on a quarter chicken and chips for good measure (just watch yourself around their Liu Kang Fireball hot sauce…)
The Gem Bar & Dining
Collingwood
American style BBQ simply can't be done right without loaded fries. Well, it can, but it'd make the angels cry. Any north-sider knows that The Gem put on a serious American BBQ spread, and the really savvy ones know to add on a serve of the Texas Fries: crispy chips with salsa, cheese and jalapenos on top. Fiery, cheesy and bloody good.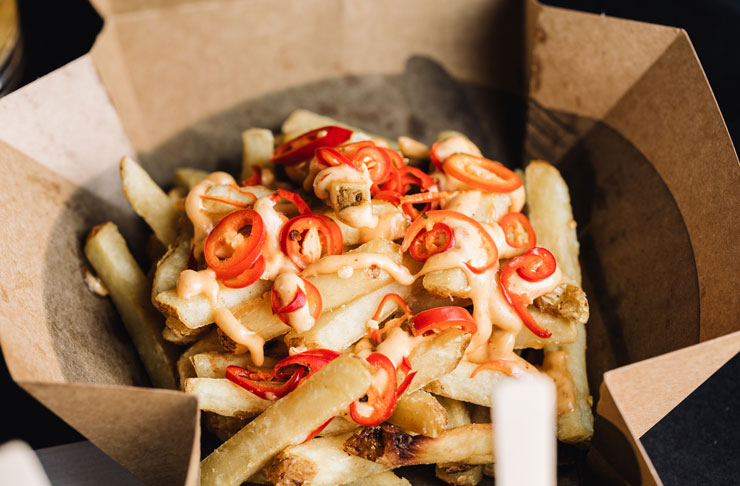 Benny Burger
Richmond
The latest addition to the growing Swan Street food scene—Benny Burger has a choice of Firecracker or Cheese Fries, and they're pretty self-explanatory, you're either getting some hot AF ones, or ones coasted in some delicious cheese. You're going to need a milkshake to wash them down with, and you'll be safe in the knowledge that they have a range of flavours to choose from.
The John Curtain Hotel
Carlton
Nothing beats a good ol' pub meal, especially when the pub in question does insane loaded fries. BOO YAH. The John Curtain Hotel are bringing you some delish "load em up" fries topped with cheese sauce, gravy and crispy bacon (it's all thanks to their newest kitchen residents, Sonny's Fried Chicken). If you've given into veganism (and more power to you if you have) then the "vegan loaded" may just be your cup of tea. Topped with vegan gravy (yes that's a thing), pickles and spring onion, it really is a vegan's unhealthy dream.
Boy & Co.
Malvern
Boy & Co does a mean loaded fries. Of course, they serve up the basic Gravy and Cheese and Chilli Cheese Fries, but for something a bit different, give the Kimchi Fries a go. Why, you ask? Well they come smothered in kewpie mayo, so that's a start. Top it off with kimchi, hoisin, spring onion and fried shallots—you've pretty much achieved the ultimate Asian sensation. Wash it all down with one of Boy and Co's delish shakes. Life goals right there.
Hello Sam
South Yarra
A visit to Hello Sam wouldn't be complete without ordering and gazing upon their Animal Fries. You get beer battered chips coated with bacon, caramelised onion, cheese, mosam sauce and spring onions—we wouldn't even be calling this a side, it is definitely enough for a main. Although, they do suggest that it serves 2 to 3 people, maybe we're just greedy?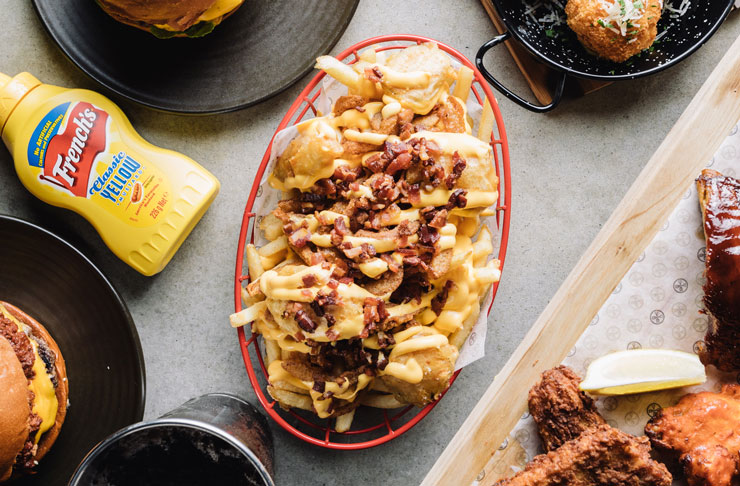 ​
Brooklyn Depot
CBD
Straight off the mean streets of Brooklyn, Brooklyn Depot dishes up skinny fries which you can "Brooklynise" for an extra $4. You'll have your choice of Garbage Fries which feature bacon, onion strings, cheese and frickles (fried pickles), or pick up some Beef Chilli Cheese Fries or the classic Cheese and Gravy Fries—poutine.
The B.East
Brunswick East
It's all about selection tactics at the B.East. They've got three loaded options, so chances are good you'll find one to suit your style. Veggos can grab the Vego Poutine, topped with gravy and cheese. Bacon-lovers are obvs gonna head straight for the Bacon Bone Gravy Poutine. Which just leaves the infamous Death Star Fries, topped with dark beer hot sauce, gravy and chilli cheese. Absolutely amazeballs. Pair with a cheeky pint and go nuts.
Fat Jaks
St Kilda
A new player on the Melbourne burger scene, but word is starting to spread. Fat Jaks have managed to recreate something scarily similar to Big Mac secret sauce (shh...don't tell Maccas) and whadda-ya-know it makes a splash on their loaded fry menu. We recommend either the Fat Jaks Fries (secret sauce, thick-cut crispy bacon and shredded lettuce) or the Truffle Cheese Fries (cheese sauce, white truffle oil, parmesan and spring onions). Both go down nicely with the all-you-can-drink homemade sodas. $4 and you can slurp all day long.
Dribbles Burgers
Essendon
Our favourite basketball-themed burger bar also happens to do a kickass loaded fries. And you've got a choice of two: the Cheese & Bacon (crunchy fries with cheese sauce, crispy bacon and spring onion) or the Chilli Cheese (a smoky chilli beef, jalapenos and cheese sauce). They're both excellent, but if you're going to load your fries, you may as well load them all the way. Get the Chilli Cheese and a Strawberry Pop Tart milkshake while you're at it. Live like there's not tomorrow, baby.
Le Bon Ton
Collingwood
Despite its French name, Le Bon Ton's menu has some serious smokehouse swag. Go meet your match for the perfect afternoon snack with their chilli cheese fries. Topped with angus beef, chilli and a sharp cheddar sauce, it's pure indulgent comfort food. The chilli adds a fantastic tang to the finish, and the beef is rich and just saucy enough (nothing worse than loaded fries that become potato soup due to over-saucing).
Massive Wieners
Prahran
Hot dog fans know that a good basket of loaded fries can make or break the meal. It's just basic science. That's why Massive Weiners draw the big crowds—people come from miles around to try their Disco Fries. It's all about the melted cheese, gravy and onions, keeping it basic but oh-so delicious. Their chilli cheese fries also do wonders for the taste buds, so take your pick and pair it with a massive wiener. Cue sniggers.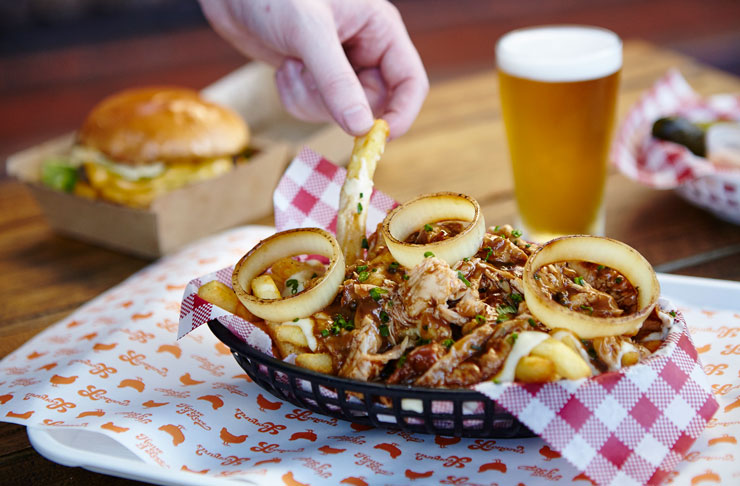 Leonard's House Of Love
South Yarra
Although the burgs may be the main act at Leonard's, the loaded fries deserve some serious recognition. There's a three-tiered selection, with heroes all across the board. If you're down for keeping it basic, stick with the charcoal chicken fries topped with cheese sauce, pepper gravy and onion. Ravenous savages, the Tex Mex fries topped with cheese sauce, guacamole, coriander, salsa and jalapenos is your go-to. Pair with a delicious double cheeseburger and plonk yourself down in the beer garden. Happy days.
The Beer & Burger Bar
Richmond
The Beer & Burger Bar's Chilli Fries are topped with a beef 'n' bean chilli mix and slathered in a cheese sauce. Pair this with one of their 31 international craft beers, and some of the best burgers in Melbourne, and you're laughing.
Po Boy Quarter
Fitzroy
If picking at a few fries won't cut it, and you're after something a little more substantial, try The Dom at Po Boy Quarter. Slow cooked beef debris (yummier than it sounds!) is served on the chips, with mayo and pickles over the lot. This is Southern comfort food to a tee and, much like happiness, it's best shared.
Mr Burger
Various Locations
Mr Burger may be simple in premise (the tagline is 'We serve burgers, chips and drinks. That's it.') but they know what they're doing and they do it very well. The Trucker Chips are for those times when your average hot potato snack just wont cut it. Some of the best darn loaded fries in Melbourne, they're covered in bacon, cheese, special sauce, and they'll be gone before you know it.
Howler
Brunswick
Fries with an Asian-flavoured flair can be found at Howler, which fits in perfectly with their modern Asian street food inspired snack menu. Their Togarashi Fries are covered in pickles, Sriracha sauce, kewpie mayo and bonito flakes. Come for some of Melbourne's best fries, stay for a musical performance or a film in their band room.
Trunk
Melbourne CBD
Any Trunk fan knows that the restaurant is good, but the real magic happens out in the beer garden, beneath the fairy lights. Specifically? The chilli cheese fries. There's nothing overtly fancy about these guys—they just taste flipping amazing. A perfectly simmered beef sauce, with just a hint of spice, gooey cheese and Maccas-style French fries. It's quick, dirty and bloody good. Grab some chicken quesadillas while you're at it, just avoid the Stupid Hot Sauce if you know what's good for your insides. That stuff doesn't mess about.
Image credit: Dribbles Burgers | Michelle Jarni