In case you hadn't noticed, cocktails are cool again – and not just the contemporary ones. Retro cocktails – the ones we all secretly like but are too embarrassed to order – are also making a welcome comeback. Here's a rundown on the best cocktails in Melbourne with a decidedly retro flavour.
MAI TAI
What's in it? Recipes vary, but are usually based on rum, triple sec, almond syrup and citrus and/or pineapple juices.
What's it taste like? A bad one is overly sweet and cloying. A properly made, balanced one is reminiscent of fresh tropical fruit and will immediately make you understand why Mai Tai is Tahitian for 'out of this world'.
Where can I get it? Golden Monkey, Cookie, 1806 and LuWow all do excellent versions of this kick ass cocktail.
The origins of the Mai Tai are slightly fuzzy, and your head will be too after you've drunk a couple. Was it invented at legendary tiki bar Trader Vic's, or did Don the Beachcomber (who started the whole tiki craze) come up with it first? Which recipe is better – Vic's, Don's, or the numerous variations? Find out on a Mai Tai crawl around town.
First stop is tiki bar, LuWow, where the setting – palm­fringed huts and Polynesian wood­carvings – is just right for this exotic tropical drink. Next up, head to Golden Monkey. Staff don't monkey around with the classics – this is a good spot for a traditional, well­balanced Mai Tai. By now you'll be hungry – luckily, Cookie offers a tasty Thai­style feed to go with their slightly spicy version of the drink. Then wind down with table service and one last taste of the tropics at top Melbourne cocktail bar, 1806, where the more formal atmosphere is perfect for evaluating which bar's Mai Tai you like best.
BRANDY ALEXANDER
What's in it? Cognac, crème de cacao and cream, garnished with nutmeg.
What's it taste like? Like something your grandma would drink. After all, she's got great taste.
Where can I get it? The Noble Experiment and The Collection.
When you can't decide if you want a drink or a dessert, ask for a Brandy Alexander. While its cognac content ensures it's no lightweight in the drinks department, this creamy retro number is sweet and smooth, and it's topped with a sprinkling of nutmeg, so it even resembles a retro dessert – the humble custard tart. Richmond bar, The Collection, goes with the fresh is best mantra, shaving fresh nutmeg over their seductive cocktail. At new Collingwood bar, The Noble Experiment, the cream's infused with white chocolate for extra decadence. Smooth, creamy and tasting of chocolate – this Alexander might just be the ideal man.
DAIQUIRI
What's in it? A classic daiquiri contains white rum, lime juice and sugar. Add strawberries and you've got a strawberry daiquiri; add bananas and you've got a banana daiquiri; you get the picture.
What's it taste like? A classic daiquiri is bracing and palate­cleansing; a fruity version is often presented as a sweet, frozen daiquiri (which makes some cocktail nerds shudder, and not from the cold!) and is closer to a smoothie.
Where can I get it? LuWow and Tiki Bar both do refreshing classic daiquiris, while Cookie offers loads of variations on the theme.
Why is a pirate's catch cry, 'Yo ho ho and a bottle of rum'? Because that's heaps easier to say than, 'Yo ho ho and a shipload of daiquiris'. But we bet daiquiris would be a pirate's drink of choice – they're easy to make, easy to drink, and the lime juice helps ward off scurvy during long months at sea. You too can avoid such calamaties by imbibing regularly at LuWow or Tiki Bar, where you can choose which rum you'd like in your drink – a great way to customise this classic cocktail. If you really like customising your drinks, head to Cookie, where you can mix and match various fruits (from watermelon to lychee) with other flavours (including lavender, chilli and basil) to create a daiquiri that's all your own. What arrr ye waiting for?
MIDORI ILLUSION
What's in it? Midori (if you need that defined as 'melon liqueur', you weren't alive in the '80s), vodka, Cointreau, lemon juice and pineapple juice.
What's it taste like? Sweet, refreshing, and slightly tart.
Where can I get it? New Shanghai.
There's a lot of talk about New Shanghai at the moment, the latest Melbourne dumpling restaurant that's set up shop in Emporium. If you visit, you'll be talking about it, too. Loudly, so other diners can hear you. You're just here for the dumplings, you'll say. You've heard they're amazing, and you can't wait to find out if their xiao long bao really are as good – or better – than Hu Tong's. Your voice will drop to a whisper when you order your drink, though, lest someone judge you for your taste. Pah, we say. Pah! Say it loud and say it proud: you'll have the Midori Illusion, thanks, with the accompanying 1980s flashback. Who cares if they're not cool, or if they're so iridescent they look like Chernobyl fallout – after all these years the bright green cocktail still tastes great. Almost as great as the XLB.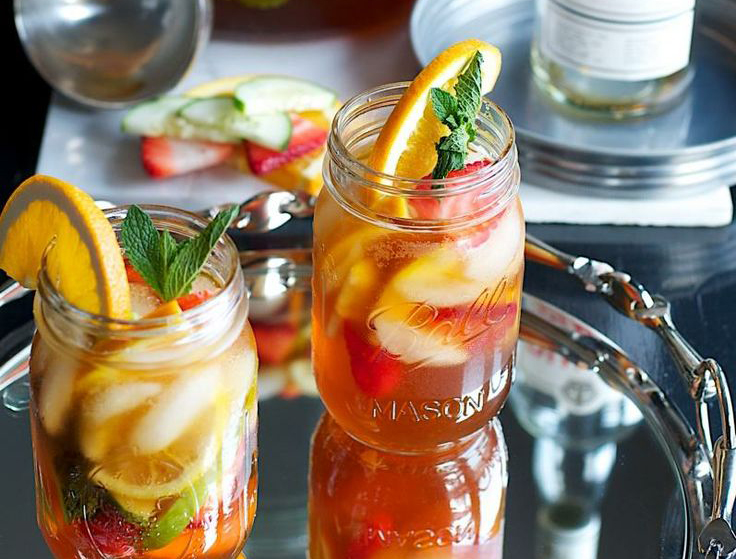 Image credit: How to Decorate.
PIMM'S
What's in it? Um, Pimm's. Pimm's No. 1 Cup is a gin­-and­-herb­-based drink that's usually served mixed with lemonade and/or ginger ale, fruit and mint to create a moreish punch.
What's it taste like? A celebration in a glass. There's a hint of spice, a touch of caramel, citrus notes and a whole lot of deliciousness.
Where can I get it? The whimsical Madame Brussels is the best setting for this retro drink.
Pimm's is terribly British, dahling, and very much in vogue. It's a staple drink at Wimbledon and the Henley Regatta, and it's just the thing to have at a old­fashioned garden party where everything's an absolute scream. In other words, it's a must­have at Madame Brussels, a super fun, super kitsch bar where staff wear tennis whites, guests sit on heart­shaped garden lounges and pink walls contrast with the indoor lawn. Nibble on a chicken sandwich, catch some rays on the terrace, and toast the weirdly wonderful world of the Madame – with another Pimm's, of course.
PINA COLADA
What's in it? White rum, coconut cream and pineapple juice.
What's it taste like? If you're at a bar that takes this much­-maligned drink seriously, a pina colada tastes like tropical paradise. If you're not, it'll taste like you've swallowed your coconut­-scented tanning oil.
Where can I get it? Sheebeen and Tiki Bar serve up classic versions, while Rum Diary, Eau De Vie, Captain Baxter and Lui Bar offer contemporary coladas.
Need a tropical escape without leaving the city? Head to St Kilda's Captain Baxter, where you can savour some of Melbourne's best cocktails (including a cracker colada) in a beachside setting. Although, given Melbourne's undpredictable weather, you might end up getting caught in the rain. Yep, it's hard to talk about pina coladas without thinking of Rupert Holmes' 1970s hit 'Escape (the pina colada song)'. The best cure for that earworm is, of course, a pina colada. Captain Baxter's version – a Tahitian Colada – includes coconut tequila and banana liqueur, so it's strong in flavour and alcohol content.
Tiki Bar and Shebeen both offer versions that are closer to the classic recipe – creamy, coconutty and sweet yet tart – while the crew at Eau De Vie infuse rum with pineapple and mix it with pineapple juice, lime and coconut syrup to create the refreshing, non­creamy EDV colada. It's a bit like the tropical juice box you used to get in your school lunch box, but a whole lot better. Not to be outdone, Rum Diary uses rum infused with coconut and char­grilled pineapple in their creamy, rich drink. And if you want to get high while getting your pina colada fix, head to Lui Bar. Here, on level 55 of the Rialto, you can drink in the view with a delicious mix of toasted pineapple, black peppercorns, coconut milk and a good slug of rum. It might just be the love that you've looked for.
Want more cocktails? Check out Melbourne's best bars and pubs.
Main image credit: Drizzle and Dip.