Don't take it personally, Melbourne, but yet another beauty behemoth is flinging open its doors in our town. This does not mean we need the beautification, but it sure signals that we want it!? And why wouldn't you? With this week's arrival of Australia's first NARS boutique within the also brand-spanking-new Mecca Cosmetica Toorak Road address, you can bet your bottom beauty dollar you are in for a cosmetic shopping experience akin to that of a kid in a candy store.
Stocking the biggest range of the cult brand (Hello? They have a cheek tint called Orgasm, people), the NARS boutique will have NARS experts and speciality staff on hand to help navigate the range.
Nestled within the brand new Mecca Cosmetica Melbourne flagship, one may think that these makeup monsters are muscling in on what is predominately fashion territory, but it would seem that the two sit well together. Co-designer and founder of the NARS brand, Francoise NARS, is, after all, a revolutionary French-born makeup artisan who has worked with the likes of Dolce & Gabbana, Marc Jacobs, Karl Lagerfeld, Versace, Valentino, Calvin Klein and Ralph Lauren.
Having enjoyed a 17-year partnership within Mecca stores, this NARS-exclusive space will no doubt be received warmly within an area that prides its primping, enthuses Mecca Brands Founder, Jo Horgan. 'This new store is really the best and brightest iteration of what Mecca Cosmetica stands for; an expert edit of the world's best beauty brands in a beautiful boutique environment with impeccable, specialist service.'
In addition to the NARS boutique, the new Mecca Cosmetica will house a dedicated fragrance area manned by a Mecca Fragrance Concierge to aid customers in finding the perfect fragrance wardrobe, gaining tutelage on scent layering or simply discovering their latest monogamous scent match in a sea of aromas.
'I'm so thrilled to unwrap our beautiful flagship store and to celebrate the brands we've loved and nurtured for years while welcoming in some exciting new services and new emerging brands for our customers,' says Jo.
And those customers are you, Preeners! So strap your skates on and have your game face firmly prepped for the onslaught of beauty love come this Friday, October 24th when Toorak Road's flagship Mecca Cosmetica throws open its glossy doors.
Mecca Cosmetica | 79 Toorak Road in South Yarra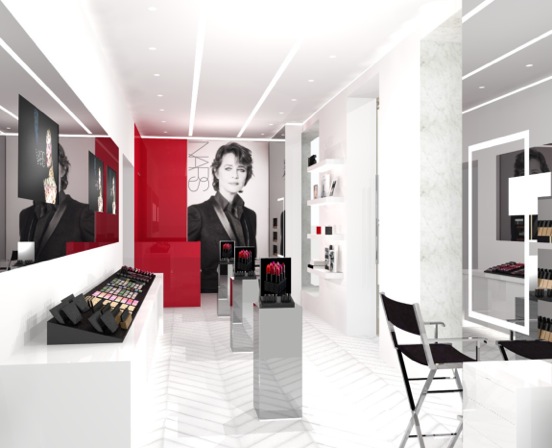 Image credit: Mecca Cosmetica.
Main image credit: Le Fashion Image