Love movies, but can't justify spending another balmy summer evening indoors? That sultry summer outfit doesn't cover enough skin in the chilly air-conditioned theatre? That stuffy popcorn and spilt soft drink smell doesn't do it for you? Well, you can say a big fat 'phew!', and head on out with your picnic rugs and summer style, because we've curated a list of some of the best outdoor cinemas Melbourne has to offer!
Spend your summer evenings lounging in nature, Listers, and check out the awesome openair cinema action on offer!
MOONLIGHT CINEMA | MELBOURNE
Moonlight Cinema is one of Australia's most popular outdoor cinemas, set in the glorious surrounds of the Melbourne Botanical Garden. Right smack bang in the Central Lawn, gates open at 7pm with the movies kicking off at approximately 8:30, giving you plenty of time to watch the sun set with a great view of the city and gardens. Showing advance screenings, new release and cult movies, the program will kick off in December.
With special PayPal Gold Grass tickets available, you get a reserved bean bag bed, and a premium viewing location. Or bring your own rug and pillows, and munch on a selection from the LA style food truck, candy bar, or fully licensed bar! Tickets can be bought online or at the door for sessions that aren't sold out!
SHADOW ELECTRIC OPEN AIR CINEMA | ABBOTSFORD
A Melbourne icon for film, music, events and culture, The Shadow Electric in Abbotsford is a super openair cinema. With a history of screening documentaries, 80s classics, cult flicks from the vault and new studio releases; this year's season dates will be announced soon.
A range of food trucks and vendors that change from event to event will be available, so check out their Facebook for updates on what will be there to munch on! Sip on something naughty from the bar, or have a giggle on one of their ping-pong tables while you're waiting for the scorching sun to go down and the stars to come out. Check out the funky kid on the Melbourne outdoor cinema block, and spend a summer session at The Shadow Electric.
THE PENNY BLACK MOVIE NIGHTS | BRUNSWICK
Tuesday nights are movie nights at one of our favourite Melbourne pubs, The Penny Black in Brunswick. With a big screen, free entry, free popcorn, and table service on cushions, it really is cheap-arse-Tuesday at The Penny Black! No program online, but their Facebook page will sometimes give you a heads up on what's screening. But we're pretty sold with the whole free entry and popcorn! With food and drink available at the venue, grab dinner or a drink, or both, and enjoy a warm evening watching a flick with friends.
ROOFTOP CINEMA | MELBOURNE
Owned and operated by a team of creative minds, the Rooftop Cinema on Swanston Street in Melbourne is dedicated to screening a range of arthouse, classic, and recent release films. Set in this unique urban environment, the Rooftop Cinema is (you guessed it), on the top of Curtin House, right in the middle of the CBD. The program at one of our all-time fave Melbourne outdoor cinemas begins in the sizzling heat of December, when things start to warm up. At this trendy dig, you'll be sure to be comfortable kicking back on a deckchair, and sipping on a bevvie or two from the licensed Rooftop Bar, while munching on burgers. Being Melbourne, the weather often turns, so pack a jumper!
SOUTGATE CINEMA | SOUTHBANK
Southgate Cinema in Southbank is a unique outdoor, but undercover, experience. Inside the open atrium in the Southgate Centre, viewers can sit back in a deck chair and relax amidst the hustle and bustle of the restaurant and shopping precinct. It's also Melbourne's only silent cinema, where guests are provided with headphones and audio kits to listen to the film without getting distracted by noises in the busy surrounds. Sessions run every Tuesday, showing popular, arthouse and classic films. Local restaurant, Bluetrain, will be providing wine, beer and cocktails as well as a full movie menu of snacks and pizza! Check out their program to see what's showing this week at Southgate Cinema!
UNDERGROUND CINEMA | SECRET LOCATIONS
'Taking cinema out of the cinema'. That's the Underground Cinema's tagline, a secret, live, immersive experience, where film screenings are held in undisclosed locations. It could happen anywhere; a warehouse, a forgotten ballroom, a car park. With the idea that predictable is boring, the film locations and identities remain a mystery. Sign up for an adventure this summer with Underground Cinema's mysterious next screening…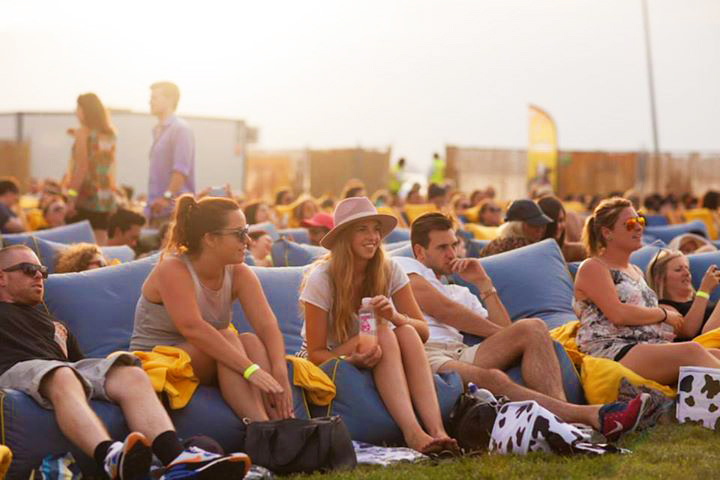 Image credit: Ben & Jerry's Open Air Cinema Facebook.
Ben & Jerry's Open Air Cinema | St Kilda
At the South Beach Reserve, by the St Kilda Sea Baths, Ben & Jerry's present a summer festival of movies and music! With live music during the daytime, and movies every night, they even offer a delicious 'Ben & Jerry's Sundae Session', with free legen-dairy ice-cream, and a host of lawn games including Giant Cow Jenga on Sundays! Seaside, sundaes, music and movies? What more can you ask for?
Uh, how about a fully licensed bar and a Ladro pizza or salad? Or perhaps a deckchair, bean lounger or blanket? You betcha! You can even upgrade to a Volkswagen Polo Class Ticket, with extra amenities. Movies screened include the latest and greatest new releases, a selection of sci-fi, thrillers, cult classics and family favourites. Check out local music act, Husky, on opening night, November 30th, followed by a screening of Pride, or the last Sundae Session, closing Christmas special on December 21st of Elf. Head to the website and book now, tickets are already selling fast! Finally, head down on a Friday to watch the sunset while sipping a spritz and listen to some local DJs with Aperol Sunsets, before a screening of a great film under the stars in St Kilda.
So don't let summer get away from you, Listers! Immerse yourself in the balmy evenings and kick back with friends at some of the best outdoor cinemas in Melbourne.
Main image credit: Rooftop Cinema's Facebook.