Finding the perfect pair of sunnies isn't easy. More often than not, they're either too generic (*cough cough* Ray Bans), too expensive, they don't sit on your nose right, clash with your skin tone, or they're just plain awful… the list goes on.
Well, guys, this is the part where we save your sun-glass-hunting butts (you can thank us later). Allow us to introduce you to POMS, founded and created by Melbourne's local boss-woman, Adriana Giuffrida.
You may be familiar with POMS, which was launched in 2011 as a boutique jewellery brand. The name stems from one of Giuffrida's earliest creations—a set of hand-made cotton pom-pom rings. The business grew quickly, and POMS has now achieved cult boutique status.
"I had just finished working as the design room manager for a fashion company that I really loved. But I needed a break from the technical side of fashion," Giuffrida says. "I had the urge to work with my hands again. I came up with the idea of a pom pom ring that I could make entirely from scratch. I was on my honeymoon in Bali, and I sourced a bunch of the elements I needed to start working, and the idea of POMS was born."
A few years ago, Giuffrida started expanding the range to include timeless, beautiful sunglasses. A collab with Pared followed, and POMS' 60's-style retro designs started popping up in local boutiques. Even overseas.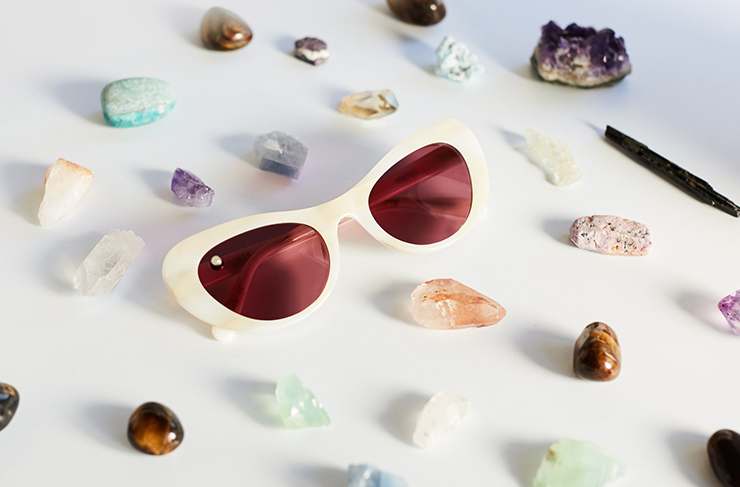 Photography: POMS
Giuffrida spent most of her youth living in Asia and going to fabric markets with her mother. She caught the fashion big at an early age, and most of her pieces are inspired by her Italian background. "I love Italian design, particularly furniture design, art and the customs that come from Italian culture," she says. "I love ancient Roman jewellery and I'm obsessed with gemmology and metaphysical beliefs. All of this informs what I'm doing with my eyewear. I like to create pieces that have meaning."
And boy do they have meaning. Her bold, statement sunglasses have been a worldwide hit, with some of the world's most A-list fashionistas rocking a pair of POMS frames. Not to name names but…Beyoncé, Solange and Cara Delavigne…we see you!
POMS' collab with Pared, named 'Gatto', is probably their most popular sunglass style to date. "Our Gatto frame was a huge success for us", Giuffrida admits. The cat-eye shape, which is often hard to find, sold out within a month of its first production run. The Swarovski crystals that hung from the arms helped pop the brand and differentiate them from competitors. And while Gatto's are hard to get your hands on now, the new cat-eye frame, Nuovo, is almost as popular.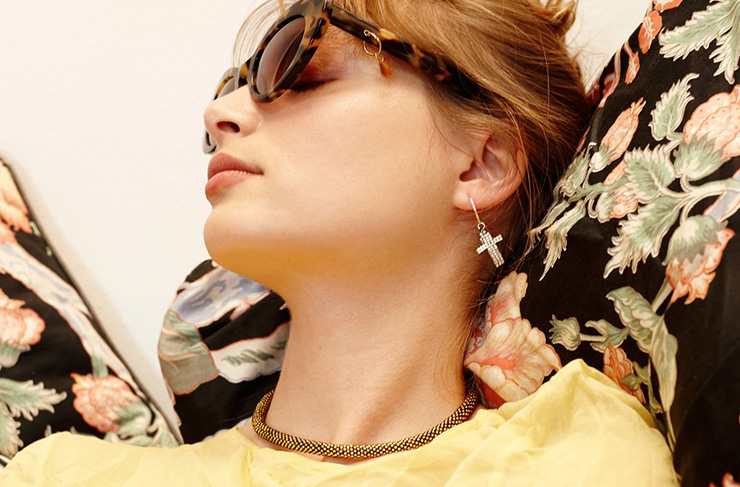 The POMS X Pared 'Gatto' Collection. Photography: Monk House Design
Perhaps the best thing about all POMS pieces is the love that goes into them. "When I see people wearing POMS and they tell me about their favourite pieces, this makes me happy," Giuffrida says. "I want to create timeless pieces that can be kept and loved for a long time."
"It started with rings, then earrings and now we have expanded into eyewear and fine jewellery. It's been a really natural evolution and lots of fun."
So, what's next for Giuffrida and her POMS range? "World domination", of course.
We can't wait to rock a pair of these. If you want to get your hands (eyes?) on some, check out the website.
Image credit: Pared