Windsor in the 1930s was a very different place. All-day brunch was still a twinkle in the sous chef's eye, flannel hadn't yet come into vogue, and you could buy a terrace house by trading either four Jersey cows or a handful of magic beans.
Oh, and the suburb was run by a ragtag group of Greek miscreants called the Rebel Blues.
These guys were basically into the protection racket, which is one of the Top 10 most profitable rackets. When they weren't shaking down local cobblers, they were knocking back ouzo and eating moussaka in their underground distillery and dive bar. The 'Underbelly' series is probably just around the corner...
So when co-founders and partners, George Loupos, Vinny Diaco and Rody Kaka wanted to open a Greek restaurant and cocktail bar in Windsor, the name was staring them in the face (demanding money): Rebel Blue.
"We noticed a gap in the market. A trend towards fresh, healthy food," says Vinny. "Something that is not currently associated with Aussies' perception of Greek food, so we decided we needed to show Melbourne our version of Xenia (Greek hospitality)."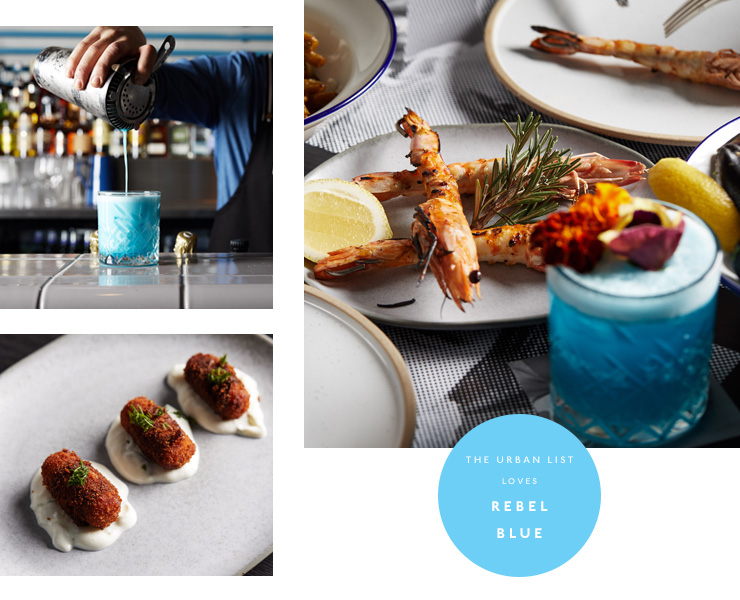 The weird thing is, Rebel Blue is pretty much the only Greek eatery in Windsor, unless there's some flourishing underground scene we're not aware of. You have to drive down to the old Lemnos Taverna on High St to get anything that comes close. And right from the start, Vinny, George and Rody wanted Rebel Blue to steer well clear of the well-worn 'taverna' schtick.
Which brings us to the design. Black Milk handled the fit-out in here, and they've done a great job. It's a little on the cold side (the conversational buzz definitely echoes off the walls after a few ouzos), but it feels contemporary, casual, and very Grecian. There's a neon 'Rebel Blue' sign on the wall (if you don't have neon on the wall, do you even Windsor?), lightboxes pointing the way to Oakleigh (11km), Athens (14,495km) and Mykonos (14,788km), and plenty of blue industrial steelwork—all of which are there to remind you, this isn't a place you come to sing Zorba.
The food follows that same rebellious streak. We started with an obligatory saganaki. There are actually three on the menu, including an 'eggplant saganaki' that would definitely raise a few bushy eyebrows back in Athens. We stuck with the classic, fried buttermilk gold, lightly salted and served up with lemon. Can confirm it was squeaky and satisfying.
After that, it's up to you. We decided to go with the shared plate option, which is probably a good idea. Don't get us wrong, it'd be fun to hog a whole plate of chargrilled lamb cutlets to yourself, but head chef Dionisios Pouliezos has deliberately built the menu for grazing.
The eggplant with slow-roasted beef shoulder was an excellent winter warmer, and you should probably also grab a plate of the eggplant croquettes and crispy school prawns.
After that, it's skewer time. Charred squid, King Prawns the size of your fist, marinated pork, lamb or chicken—there's no wrong way to do it. The skewers come with a selection of classic dips (tzatziki, taramasalata etc.) plus a feta + capsicum that our waiter described as "seriously, seriously, spicy". He was not wrong.
And if the fit-out is on the chilly side, the staff (and the capsicum dip) are all about the warmth. We tend to take good service for granted in Melbourne, but it's nice to see people who so clearly love where they're working. The only thing better than feta chips landing on your table is the smile directly above them.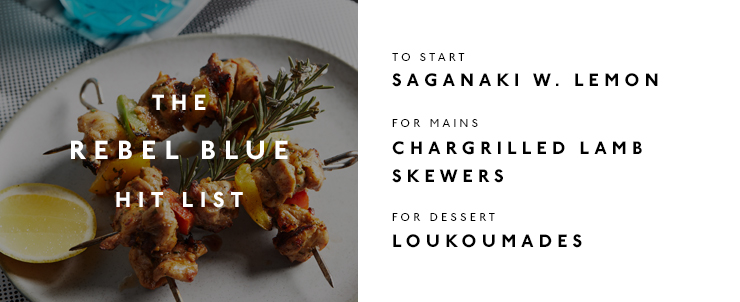 Lastly, the cocktails. It wouldn't be Windsor if they stopped at Mythos lager, right?
Understandably, ouzo is the popular choice here, muddled with blueberries and spritzed up with lemonade.
Ouzo skeptics (or just people that have been burned before) should find this a pretty easy-sipping intro: the aniseedy twang is still there, but it's slathered in fruit and sugar. Just pace yourself: as anyone who's been to Greece knows, ouzo is basically Devil Juice. One minute you're sipping a glass with your mother-in-law, the next you're challenging strangers to nude night swimming in the harbour at Syros...or so we're told.
Want to learn more about Rebel Blue? Check out our Directory page.
Image credit: Griffin Simm