While we've all been stuck at home staring at our four walls, you've no doubt been dreaming of hitting the road and getting out into the wider reaches of Victoria.
This road trip suggestion focusses on South Gippsland heading toward Wilsons Promontory. An area of Victoria that hasn't had the tourism boom of other regions, but should definitely be on the consideration list.
South Gippsland has some amazing natural assets given its south boundary is the rough and wild Victorian coastline. In South Gippsland, you'll find rolling green hills, an abundance of dairy farms, and popular tourist destinations such as Wilsons Prom, and the Strzelecki Ranges.
Here's how to make the most out of a road trip down the South Gippsland Highway to Wilsons Prom.
Stop One: Loch
Distance From Melbourne: 1 hour 20 minutes | 118km

Image: Loch's Main Street | Rob Blackburn
Loch is the perfect place to stop first up and stretch your legs. The village is around 1 hour 20 minutes from the city.
The sleepy town is now home to a range of amazing businesses making the most of the surrounding landscape and produce.
Stop by the Loch Brewery & Distillery for traditional ales, along with gin, negroni, and whisky all available to take home. And try there if restrictions allow.
Olive at Loch is a great spot to stop for a coffee and some delicious baked goods if the mood takes you. It's also worth wandering along the quaint main street and heading into Udder & Hoe for some 'slow food' and picking up some great produce from the surrounding area.
Get some further inspiration for a Loch day trip here.
Stop Two: Meeniyan
Distance From Melbourne: 2 Hours 15 Minutes | 152km

Image: Ross Farm | Rob Blackburn
Just before you turn off the South Gippsland Highway for Wilsons Prom, you'll come to the small rural township of Meeniyan.
Meeniyan is home to a couple of great spots to grab a feed, including Trulli Woodfire Pizzeria which serves a range of traditional style, uncut wood-fired pizzas. You can wash it down with their range of take away beer and wine.
Restaurant and cafe, Moo's at Meeniyan is also worth a visit. Calling an old butcher shop and bakery home, Moo's has a range of burgers and rotating dishes of the week.
One of Victoria's finest jewellers also has a studio in Meeniyan, drop into Lacy Jewellery Studio & Gallery and talk to Phil about a one-off piece.
If you're looking to stretch out your road trip into a weekender, just outside of Meeniyan you'll find one of Victoria's best regional accommodation spots. Ross Farm is a former dairy farm where the outbuildings are gradually being transformed into amazing rooms. Currently the Barn, Cabin, and Dairy are all available for bookings.
Stop Three: Big Drift
Distance From Melbourne: 2 Hours 45 Minutes | 209km

Image: The view from Big Drift | Mark Watson
Big Drift is a must for anyone looking to explore unique parts of regional Victoria.
The hike starts at the Stockyard Campsite (currently closed) at the entrance to Wilsons Promontory National Park. The hike to the dunes is 2km, with moderate difficulty. Keep your wits about you though, as with sand dunes all blending into each other it can be easy to get lost. And you're unlikely to have phone signal there.
The beginning of the walk is fairly easy as you walk the flat track to the dunes. Once you turn left and head up toward the sand dunes though, it gets a bit tricky, as you kinda have to go up and down each sandy dune. The view is worth it, though: it really looks like you're just in the middle of a vast desert.
If you're on a roadie with your dog, please note that dogs aren't allowed on the Big Drift walk.
Stop Four: Tidal River
Distance From Melbourne: 3 hours 15 minutes | 239km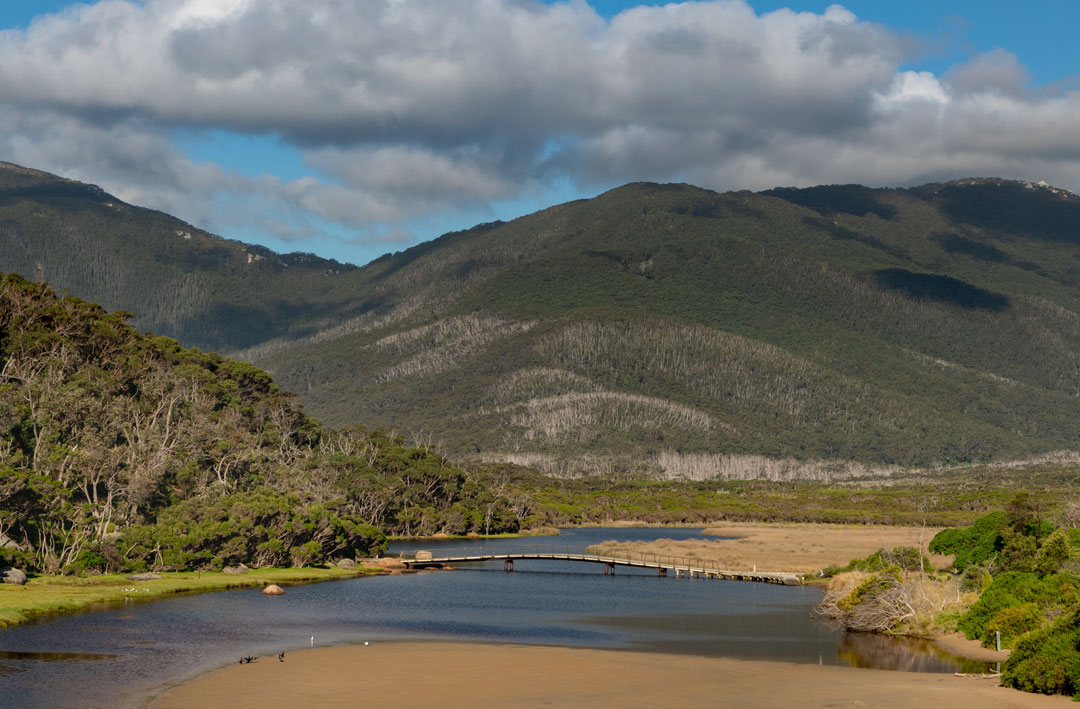 Image: Tidal River | Mark Watson
Tidal River is the main camping area inside Wilsons Prom National Park and will take you around a three-hour non-stop drive from Melbourne.
It's a great spot to set up camp and explore the many amazing parts of Wilsons Promontory. It's also home to Prom Cruises, started by Australian tour guide legend Rob Pennicott from Hobart.
The Pennicott Wilderness Journey from Tidal River takes you on a two and a half hour trip south of the Prom to an amazing spot called Cleft Island, better known as Skull Rock. A place which not a lot of people knew about beforehand.
On the way, you'll see the South Point—the southernmost tip of the Australian mainland—along with other amazing natural features like The Glennies, Anderson Islets, and Answer Island.
Skull Rock's scale cannot be fathomed until you see it in person. The granite monolith surprisingly looks like a skull—who would've thought given the name—and is a mecca for breeding seabirds off the south coast of Victoria. Book a trip here.
For more road trip inspiration, head to our Local Escapes section.
Image credit: Pennicott Wilderness Journey