If you had to sum up Rocomamas in a word, the word would be 'juicy'.
This is Chapel Street's new rock n' roll burger bar, fresh outta South Africa. A neon orange diner, full of meat, flame, swagger and condiments. And this is where the juiciness comes in. Rocomamas is not a first-date sort of burger bar. The basic idea is to aim the food at your face and hope for the best. You will get sauce on your hands, nose and eyebrows, but that's half the fun.
"It's all about getting your hands dirty," says owner Victoria Mastellone. "We see people using knives and forks and we say, 'Don't worry about it. Just eat. Get into it.'"
Rocomamas started in South Africa back in 2013, and the Windsor restaurant marks their first Australian franchise.
Victoria and her husband Alberto are looking after the brand here, and things seem to be going well. The place is buzzing when we swing by—there's groups crowding the booths, people sitting at the bar drinking craft beers, and a few Windsor hood rats out the front, smoking rollies and eating burgers.
Let's talk about the burgers, because they took us by surprise. Rocomamas specialises in 'smashed patties', which are becoming a bit of a thing in Melbourne (St. Burgs has been doing good ones for ages). You take a wodge of sustainably sourced, well-seasoned beef, roll it into a ball, whack it on a screaming hot griddle pan and press. Whatever happens next—that's your burger. It gives these patties a gnarly crust on the outside, good caramelization, and the Rocomamas chefs cook them juuuuust pink in the middle. Perfecto.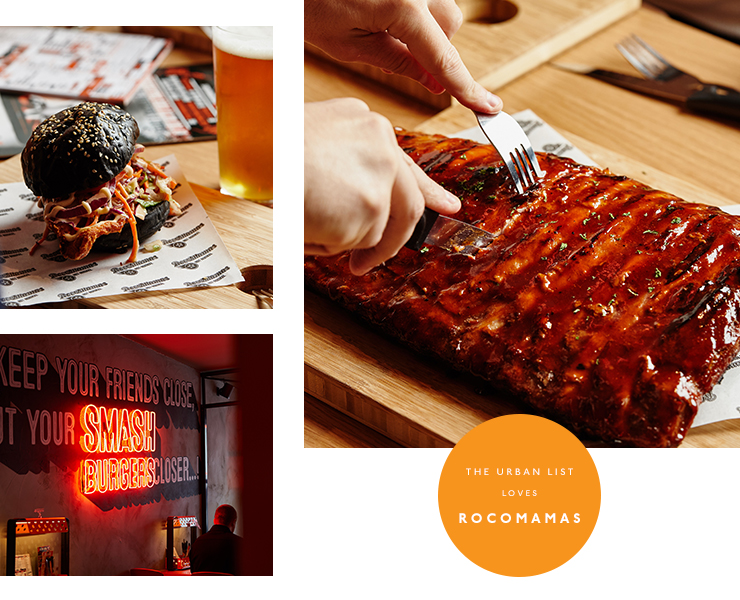 We tried the triple pattie 'Slacker' burger, and it was fantastic. Sauced up with three different condiments, lots of pickles and three layers of American cheddar. If you want a burger with a bit less attitude, try the Old Skool (a 150g smashed pattie, tomato, onion and house sauce).
There is a Southern Fried chicken on the menu (the 'Blackstar' with pickled Vietnamese slaw), but we'd stick with the beef. There's also some huge rib racks (pork, beef and lamb) that you can order 'baby', half or full. The full rack looks like they cut it off a Triceratops—you'll need a crew to help you tackle that one.
Like most burger bars, there's a rib-sticking range of sides. Regular crispy fries, cut medium. 'Turbo Charged' fries to terrify your arteries (the 'chilli cheese' is probably the pick of those ones). Plus your standard mix of onion rings, salads (pfft) and mac n' cheese croquettes.
Rocomamas is licenced, so you can pair your burger with a couple of cheeky wines from Geelong, The Barossa or Margaret River, or there's froths from Dos Blockos, Kona and Cooper's. Nothing too crazy—just solid pale ales to wash down all that cheese.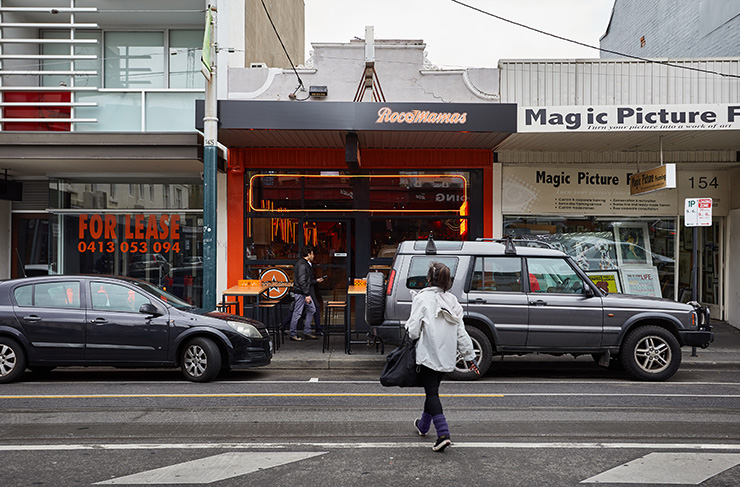 The fit-out here is pretty cool, and looks even better after dark. BlackMilk handled the design (they're the ones who styled up Sash Japanese, Ripponlea Food & Wine and Ms Collins). And damn—they didn't skimp on the neon. With all this glowing orange on the walls, it really makes you wonder about Rocomama's electricity bill...Heavy pendant lights, orange steelwork and brushed concrete walls give the interiors an industrial punch.
Melbourne's burger scene moves pretty fast (which is more than can be said for us, post-burger). Rocomamas is just the cheesy tip of a much bigger wave. But you have to give them props—pretty much everything is made fresh in-house. The ingredients are well-sourced and high quality. The shakes make your cheeks pucker and your eyes roll back into your skull. You can tell they're pretty proud of their food.
After a few bites of the triple-stack 'Slacker', we know why. This place is juicy.
You can check out Rocomamas at 156 Chapel St, Windsor. Read our Directory page for more info.
Image credit: Griffin Simm