About nine years ago, Vanessa Kwiatkowski and Mat Lumalasi quit their jobs in project management and IT to do something weird. They wanted to keep bees full-time. Professionally. And not on some farm in the countryside, surrounded by daffodils and lavender and stuff. They wanted to do it in the CBD, on rooftops and balconies and next to giant, industrial air-conditioning vents.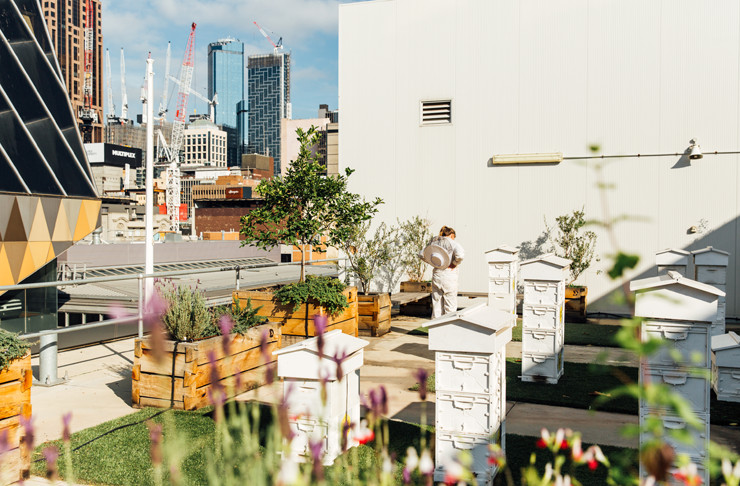 Those were the humble origins of Rooftop Honey, an urban beekeeping initiative that has spread all over Australia. There are now beekeepers on rooftops in Sydney and Brisbane, making kickass honey and educating communities about the importance of bees. But Rooftop Honey in Melbourne are the OGs (naturally).
Rooftop currently have 30 hives buzzing in the CBD, and 125 hives scattered all over Melbourne, some as far as Doncaster. They make real honey. The pure stuff. Unadulterated or topped up with sugary syrup. And their bees are the ones pollinating pretty much every flower you see within 5km of the city centre. They're an unseen cog in Melbourne's complex (and fragile) ecosystem.
We sat down with Vanessa and Mat on the roof of Emporium to chat beekeeping, taste some honey, and find out why bees are so important for Melbourne's sustainable future.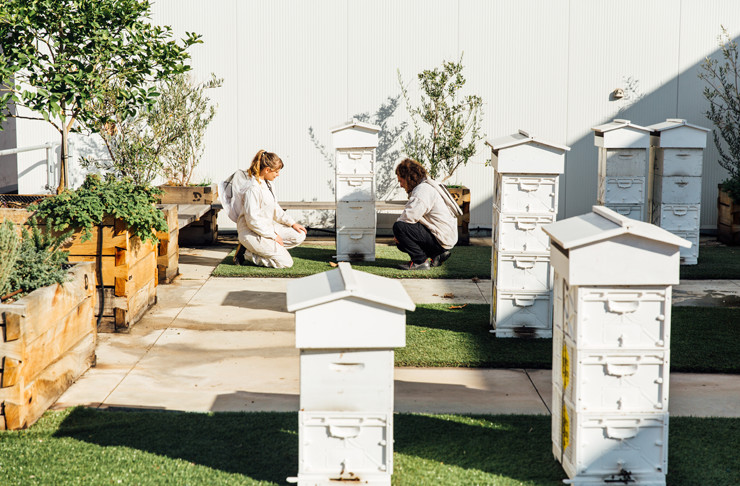 So where are all your hives?
We've got a few around town. This one on Emporium is the most picturesque. Often it's just a box on a balcony. We've got one just off Rankins Lane, in a warehouse apartment that's been there since we started—they look back over to the GPO, which is a great view for the bees. We've got bees in Flinders Lane, bees in Degraves at Manchester House, Clementine's (a shop in Degraves), we've got the rooftop there.
This is our Emporium site, it's our highest profile site. Mostly because the gardens and people know about it, and you can go over to Myer and look through the windows and see the hives, so I often get people sending me Instagram stories, saying 'Look at the bees!'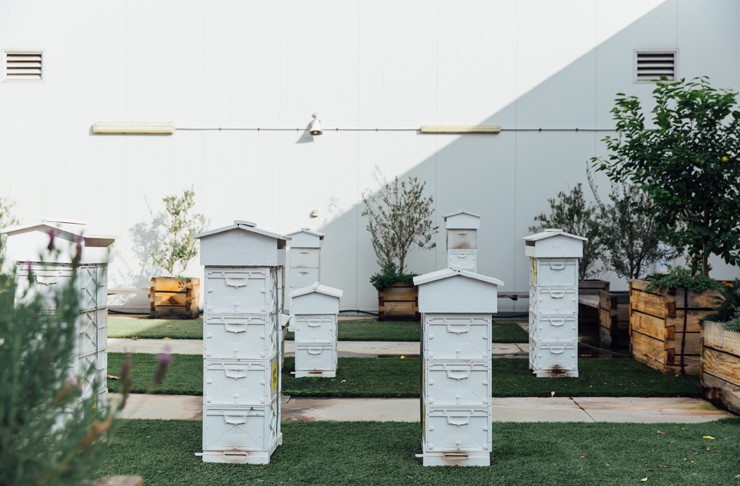 What do the bees eat in the CBD? Surely flowers are in short supply?
The bees will generally fly. They fly around 5km from the hives, so they get to sample the goodness from all the gardens that surround our city. Our bees fly up to Carlton and Fitzroy and Brunswick, even down to St Kilda. Urban bees are known to have a shorter radius from their hives, just because they can. Some studies have shown that urban bees live longer than country bees because they don't have to fly as far and tire themselves out. It's like having a CBD commute.
Do bees do well in a city?
Bees actually do really well in a city, because they like diversity. You wouldn't think it's a likely space, but they get a really diverse diet here. And it's a way in which our city can be more sustainable. If we're looking toward a greener more resilient city, pollinators play a big part of that. If people want to grow their own fruit and veg, even if they're just growing a few boxes on a balcony, you need pollinators around, otherwise, you're having to hand pollinate, which isn't very efficient.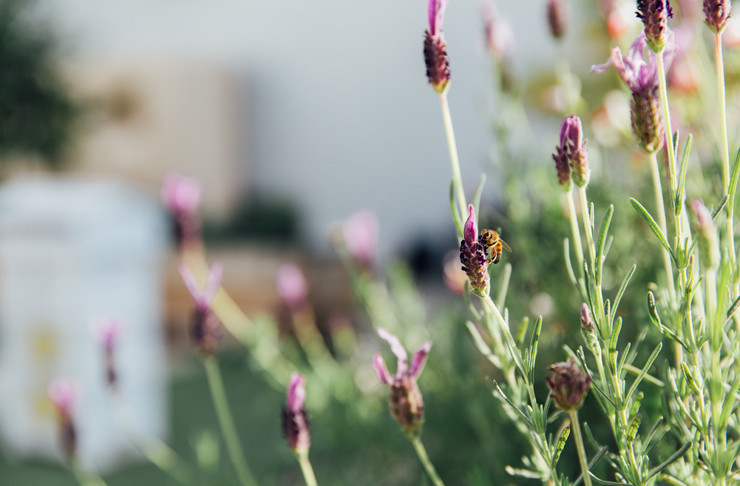 Can regular people start keeping bees?
Sure! You don't need a lot of space to keep bees. You need literally like 1.5 metres square. Aspect is important though, you need to have a good aspect. North and east-facing is good. Protection from the south-west and those cold winds, and protection from the hot western sun.
If people don't want to keep bees themselves, they can still help. They can cut down on pesticide usage. They can grow bee-friendly plants—pretty much any heirloom or open-pollinated varieties. Bees don't like a lot of hybrid plants. Herbs are a good one. Something for you and something for the bees.
Do you think people are starting to realise the importance of bees?
Definitely. When we first started, it wasn't so hip. But people are more educated now. Ten years ago, if someone found a beehive near their house, they'd call the Council and the Council would just call an exterminator. It's crazy. Like the bees were a pest. Now they know enough to call people like us, or hobbyist beekeepers, to come and relocate a hive. It's all about creating a resilient city.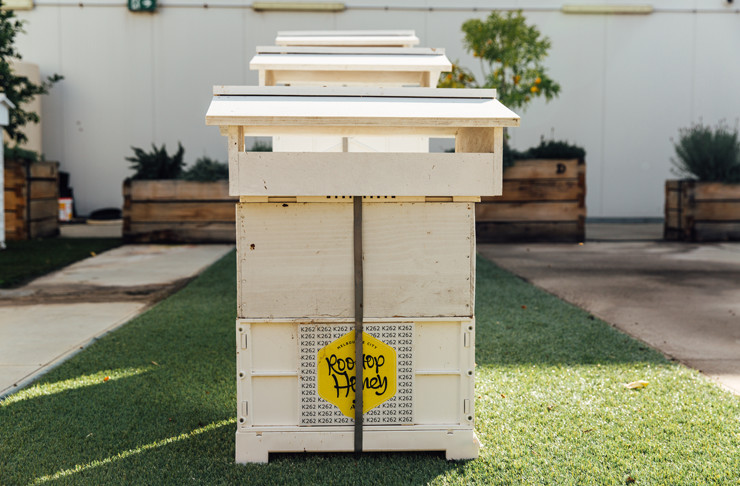 How are Australia's bees doing at the moment?
Right now it's still a good country for producing honey and keeping bees. The one contributing factor here, that goes in our favour, is the fact that we don't have Varroa mite here. We are the last country in the world that hasn't been infected. Once Varroa makes land, you can't stop it. The general consensus is, 'It's not if Varroa gets here, it's when'. Because it is inevitable, the way we ship things around the country and the world. Even New Zealand has it now. They've had to re-evaluate their whole honey industry. That's where Manuka honey came from.
What's it like being an Aussie beekeeper?
It's tough. Beekeepers, as a rule, don't get paid very well. Honey is sent to packers, and they literally get about $4 a kilo for their honey. It's like milk with the supermarkets. One of the best things people can do is simply buy local honey. Support your beekeepers. Go to farmers markets. Learn where your honey and your food actually come from.
Last year Australia exported 4000 tonnes of honey, but we imported 8000 tonnes. And we're a producer! So that imported honey goes on our tables, and the exported stuff goes overseas. We're eating shit. And a lot of that dodgy stuff goes into food service when they need to cut costs. It might say honey on the label, but you don't really know what you're getting.
Rooftop Honey is hosting a beekeeping conference for local beekeepers in June, and there's plenty of ways to get involved on their website. If you want to pick up some rooftop honey, here's a list of stockists.
Looking to hop on the sustainability train? Here are 7 Melbourne restaurants who are doing their bit for the environment.
Image credit: Annika Kafcaloudis