All you wannabe Beyonces and Buckleys, it's time to step out of the shower and rock the mic like a vandal, light up a stage and wax a chump like a candle! We've travelled the seven seas, or at least bayside, and found St Kilda's best open mic night.
Every hump day, our fave, super-chilled St Kilda bar, Mavis Brown's, throws open the stage to budding vocalists from 6:30 – 11pm. A popular hang for St Kilda locals, Mavis Brown's is a hotspot for live music lovers (there's something on most nights of the week), with a great selection of local beers and wicked cocktails, and some of the best meal deals and cheap eats in Melbourne. Winning!
Each Wednesday, Mavis Brown's opens the stage up to the public, in the coolest open mic night in St Kilda. But take note songsters—this weekly showcase of Melbourne's raw musical talent is getting pop-u-lar. Sure, you CAN just chance it and rock up, but here's a hot tip—pre-register your interest and book your spot on Mavis Brown's Facebook page to ensure you get your chance to shine.
So polish those pipes and tune that gui-tar and gather a crew next Wednesday for Mavis Brown's open mic night! Need a little liquid courage? Beat the crowd and arrive early—cocktails are just $12 from 4:30 – 5:30pm daily! That not enough to get you excited? A Goneburger pop-up has just set up in Hub Café next door, and they're flinging out some of Melbourne's best burgers (which you can take-away to the bar). Cos ain't nobody wants to deal with tummy rumbles in the middle of a set.
While you rock, strum, or hum on stage, your non-burger-loving groupies can tuck into a $15 lime, coriander and herb-crusted porterhouse with housemade slaw (the Wednesday night special). That's some fancy pub grub right there! There's also an awesome tapas menu boasting yumminess like duck spring rolls. That ought to keep the punters happy (and less likely to throw a shoe at the stage!)
So, songbirds and songblokes, what are you waiting for? This is one Melbourne open mic night you don't want to miss!
Open Mic Night at Mavis Brown's in St Kilda
Every Wednesday from 6:30 – 11pm
Please register your interest on Facebook, or chance it and rock up on the night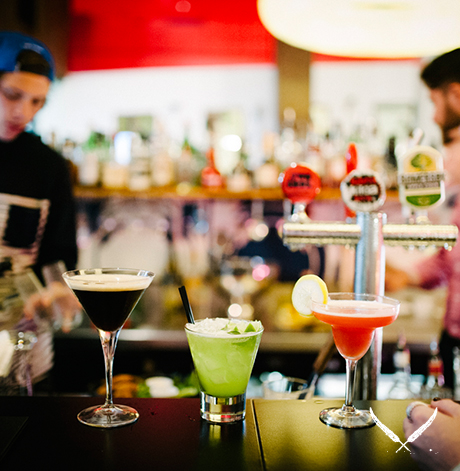 TUL Note: Today's List Love post is proudly sponsored by Mavis Brown's and endorsed by The Urban List. Our sponsored posts will never be a secret — the List Love seal will be stamped on any sponsored material you see on the site. Thank you for supporting the sponsors who make The Urban List possible.
Image Credits: Tash Sorensen for The Urban List.