Good music, great vibes and some unbelievable food. Spitfire is the newly opened venture headed up by Blair Williams, who knows his way around a kitchen.
The Spitfire space reflects a similar vibe to its sister Stay Gold; casual and low-key, with the front bar taking centre stage and arcade games scattered throughout the venue. The best part about Spitfire is that it covers all bases—whether you're keen on dinner, a pre-gig feed, or even a post-gig feed (their bar menu kicks until 2 am on weekends).
A kiwi, who's been in Melbourne for quite a few years, Head Chef Blair Williams has worked in various places—but you may best know him from Bluebonnet BBQ. He's taken the front half of Stay Gold, the rock 'n' roll venue, and turned it into Spitfire, where Williams has gone back to his love of wood-fire ovens and charcoal pits; "just doing things really simple, quite minimal, just with a little more technique". Williams spent about six weeks repairing the original wood fire oven, which now produces some of Spitfire's best dishes.
Now, let's discuss the food, shall we? First thing's first: dips and bread. Even though that might sound a bit basic, know that the gang at Spitfire have seriously stepped it up a level. Making their bread from a starter culture that's about 12 years old (which is unbelievable), their homemade flatbread comes with a few choices on offer: hummus, whipped cod roe and eggplant.
But our tip is the Kiwi Onion Dip. "It's like a play on Maggi Onion Dip," says Williams. "It's a dip that we have back in New Zealand, you just smash it while you watch the rugby or whatever", says Williams. But you definitely don't need to be a Kiwi to appreciate just how good this Spitfire dip is.
The refined menu is nothing short of impressive, with dishes that will blow your mind (I'm looking at you, fried broccoli). The menu offers an array of snacks and starters, but make sure you get the Cauliflower Tartare—you'll thank me later.
Something we have to mention is the Charcoal Chicken, the guys at Spitfire take this one pretty seriously. Free range chicken, specifically number 15, which Williams says is the perfect ratio of bone to meat, I literally just learnt that was a thing. "I just feel like these ones [number 15] cook really well," says Williams. "We brine them for 24 hours, and then we take them out and dry them for 24 hours, and then roast them on the chargrill for about an hour and a half". It's quite a process, but by god, it's worth it. And the sauce? "it's heaps of roasted goodness, capsicum, roasted onion, roasted garlic with some spiced and a ton of roasted hazelnuts".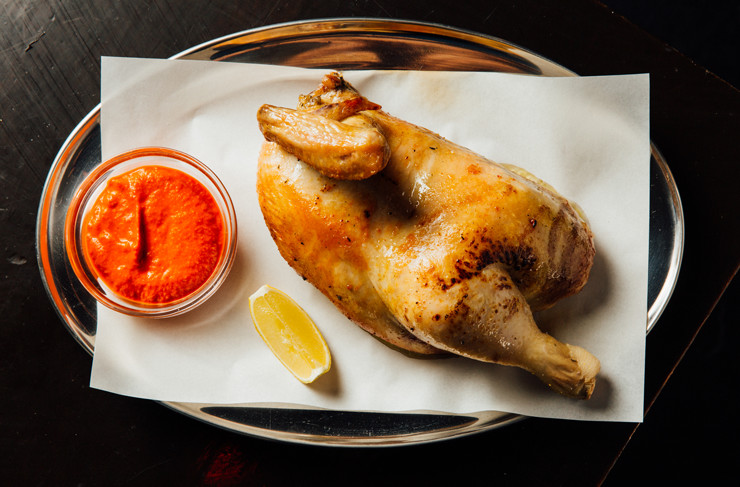 For the late night goers, Spitfire has you covered, serving up their twist on the Souva till late, and we mean stumbling-out-of-Stay-Gold-at-2am late. You've got The God Feather; charcoal chicken, gravy chips, cheese sauce and chives. The Dolly; charcoal lamb, kiwi dip, chips, pickled onion and gremolata. And the veg option, The Colonel; fried eggplant, chipotle mayo, chips, tomatillo salsa and herbs.
Image credit: Annika Kafcaloudis