Japanese heritage meets Melbourne eclectic dining influences at Tamura Sake Bar. Combining their love of great food and groovy tunes, husband-and-wife duo Fumi and Takako Tamura present Fitzroy with one of the most traditional culinary slices of Japan in the city of Melbourne. And we're all about it.
The culinary experience at Tamura Sake Bar will have you questioning if you ever want to eat anywhere else ever again. Unintentionally, Tamura has become a Fitzroy hub for the ramen obsessed. Slow cooked for 7-hours, the Tamura ramen is unbelievable. And with a choice of either a vegetarian or chicken broth, as well as a vegan option available, everyone will be able to get onto Tamura's ramen fever.
"All the food is designed to be matched with a sake," Fumi says. "With inspirations from [Takako's] mother, we are succeeding the family recipes and putting a bit of a Melbourne flavour on top."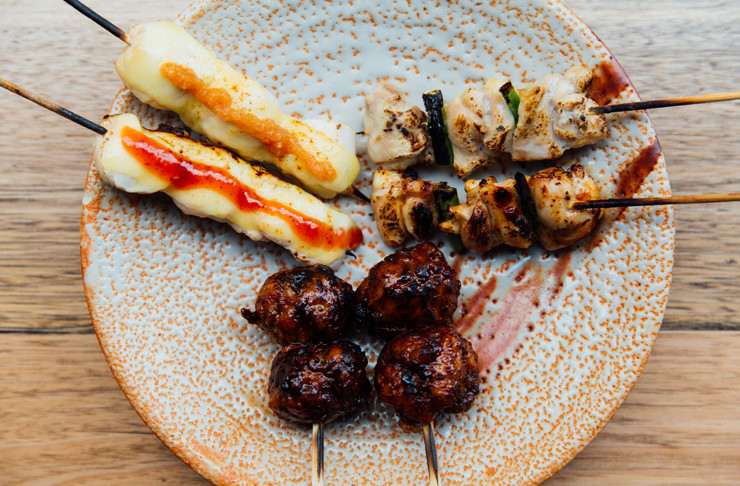 The amalgamation of flavours both traditional and modern come together beautifully and result in a perfectly curated menu, whether you are after a hearty meal or lighter izakaya plates. And at prices that don't break the bank, it'll be your weekly dinner ritual before you know it.
Not only can you hear the boppy jazz soundtrack to Tamura, but you can also see it. Among the many elegantly manicured bonsai trees, the walls are decorated with a collection of mint-condition records of all shapes and sizes.
Fumi sources some of Japan's best records, which are on offer to purchase directly off the turntables. Spinning from 4 pm most days (although if it's too busy, Fumi will lay down the freshest jazz playlist), the tunes perfectly complement Tamura Sake Bar's intimate vibes.
And although Tamura is classified as a Sake bar (and we can confirm the Sake is delicious and ever so smooth), the drinks menu also pays homage to Japanese craft beer. Fumi even handcrafts his own rice XPA served on tap daily.
Tamura Sake Bar is quickly becoming one of Gertrude Street's culinary institutions. With flowing ease, Fumi and Takako Tamura are accelerating the appreciation of the traditional Japanese izakaya in Melbourne, one meal at a time. Just make sure to beat the rush and get in as early as you can—Tamura is walk-in only and doesn't take bookings.
The Details
What: Tamura Sake Bar
Where: 43 Gertrude Street, Fitzroy
Image credit: Annika Kafcaloudis