Albert Park will once again be transformed into a celebration of some of Melbourne's best restaurants, cafes and bars when Taste brings its four-day showcase of yum this November.
Simon Wilson, Taste of Melbourne's event director, says he wants the four-day feast to give visitors a fantastic day out, with food at the heart of it. 'We set Taste apart as a restaurant showcase,' he says. 'Their dishes are what we want our visitors to enjoy, and we try and create some fun experiences around them.'
Wilson points out that some of our game changers down under are starting to make their impact felt globally, too. 'A great example is the coffee scene in Australia, with Toby's Estate setting up shop in Williamsburg, Brooklyn, redefining the coffee culture in America, moving away from the Starbucks model.'
With celebrity chefs like George Calombaris ruling the roost on TV, Wilson says more and more consumers are getting savvy about good food and wine and Taste of Melbourne offers a great chance to get face-to-face with the names behind the plates.
'Now, more than ever, the profile of the chef is really important to the success of a restaurant,' Wilson says. 'We work really close with our chefs and they're really excited about having the chance to tell the story behind their food, to step out of the kitchen and have that conversation with their audience.'
With over 60 dishes represented at Taste of Melbourne, from 17 different restaurants, there's loads to chose from, including the likes of Pope Joan's roast chook, jalapeno and mayo roll and Uncle's spicy steak tartare betel leaf with shisho and crispy wakame, as well as Burch & Purchese's sweet treats and Movida's ever-popular tapas. For the first time this year, regional Victoria will be represented too, with both Geelong's Tulip and Inverleigh's Gladioli bringing a taste of their kitchens to Albert Park.
'There's so much variety, so you can create your own dream menu,' Wilson says. 'It's a four-hour experience and in that time visitors generally eat for an hour, drink for an hour, learn for an hour and shop for an hour. That's how it all comes together. There's not a lot of time for sitting around and letting the day go by.'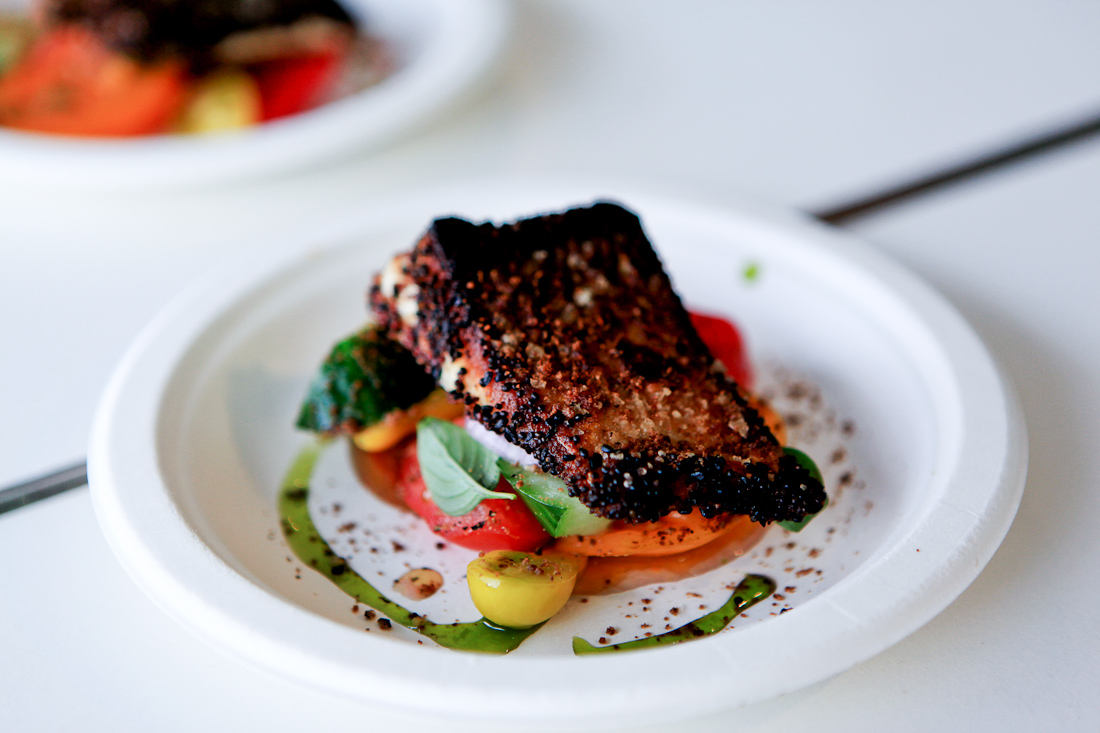 SIMON WILSON'S TOP 10 PICKS OF TASTE OF MELBOURNE 2014
1. The guys from Huxtaburger have launched a new concept called Mr Claws that's all about lobster rolls. 'They've been working on it for months and are debuting it at Taste,' Wilson says. 'I love the whole idea of bringing a touch of luxury to that more casual dining scene.'
2. Jason Jones made us queue on the street for Mexican food at Mamasita, then brought Moroccan flavour to South Yarra's B'Stilla, with an offshoot set to open its doors on Brunswick Street soon, and he'll road test some new dishes at Taste of Melbourne. 'It's really exciting for him to come to us and want to show it off for the first time at our event,' Wilson says.
3. Calombaris himself will be bringing fine dining to Albert Park when his Press Club Projects laboratory will relocate to Taste. 'You'll be able to sit down and try dishes from his molecular gastronomic kitchen, with all their interesting gadgets and the science behind the food,' Wilson says. 'George is really passionate about it, as is Luke Croston, his head chef, and it's at a more accessible price point, too.'
4. Taste has also teamed up with the craft beer gurus at The Local Taphouse St Kilda to bring a craft beer 'hop-up' to the party. 'They'll be showing off some fantastic Victorian craft beers as well as really cool beer ice cream,' Wilson says. 'We're big fans of The Local Taphouse.'
5. Gourmet Traveller Wine writer, Nick Stock, has curated 12 boutique wineries for Taste and will be offering tasting sessions and informal meet the winemakers chats. 'It's getting to know what they're all about, breaking down the pretence of wine as being very stuffy and formal,' Wilson says. 'It's a real passion project of Nick's.'
6. Cake Wines and Plum Glassware have teamed up to create a pop-up bar at Taste of Melbourne that will offer food and wine pairing classes from the likes of Lee Ho Fook head chef, Victor Liong, and his sommelier. 'There's a fun experience where you taste wines in different shaped glasses and see how that impacts on the flavour profile and the whole experience,' Wilson says.
7. The Taste Kitchen, hosted by Alice in Frames, allows visitors to pull up a pew and learn from the masters, including Croston, Jones, Matt Wilkinson and Frank Camorra, as they cook up their signature dishes. 'You can get the inside tips behind their inspirations and where it came from.'
8. The Chef's Skillery, presented by Dilmah, offers a unique pairing twist – forget the wine, this one's all about the tea. Chefs including Jacques Reymond, Matt Dempsey and Dai from Uncle will also impart advice on everything from filleting a fish to rolling a perfect joint for roasting. 'You can take those tips home and try them out in your own kitchen,' Wilson says.
9. Get some practical skills into you at the Lurpak Cookery School, with 30-minute cooking classes focusing on quality ingredients, not to mention damn fine butter, conjuring dishes like lamb cutlets with herbed raita and garlic prawns with fetta, herbs and chilli, led by MasterChef's Julia Taylor. 'For those that like to get hands on and not just watch,' Wilson says.
10. Alex Olsson will lead Olsson's Salt Sessions, collaborating with Victorian producers to teach Taste punters everything from how to cure trout, to preserving lemons and even adding a bit of kick to a dirty martini. She'll be joined by the likes of Nicholas Gorman from Yarra Valley Caviar, Ian Curley from The European and Kylie Millar from Zokoko Chocolate. 'Her enthusiasm is infectious,' Wilson says.
Taste of Melbourne | Albert Park 13th – 16th November
Find more of Melbourne's best restaurants here.
Images courtesy of Taste of Melbourne.