Spoon wielders and bowl polishers, ready your Mixmasters; Brisbane's own baking wunderblog, The Sugar Hit, has become its own book.
Yeah, I know. Sit down.
Between baking, styling and photographing every one of her decadent creations, The Sugar Hit's creator, Sarah Coates, has built herself a reputation as a powerhouse baker with the most envious set of skills. And being the marvellous thing she is, she has very generously offered to help us celebrate The Sugar Hit's launch with a sneak peek of her fabled 'drownie' recipe.
What's a Drownie, you ask? Sarah has gone innovation stations on us and crossed a brownie with an affogato. The dense and fudgy brownie swims in a puddle of heady ice-cream and coffee nectar, hence drown-ie.
But before we start talking ingredients and measurements, we caught up with Sarah to find out if there is anything she can't whip, candy, or flambé.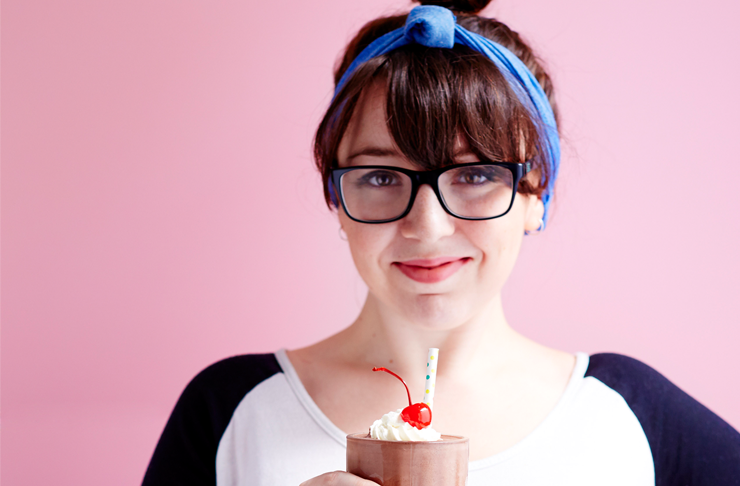 What has most surprised you about the process of writing your own cookbook?
This is going to sound really lame, but it's been so emotional! That really took me by surprise! I blog at The Sugar Hit three times a week (at least) and I do plenty of freelance photography, writing and recipe development, so I'm used to sharing my work with a lot of people. But something about the idea of my words and ideas being out there permanently in a hard-copy form for anyone to buy...it's magic! Brings a tear to my eye!
Seeing as the weather's getting warmer, do you have any criteria for a smashing summer dessert?
Two words: ice cream. If you're not taking full advantage of the glorious sunshine and grabbing an ice cream cone at least once a week, then you're not living! Also, I think a hand-held element is definitely a winner when the sun's out. So ice cream sammies, cones, even a little paper cup and spoon. A drizzle of sauce, some fresh fruit, ALL the sprinkles and that's a straight up good time.
What is one food trend you can't wait to see catch on?
Soft serve! Do I have a one-track mind or what?! I absolutely love the cocowhip they serve at PawPaw in Brisbane, and I know there are a few other places around doing soft-serve, but I want to see some really funky flavours a la Christina Tosi's famous Cereal Milk soft serve, or the purple sweet potato and black sesame flavours you can get in Japan.
Claret or clafoutis?
Do you really have to ask? Gimme that cherry-studded clafoutis!
One of my favourite things about food is that there are always new things to learn, new culinary mountains to climb. It might sound a little mundane, but at the moment I'm on a search for my perfect vanilla layer cake. It's gotta be tender, buttery and (sorry to use that word) moist, and not too sweet, the perfect foil to a pile of buttercream icing. I think the key is going to be buttermilk, but the jury is still out. I'll keep you posted.
What happens to your leftovers? Do you have a designated leftovers disposal squad? Are there any vacancies?
I definitely have a squad–it consists of everyone and anyone who ever comes near my house! Plumber? Have some brownies. Mechanic? Here's half a cake. Friends, family, all are welcome!
What could you make with no oven, no freezer, and guests arriving in 50 minutes?
Yikes! That would be tough. My emergency fall back recipe is the same one that Parisian ladies (which I'm not, but wish I was) have been using for generations: chocolate mousse. A little melt, a little whip, a little fold and then into the fridge and 20 minutes later you're golden. But that leaves me with plenty of time, so I'd add some homemade salted honeycomb, whipped sour cream, slivers of fresh coconut and juicy-sharp pomegranate seeds. I'm officially hungry now.
Successful blog: check. Cookbook: check. What's the next frontier?
Come at me Youtube! I really want to explore video as a medium and start sharing some of my recipes in real time: it's so much fun to be able to interact in a more personal way with other people who love to eat. I'll always be blogging, because I absolutely love it, and I may already have a secret 'book number 2' folder on my computer, but I couldn't possibly confirm that. In the meantime, I'll be in the kitchen whipping up that mousse!
The Sugar Hit Drownie Recipe
Makes about 12
Brownies
150 g (51/2 oz) dark chocolate (70% cocoa solids)
150 g (51/2 oz) butter
145 g (5 oz/2/3 cup) caster (superfine) sugar
1 tablespoon unsweetened (Dutch) cocoa powder
2 eggs
110 g (4 oz/1 cup) ground hazelnuts
To serve
1 scoop of vanilla ice cream per person
1 shot of espresso per person
Method
To make the brownies, preheat the oven to 180°C (350°F) and line a 20 cm (8 in) square baking tin with baking paper.
Melt the chocolate and butter together in a saucepan over very low heat. When the chocolate is melted, remove the pan from the heat and add the sugar, cocoa and eggs. Stir everything together until well combined, and finally stir in the ground hazelnuts. You should have a grainy, glossy mixture – if it looks separated, beat with a wooden spoon until it comes together.
Pour the batter into the lined tin and bake for 18–20 minutes. Leave to cool completely in the tin.
To serve, cut yourself a brownie – whatever size you feel is necessary – top with a scoop of ice cream, then quickly pour over your shot of hot espresso.
Recipe reprinted with permission from Hardie Grant.
Image credits: Chris Middleton and Vicki Valsamis