There's a well-worn Italian proverb that says, 'Amici e vini sono meglio vecchie', which basically translates as, 'Friends, like wine, are best when aged'.
The same could be said for Lello Pasta Bar. Tucked on the corner of Flinders Lane and Russell St, the Italian favourite formerly known as Yak Italian Kitchen & Bar has grown older gracefully (much like adored Italian film star Monica Belluci).
Adopting the childhood nickname of head chef and co-owner Leo Gelsomino is about the only nod towards youth. There's a notable shift from Yak Italian's relaxed bar focus—Lello is full-blown stylish dining. Dramatic portraits and diffused lighting punctuate blue-grey panelled walls. Grey fabric banquette seating attends pale wooden tables.
The Lello menu has stepped up its game too, as has the attentive service of white-shirted waiters. Every choice has a story behind it, dancing around lo Stivale (the Italian peninsula nicknamed the Boot) with pride.
We started with a lightly chargrilled octopus, muscular enough to conjure images of ancient sea monsters, but tender on the tongue. It comes served on a bed of Sicilian Panella (the crisp then crumbly chickpea fritters you get in Palermo's market stalls). It's a hearty start with a radish and chilli kick, soothed nicely by the waiter's choice of Gavi's peachy, straw-coloured Picollo Ernesto.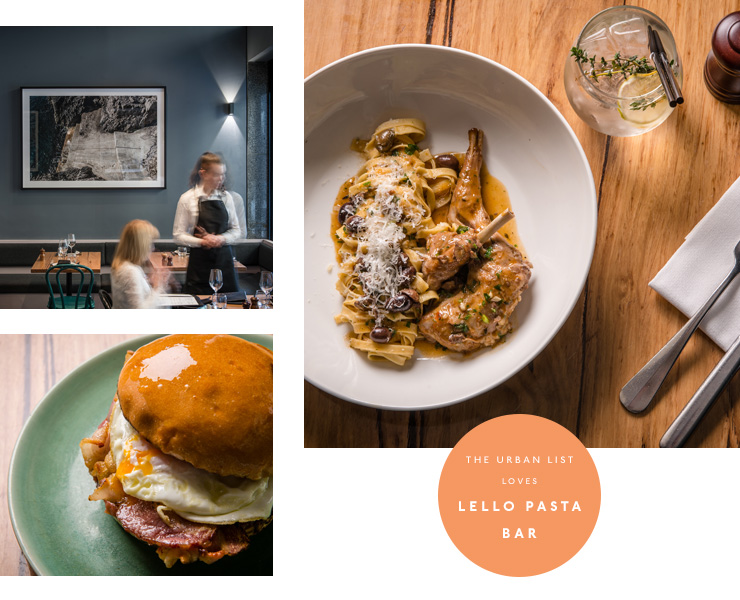 Sticking with seafood, ceviche-style freshwater Clarence River prawns were lightly torched, balanced on a bed of eggplant and almond ravioli, made using Lello's house-made, germinated flour—a lighter, healthier, gluten-free option that sacrifices none of the flavour. Whack on a little provolone and just try and resist licking the plate, please.
The mountain taste of Sardinia comes through in chubby little parcels of potato, pecorino and mint culurgiones—a garden-fresh delight, paired with a Genoa-style broad bean pesto base and sprinkled with crushed almonds for a welcome crunch.
We switched over to Margaret River's La Bratta, a bold and beautiful merlot, malbec and cabernet sav blend. It went down a treat with the braised Gippsland rabbit. Falling off the bone, it's tangled in a white wine and thyme-tossed tagliolini, cut through with Ligurian black olives and the salty tang of pancetta, then dusted with slow-ripened grana padano cheese.
And if you want to indulge a dente dolce (minus the guilty conscience), we can't recommend Lello's fennel ice cream enough, coddled in a nest of chestnut-infused crostoli – deep-fried pasta ribbons – atop tangy blood orange and rhubarb. Snow flakes of carpino goats cheese are smuggled inside. Push the boat out and match this perfect finale with the effervescent fizz of Alasia moscato d'asti.
Gelsomino has poured his heart through his imported, custom-made pasta extruder, creating Lello's fresh look at much-loved Italian favourites. Paired with perky service, this big-windowed corner spot makes for a fun and flavoursome night out with besties in a setting we're sure Bellucci would approve of.
While we opted for dinner, you can also pop in for Italian breakfast at Lello too, like the stracciatella, a granola variation on Lazio's famed eggy broth served with pumpkin and a grilled baguette - perfect for dipping. And embrace an Italian inflection on the very Australian jaffle, with Tuscan kale and taleggio cheese. Hailing from a little closer to home, Fitzroy's Atomica supply the coffee beans.
Want to learn more about Lello? Step right this way.
Image credit: Lello