There aren't many places in Melbourne that cater to vegans and meat-heads at the same time. I mean really cater. Most cafes get it now: if they're going to survive, they need at least something on the menu that didn't once answer to 'Daisy' or 'Hamlet'. But one jackfruit benedict does not a vegan menu make.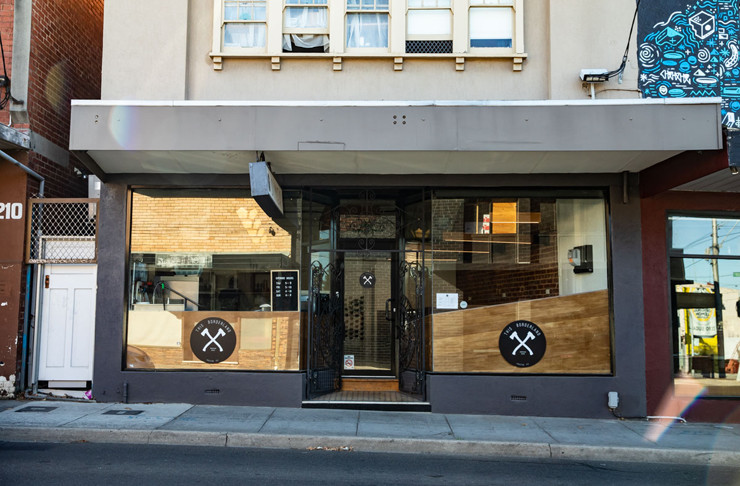 Enter This Borderland, an American diner in Preston where carnivores and herbivores co-exist in peaceful utopia. Xavier 'Ox' O'Shanassy owns this place. He used to chef at Hard Rubbish (another great Preston bar, just around the corner), running fried chicken Wednesdays and basically doing delicious things with meat. But he had a vegan best mate, and it was tough for the two of them to grab dinner at the same venue—someone was always leaving hungry. Borderland is the compromise.
O'Shanassy basically knocked this place together himself. He designed the honeycomb light installation and handyman'd the chunky industrial booth seats. Wrought iron scrollwork twirls over the front doors. The general vibe is cabin-in-the-woods meets Twin Peaks' Double R Diner, right down to the cherry pie and ice-cream. On Friday night, half of Preston seems to be here, crammed into the 24 seats, or spilling out to neighbouring venues like Kraut Bar and Sonny's Bottega. Tyler Street is going off.
So why should you schlep all the way out to Preston? Because This Borderland is doing really, really, really delicious barbecue. And not just the animal kind. The menu is almost threadbare: there are three burgers, one plate of fried chicken, and a few sides.
That's it.
Everything can be made meaty or meat-less, depending on your preference. I wanted to give the place a proper try, so I ordered one of each: The James (a fried chicken burger with tangy apple slaw) and The Ox (a fried Seitan patty with vegan cheese, lettuce and Special Sauce, and about as close as you can get to Big Mac IP infringement).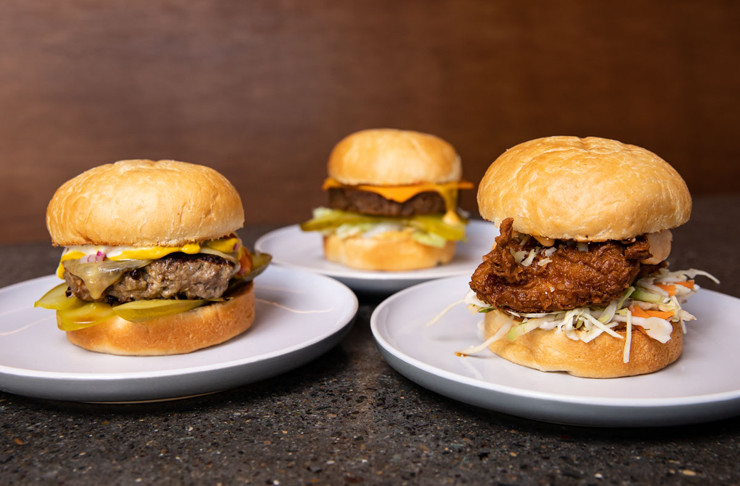 The fried chicken burger was awesome, which isn't surprising. O'Shanassy famously perfected his spice mix over a number of years, working the fryer at Hard Rubbish. The chipotle mayo and apple slaw worked weirdly well together, and the chicken was crispy, tender and finger-lickin' good. Ox uses a potato bun, which was fluffier than your typical brioche or milk. Overall, a solid combo.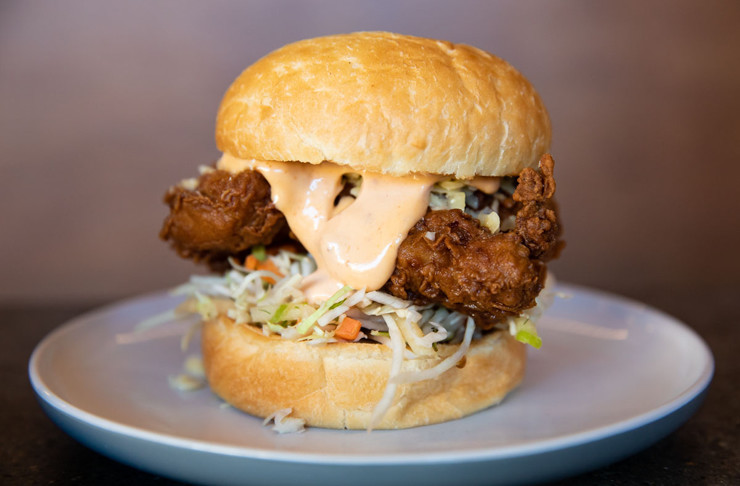 Now the big question: how did the vegan Seitan patty stack up? I'm a pretty hardcore meat guy, but I'm open to the idea of vegan beef. It doesn't have to moo to taste good, that's my motto. Here's a little stream-of-consciousness which captures the Seitan experience: "This patty looks like a hockey puck, I dunno about this, okay first bite…yeah actually not awful, It's even kind of meaty, and the texture is a bit like ground beef, and with the pickle mayo it sort of tastes like a Big Mac, a lot like a Big Mac actually, suspiciously Big Mac-ish, I hope Maccas doesn't get wind of this place…oh no, Ox is staring at me."
Seitan is made from wheat, which might explain the potato bun (putting wheat inside wheat is the stuff of gluten-free nightmares). I have to say it doesn't look appetising. 'Hockey puck' is no exaggeration. I'm not sure if there's such a thing as a 'smashed Seitan patty', but that might improve the overall aesthetic. Flavour-wise though, I have to give this thing a tick: the big hunk of dill pickle, the tangy Secret Sauce, the American-style vegan cheese, it all tasted pretty good. It's definitely not the same sizzling brain-orgasm as fried beef, but it's close. Sort of like the difference between sex and masturbation. You'd prefer one but will make do with the other.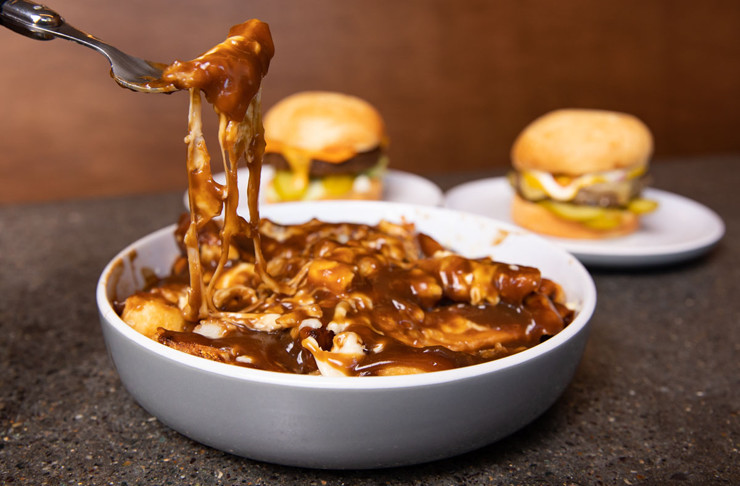 The fries at This Borderland are shoestring and salted up the wazoo (do not attempt without a drink nearby). O'Shanassy adds a proprietary seasoning, which has definite Charcoal Chicken overtones. Personally, I'd skip the fries and go for the beer-battered onion rings, or the homemade poutine (vegan on request). Finish up with a slice of vegan cherry pie and ice-cream, baked from plant-based shortcrust and frozen cherries, just like Mother Nature used to make.
What I like most about This Borderland is that it's not evangelical. If you want to gobble up Ox's house-smoked beef brisket, you can. If you want to see what fried Seitan chicken tastes like, you can do that too. Vegan and non-vegan friends can sit side-by-side, silently judging one another in harmony, the way nature intended.
Veganism is the future—anyone who thinks otherwise is kidding themselves—but the future would get here a lot faster if everyone thought like Ox.
Image credit: Mel Desa