Ahhh the ol' shopping centre food court. Full of for stale, stodgy and downright questionable meals. A total health bomb, right?

Well, my dear, clean-eating friends, what if I told you there is a healthy food court option that uses the freshest ingredients, cooks everything to order and won't cost you an absolute fortune?

Recently opened in the sleek Emporium Melbourne, Thr1ve is just that – Melbourne's first paleo-inspired, 100% gluten free food court retailer. And man, oh man, are we pleased to have Thr1ve arrive in Melbourne town!
How did we get so lucky? Well, the Thr1ve paleo story started when founder and CEO Josh Sparks, astounded at the lack of healthy dining in the world's top retail centres, opened the first paleo-to-go cafe in Sydney's MLC Centre back in 2012. Now, with posts in Melbourne, Canberra and another soon to open in Brisbane, Thr1ve has become the go-to for CrossFitting clean-eaters, health-conscious city workers and bleary-eyed shoppers the East Coast over.

So…what about the food? Inspired by the Paleo, Primal and Mediterranean diets, Thr1ve's menu is high in protein, low in carbohydrates, gluten-free and free of any added sugar. Everything is nutritionist approved and, you'll be pleased to know, has passed The Urban List taste-test with flying colours.

A colleague and I dropped in on Thr1ve paleo cafe one morning on our way to work looking for a nourishing breakfast and, boy, did we get one! While I'm not the most health conscious person (carbs and dairy are literally my bread and butter), everything we ate was completely delicious, filling and, to be completely honest, made me consider giving up my beloved bread. Yep, it was give-up-bread good.

First up, the Thr1ve paleo pancakes: puffy little spheres made from coconut and almond flour, free-range eggs and a touch of maple syrup, topped with organic honey, sliced banana and cinnamon. While other gluten-free pancakes often fall into a big, crumbly mess, these mini pancakes were deliciously light, deceptively filling and were polished off completely guilt-free. Likewise, Thr1ve's cinnamon & cacao granola – a grain-free mix of shredded coconut, pepitas, sesame seeds, chia seeds, pecans, cacao and coconut oil, served with freshly-made raw almond milk – made for a delicious, nourishing feed.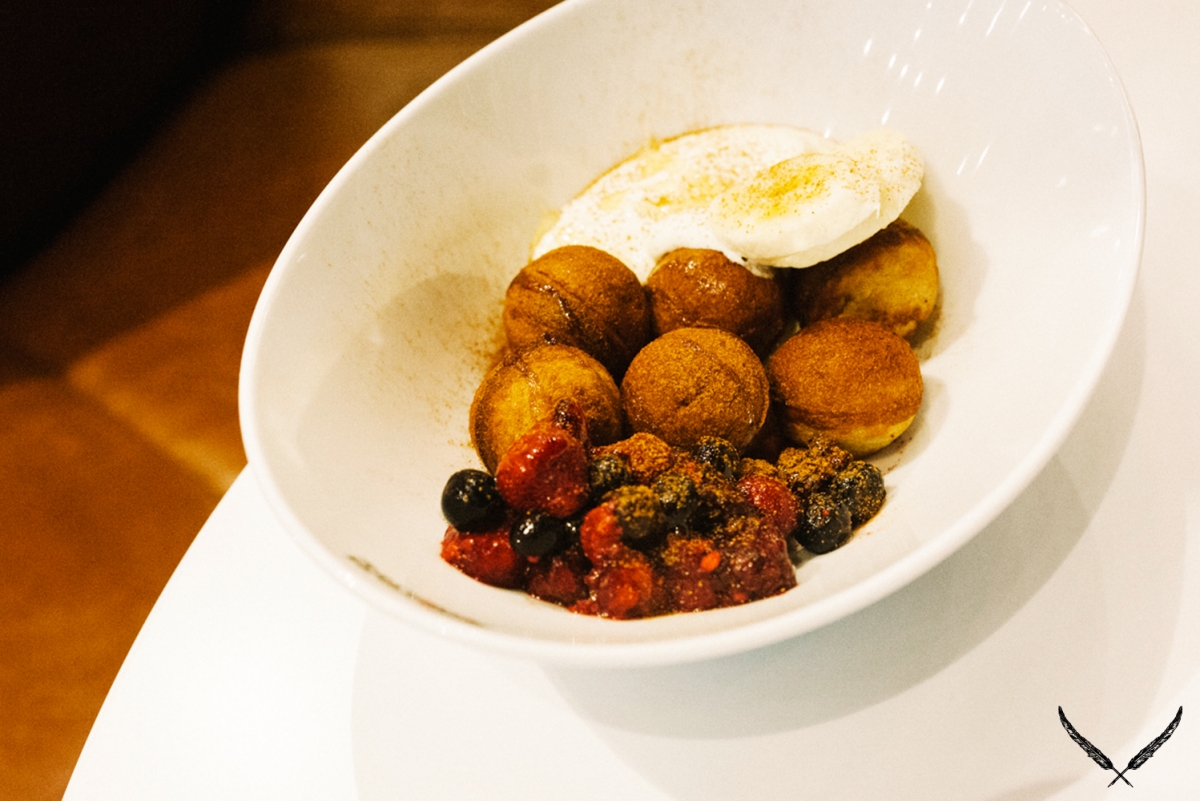 While Thr1ve offers regular flat white fare, we decided to sample their signature brews. Perusing the menu, my eyes stopped at Mountain Coffee – a long black blended with MCTs (a unique fat derived from coconut oil) and grass-fed butter. Yes, butter. Josh describes it as an espresso and croissant rolled into one. I call it heaven.

In another tasty move, Thr1ve's smoothie menu features dessert-inspired options such as apple pie, cookies & cream and, my personal favourite, salted caramel – a creamy mix of dates, banana, sea salt and cashew butter. If that flavour combination doesn't sway you (why the heck wouldn't it!?), you can customise and alchemise, with a host of superfoods, protein powders, nut butters and spices available to add into the mix.

Is savoury more your game? Th1ve also offer delicious breakfast bowls, where you choose your egg base (one yolk? three?), pack it with protein and load on the veggies. The build-your-bowl concept is carried through to lunch, where you can choose between leafy greens, natural brown rice, baby spinach leaves and sweet potato and cauliflower mash, pick a protein (hot tip: go the Vietnamese-style shredded pork), add sides and even upsize. Everything is freshly made fresh to order, and, as with everything else from Th1ve, is free of any nasties.

What's more, not only is Thr1ve good for your waistline, it's also easy on your pocket – a serve of paleo pancakes comes in at just $5.90, while main-sized Signature Bowls start at just $12.90. Bargain!

What are you waiting for, fine paleo folk of Melbourne?!

Thr1ve | Emporium Melbourne, Shop 3-026, 287 Lonsdale Street in Melbourne