Michael Fox, Little Projects' managing director, is a man who knows about property. With over 20 years experience in the real estate industry, both in Melbourne and overseas, he offers a wealth of advice for first time buyers looking for a foothold in the burgeoning property market.
Little Projects is the successful property group behind apartment complexes including South Yarra's swanky ILK on Toorak Road, complete with rooftop garden, stunning views and cool communal areas including a private cinema, kitchen, swimming pool and fully equipped gym. Their next project is Central South Yarra, which includes a range of beautifully designed two-bedroom apartments.
We sat down with Michael to talk property and how best to enter the market, along with his favourite places in Melbourne.
TUL: What's the best way to get into the property game?
Buying off the plan is a good way to start, but it comes with a few pre-conditions. You've got to be careful who the developer is, and knowing what your prices are. It just means doing research. We have so much information available at our fingertips. It means going to display suites, asking prices, working out square metre rates. What unit sells for what price? Does it have a car space? Balcony size? Internal size?
If you're buying a unit for $600,000, you'll get $10,000 for your first home buyer's grant from the government, and off-the plan stamp duty savings is about $28,000, so if you're cluey, there's $40,000 that's going to be equity once you've settled.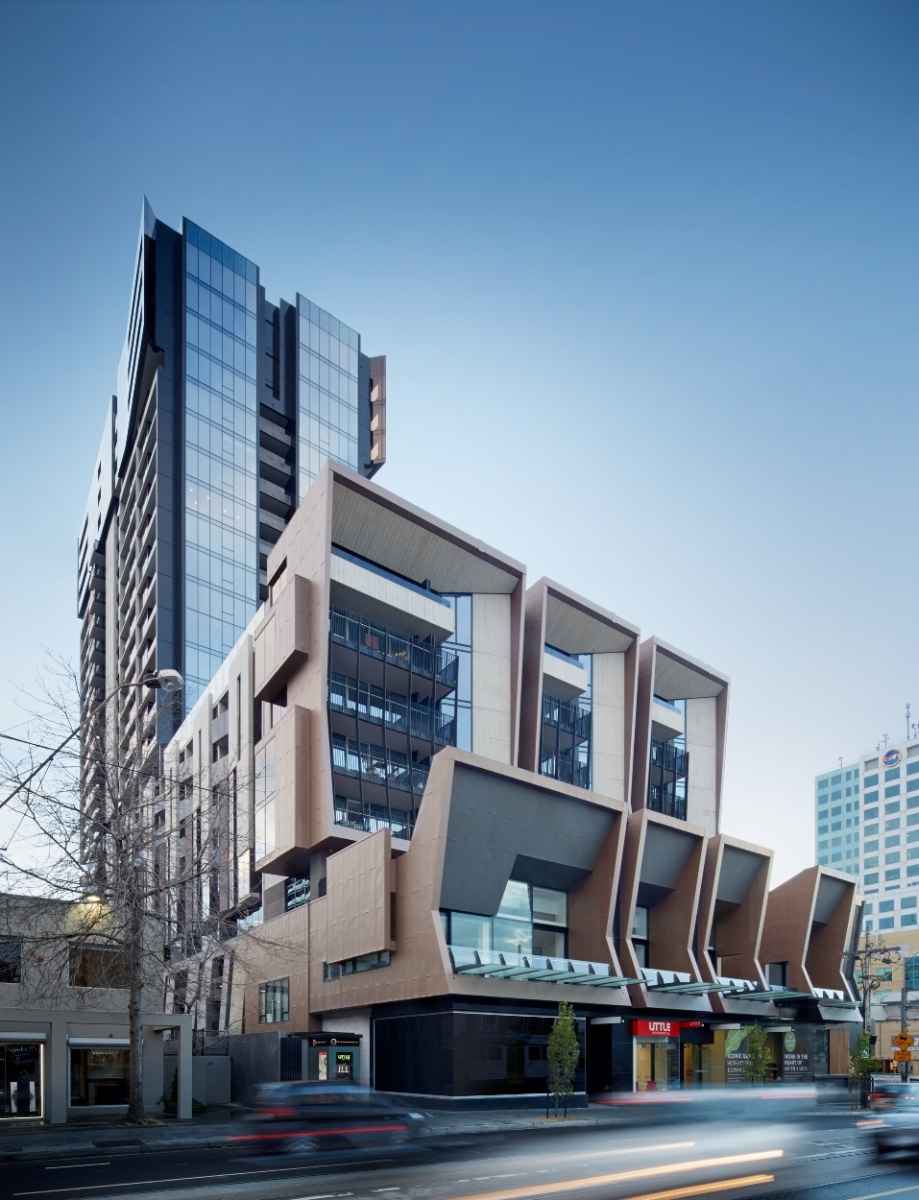 ILK South Yarra's impressive facade.
TUL: Any pitfalls to avoid?
I always go back to doing your research. I don't think enough people do enough research. It's about putting in the time and effort, not just sitting in front of your computer, but getting out and about.
Make sure you're dealing with someone who has a history, check out previous projects and go into apartments that are re-selling after they've sold off-plan and just check them out. You can get a fair idea of a developer's quality by going and having a look.
TUL: What are the best areas to be scouting for new properties?
I think that the future of Melbourne is going to be around public transport. I would stay out of the city because it worries me how many big sites are being sold to developers in there at the moment. I've always stayed away from Docklands and Southbank too.
Our Halo apartments, located on Fitzroy Street in St Kilda, is a good example, with trams running north, south, east and west at your front door. We did 101 Bay Street in Port Melbourne with public transport round the corner and supermarkets and gyms across the road. You walk out the front door and it's all there. Look for a great village feel.
The garden walk entry at ILK.
TUL: Any more top tips to share?
A lot of people shy away from using a mortgage broker, but I highly recommend them. I use one myself. They do a better deal than a lot of the banks. I wouldn't be afraid to make that phone call. Ask around for recommendations.
It's still part of the Australian dream to own your own home. We all seem to be good at paying stuff off, but none of us seem any good at saving. If you have to pay something off though, and you know you have that commitment, you always seem to make it. You go without, so I reckon you're better off biting the bullet and getting in the property market. The mortgage just becomes a normal payment going out, rather than paying dead money like rent.
TUL: Fave lunch spot?
Squires Loft Steakhouse in South Yarra is a property developer's haven. Everybody goes there. It's one of my favourites, as is Charcoal Grill on the Hill in Kew. You have to be careful what you say, and who you're sitting next to.
Residents can hold their next function at ILK's outdoor retreat.
TUL: Fave post-work drinking hole?
I like the Elgin Inn. It's just up the road from our office, a bit too close. People coming out of Hawthorn station can see me 'at work' in my office with my mates, so sometimes I have to duck.
TUL: Your favourite Melbourne indulgence?
I do like my Spring Carnival in The Chairman's Club. I always have a flutter, just quietly.
TUL: Best way to spend $500?
There's a guy called Lincoln at the Bike Gallery in Hawthorn East. $500 doesn't go very far, but he's got some great gear up there. I'm trying to join the lycra brigade. I'm getting old.
Image Credit: Little Projects.