Bizarre, romantic, complex, fetishistic, other-worldly, funny… these are a few of the many words that could be used to describe the clothing created by fashion designer Walter Van Beirendonck. The Belgian is notoriously larger than life, and his designs certainly match. If you've never heard of him—he's not exactly a house-hold name in Australia—now's your chance to get well and truly acquainted.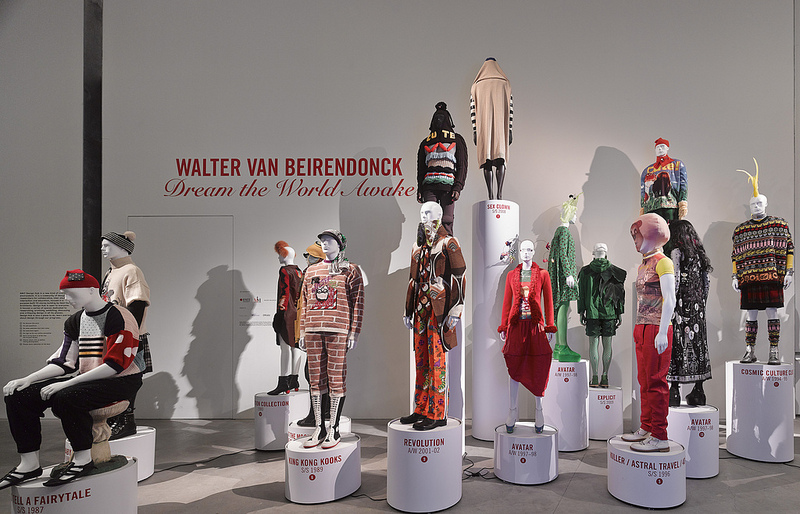 The brand spanking new Design Hub at RMIT (an incredible space dedicated to design in all its forms) is currently hosting a spectacular retrospective exhibition called Walter Van Beirendonck: Dream the World Awake. It is a definitive and playful show that presents a huge expanse of work created by the designer, including an outfit from his graduate collection in 1980 that reveals his obsessions were there right from the start.
But I must tell you: this is by no means your standard fashion exhibition. Of course, this is a great thing, because Van Beirendonck is really not your standard fashion designer. Gone is the chronological display that takes you through collections from start to finish, covering obvious themes and general inspirations. No didactic labels mean you can just find your own way and pay full attention to the clothing in front of you. This is the perfect approach because his designs are completely laden with clever and kooky messages that you will have fun de-coding! Adding to the fun are the rotating mannequins who really do express the irreverence of Van Beirendonck's style.
Aside from the mind-blowing clothing, there are some other great elements to the show, including early catwalk shows projected on the walls, and a fantastic video where Van Beirendonck flicks through his scrapbooks and illustrations. This scrap-book motif is repeated in the first room, with a massive wall dedicated to a collage of images and objects representing the breadth of Van Beirendonck's diverse sources. His predilections range from Superheroes, to African tribal dress, sex toys, music, movie props and even a few aliens. It's imperative that you go in with a sense of humour: his designs are not for the prudish or faint-hearted!
The exhibition has travelled from Antwerp, where it was originally shown a couple of years ago at the wonderful MoMu. I'm hoping it is just the first of many great and avant-garde exhibitions that the Design Hub will be delivering. It's ending on October 5 (and it's free!), so get along while you still can.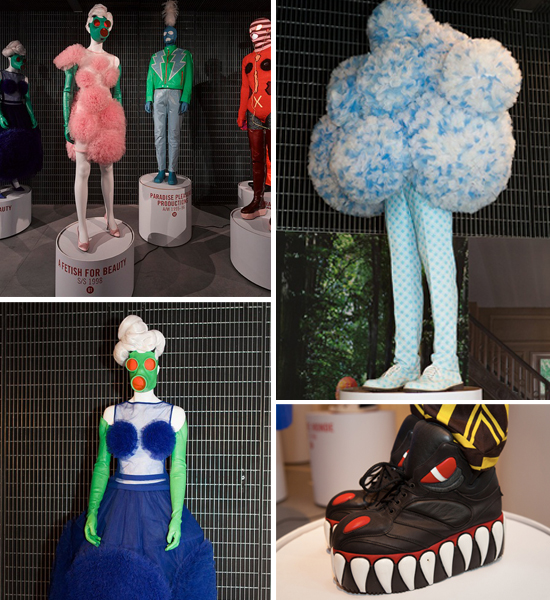 Walter Van Beirendonck: Dream the World Awake | RMIT Design Hub
Building 100, Corner of Victoria & Swanston Streets in Carlton
Ends 5th October | Free entry
Tuesday – Friday, 11am – 6pm | Saturday 12pm – 5pm
TUL Note: Nadia Buick co-directs The Fashion Archives, is a freelance fashion curator, and recently completed a PhD at QUT (Brisbane), so it's no surprise that she knows a thing two when it comes to art and style. Nadia is an avid wearer of vintage (just ask for her best spots about town), collects old paintings and postcards and can always find the beauty in a little clutter.
Image Credits: RMIT