We Aussies love an excuse for a party. From gathering around for the Superbowl (the only game of American football most of us watch all year), to dressing up for Halloween or downing a Guinness on St Patrick's Day, we're generally keen to latch onto any international occasion so long as it's a chance to have fun. Germany's Oktoberfest – which runs for 16 days throughout September and October in Bavaria, attracting more than six million revelers a year – is precisely that. In Deutschland, it's a huge event that is part funfair, part cultural celebration. Here, Oktoberfest is our chance to celebrate everything that's great about Germany, from bier to sauerkraut to traditional music. Here are our picks of where to celebrate Oktoberfest in Melbourne. Cheers big ears.

MUNICH BRAUHAUS | SOUTH WHARF
Recently opened, Munich Brauhaus is a state-of-the-art waterfront bierhaus where up to 900 revelers can eat, drink and be merry in a year-round Oktoberfest celebration. Boasting a pork-friendly menu (think schnitzels, sausages and pork belly) and a selection of award-winning biers, Munich Brauhaus is now upping the Bavarian ante for their six-week Oktoberfest celebration, beginning on September 19th. Bier keg tappings, limited edition and exclusive biers and a hunt for the Prince and Princess of Oktoberfest (with $5,000 on offer to the winners!) are on the calendar. Don your lederhosen, gather your gang and get amongst the Oktoberfest action. Prost!
Not sure how to get to Munich Brauhaus? Forget the tram – there's a new mode of transport in Melbourne town! The Munich Bier Bike, a 14-seater, bier-serving vehicle, will be transporting punters to and from Munich Brauhuas throughout Oktoberfest. While the bier may be non-alcoholic (drinking and biking is a no-no!), Munich Brauhaus has moorrrree than enough Bavarian bier to go around!
OKTOBERFEST IN THE GARDENS | BIRRARUNG MARR
One of Melbourne's biggest Oktoberfest celebrations will take place in front of the city skyline, on the banks of the Yarra River. Now in its fourth year, Oktoberfest in the Gardens promises lots of bang for your buck. Ticket holders get access to a massive outdoor beer hall, six bars, roving performing, traditional German entertainment (including yodelers and roving accordion players) and competitions. Grab yourself a Marzen – the traditional Oktoberfest bier made by only six breweries in Germany – and tuck into everything from German meatloaf to bratwurst, pretzels and spit roasted pig. It all takes place on October 25.
VILLAGE MELBOURNE | MELBOURNE CBD
Village Melbourne's Ormond Hall will be transformed into an authentic Bavarian Bier Hall on October 18th and 24th for two parties that will continue into the wee hours of the morning. The $15 ticket price includes a souvenir Oktoberfest stein and live band, Alpine Cocktail, performing traditional Oktoberfest tunes. Choose from the range of German biers on tap and chow down on the gourmet bratwursts from the Mutter Krause Food Truck.

HOFBRAUHAUS | MELBOURNE CBD
With its list of Bavarian biers and menu of hearty traditional dishes (including a famous schnitzel challenge, where you land your meal for free if you devour a 1.5kg pork schnitzel, a bowl of chips and a litre of tap bier), it's little wonder Market Lane's Hofbrauhaus calls itself 'das original und das best.' We're sure tipping it as one of the best spots to celebrate Oktoberfest in Melbourne (they've been throwing one of the best dos in town since 1986!) The fun kicks off on September 20th with an opening night party of live music, keg tapping and stein carrying competitions, and runs through to October 12th.

CUCKOO RESTAURANT | OLINDA
Looking for an excuse to escape the city? Jump to the car and enjoy the Oktoberfest celebrations at Olinda's famous Cuckoo Restaurant. For more than 55 years, the restaurant has been a popular tourist destination for its Bavarian chalet style, staff in traditional costume and daily live show packed with yodeling and cow bells. The Oktoberfest celebrations run throughout the entire month of October, with a menu of German schnitzels, sausages, sauerkraut and imported biers, as well as the regular fun.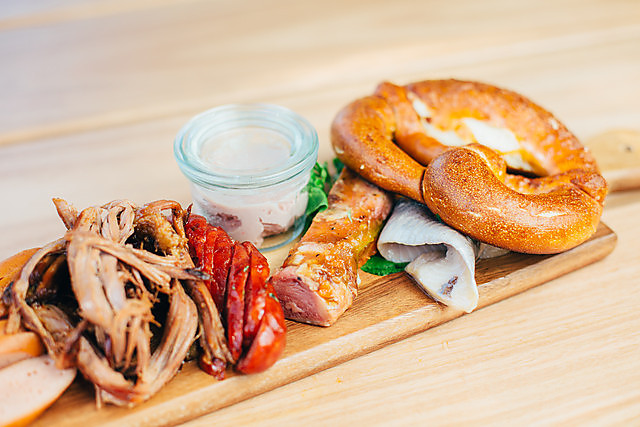 Image credit: Hophaus.
HOPHAUS | SOUTHBANK
The colour and excitement of Oktoberfest in Melbourne comes to Southbank courtesy of Hophaus, an art deco inspired Bavarian bier hall with sweeping city views and 30 bier taps to ensure punters never go thirsty. The venue's first Oktoberfest party runs from September 20th to October 5th, featuring traditional German entertainment, imported Oktoberfest bier and Bavarian food specials. There's a family friendly day with activities for the little ones on September 21st, while the launch day party will feature an appearance by footy legend David Schwartz and a sausage eating competition, with a Hophaus dining voucher and a night at the Langham up for grabs.
EUROPEAN BIER CAFÉ | MELBOURNE CBD
Fan of European biers? Chances are you're already a regular at the European Bier Café on Exhibition Street. Complete with more than 50 varieties of brews, including 20 on tap, the venue will celebrate Oktoberfest on three consecutive Fridays from October 3rd to 17th. From 5pm each day, the Café will offer specials on Bavarian biers and cuisine, traditional dancing and even live Oompah bands. Tickets are $35, which includes a traditional German bretzel, a litre of German bier and a take-home stein.

BEECHWORTH OKTOBERFEST| BEECHWORTH
The historic old coach house of Beechworth's Bridge Road Brewers will host its 10th annual family-friendly weekend of Oktoberfest celebrations on the weekend of October 11th and 12th. Brewery founders, Ben and Maria, brewed their own Marzen (traditional Oktoberfest bier) two months ago, to allow it to age perfectly for a smooth malty lager. They've even ensured they have a cupboard of authentic Bavarian outfits to ensure staff members are dressed in style. Over the weekend, the whole family can dine on German cuisine and enjoy traditional oompah music and entertainment.

BENDIGO OKTOBERFEST| BENDIGO
Last year's inaugural Bendigo Oktoberfest was such a success, the festivities will return to Bendigo Harness Racing Club on October 18th. Staff, donning lederhosen and dirndl, will spend the afternoon pouring Marzen, pils and Vienna lager as punters enjoy dishes like currywurst and bratwurst. Live music and a Miss and Mr Bavaria competition are among the entertainment highlights. Tickets are $35, which includes are priced from $25 and pre-booking is advised.
HOLGATE BREWHOUSE | WOODEND
Woodend's Holgate Brewhouse celebrates its 15th birthday in style with an afternoon of Oktoberfest celebrations on October 12th. The $55 ticket price includes entry to the bier hall, a traditional German bretzel, a litre of bier and a stein to keep. A menu of Bavarian cuisine, plenty of German-style bier and traditional music will be on offer all afternoon. Why not make a weekend of it, and choose to stay in one of the 10 luxury queen-sized bedrooms within the historic red brick building?
Grab those steins and go celebrate this Oktoberfest in Melbourne!

Munich Brauhaus.
Main Image Credit: Munich Brauhaus