As Peruvian food in Melbourne continues to flourish (three Peruvian restaurants in Melbourne have opened up in the last 12 months), hungry locals are queuing up to try this eclectic cuisine. As we salivate for Andean grilled meats, chow on rainbow coloured corn and wash down pisco sours, we're also uncovering the delights and varieties of the Peruvian national dish, ceviche.

For the non-converted, ceviche – diced raw fish marinated in citrus juice, garlic, onion, chillies and coriander – is a deceivingly simple dish. When the fish is freshly caught, the juices are squeezed, and the balance of all the ingredients is precise (not too acidic, not too spicy and not too tart) – ceviche is sublime.

While ceviche may have originated in Peru, it's not strictly Peruvian. Many variations can be found in other parts of Latin America, most notably in the coastal towns of Mexico, Ecuador and Costa Rica. These days, you can find ceviche made with raw calamari, salmon, prawns or scallops, and served with any combination of tomatoes, passionfruit, orange, mint, fennel, grapefruit or mango. Choose your own ceviche adventure; start here with six of Melbourne's best ceviche dishes.
PASTUSO | MELBOURNE CBD
Leading the ceviche charge is the ultra cool Pastuso, Melbourne's only cevicheria. From its chic laneway location, you can expect four types of zesty delights in entrée sizes. For newbies, try Ceviche Peruano, made with New Zealand snapper and served with caramelised sweet potato and cancha (roasted corn). For the more advanced ceviche-ian, order the Amazonian – a king salmon cured in sour orange and topped with plantain fritters (sweet corn chips). Vegetarians need not miss out – there is a marinated daikon version, served with seaweed, salsa and charred green tomatoes to suit fish-free sensibilities.
PIQUEOS | CARLTON NORTH
Half Peruvian, half Argentinean, Piqueos on Rathdowne Street serves 'cebiche' with a 'b' because that's how the Peruvians spell it in Peru (b and v are pronounced the same in Spanish). Piqueos' cebiche is made in the same way as it's done in Peru. The diced white snapper is perfectly seasoned with salt and rocoto chilli paste. It's swimming in lime juice, coriander and red onion. The cebiche is plated with corn kernels and a sweet potato puree. You can also order a shot of leche de tigre (tigers milk) – the cloudy cebiche marinade which Peruvians drink, believing it to be both an aphrodisiac and a hangover cure. Piqueos' leche de tigre comes with a fresh oyster for extra amorous action.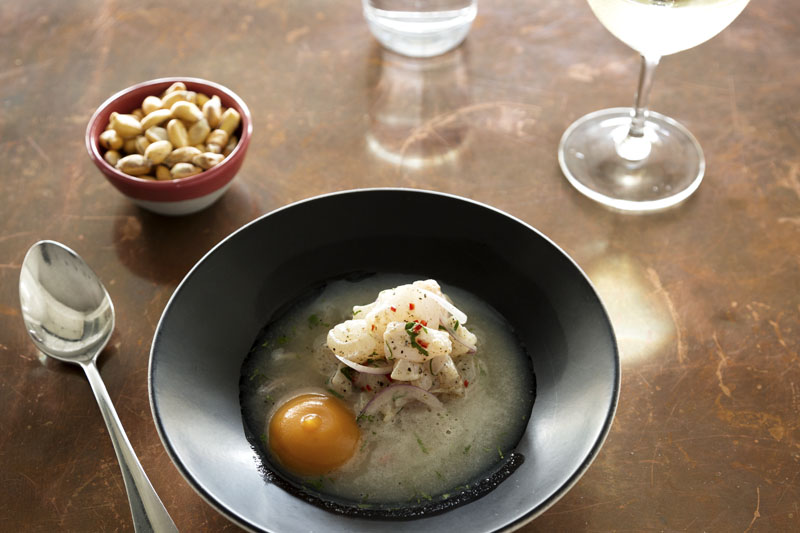 Image Credit: Piqueos
MI PERU D'CARMEN | PARKDALE
Trending in the suburbs, Mi Peru wins the prize for the most generous serving of ceviche in Melbourne. While ceviche is generally served as an entrée, Mi Peru offers two types as mains. Cured by a Peruvian grandmother of eight, the Ceviche de Pescado has big chunks of milky white snapper in a classic ceviche marinade, dished up in a massive fish-shaped plate. The Ceviche Mixto comes with raw snapper, calamari and prawns. Both are served with honey-roasted sweet potato, mixed green leaves, cancha and corn on the cob. Two of the best ceviche dishes in Melbourne, they are totally delicious and exceptionally moreish.
SAN TELMO | MELBOURNE CBD
Laneway-located San Telmo has been serving the best of South American cuisine in Melbourne since 2011. While it specialises in meats cooked in a parrilla charcoal grill, San Telmo also dishes up two mean varieties of ceviche. There is of course the classic lemon cured white fish with chillies, onion and sweet potatoes that we know and love. However, the more adventurous are advised to try the raw salmon cured in thyme, lime and fresh coconut cream, served with roasted peppers and pickled onion. It's a perfect starter, to be enjoyed with a glass of Torrontés – an Argentinean white wine.
MAMASITA | MELBOURNE CBD
Mexican in Melbourne was all the rage a few years back. It still is, judging by the lines still ever present outside Mamasita, arguably the leader of the Melbourne Mexican wave. Head chef, Andrew Logan, changes Mamasita's ceviche menu with the seasons. Currently on offer is Ceviche de Yucatán, a concoction of white fish, lime, chillies, green tomatoes, mint and coconut milk. Served in a cocktail glass with house made Totopos de Maiz (fried tortillas), this tangy appetiser is like a chunky mojito. Tip: there will be a new version in the coming weeks to welcome in the warmer months. We'll raise a Mamasita Margarita to that!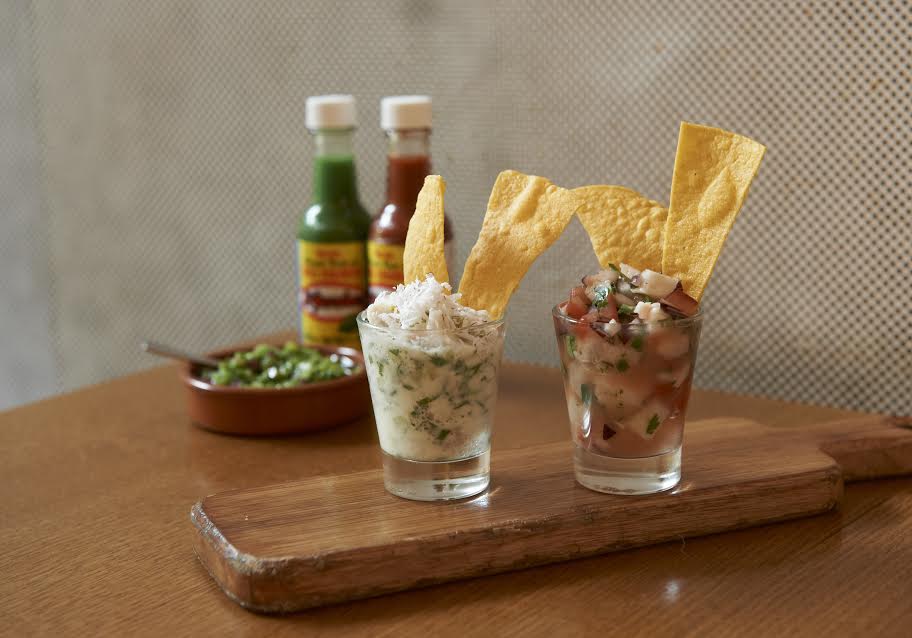 Image Credit: Mamasita
RADIO MEXICO | ST KILDA
If you like to see the ocean, smell the ocean, or just be near the ocean when you eat fresh seafood, then you can't go pass Radio Mexico for some of Melbourne's best ceviche. Like the vibe of the restaurant (there is a taco truck in the restaurant!), Radio Mexico's menu is bold and fun. In addition to street style corn on the cob, guacamole, quesadillas and nine types of tacos, Radio Mexico does only one ceviche: a rockling with fennel, ruby grapefruit and avocado. It's an unlikely combo and it works oh so well. Who knew grapefruit and avocado were friends?

So there you have six of Melbourne's best ceviche dishes, Listers!

Main Image Credit: Noble Pig