Ahh Auckland weather, you sure love to throw us some curveballs. One moment it's all sunshine and happiness and then—plot twist—torrential rain. This tends to happen on the days we leave the house in summer clothes. Auckland 1, us 0.
But don't let the rain dampen your mood (pun absolutely intended). There are still plenty of things to do when the heavens part. Here are the best things to do in Auckland when it rains.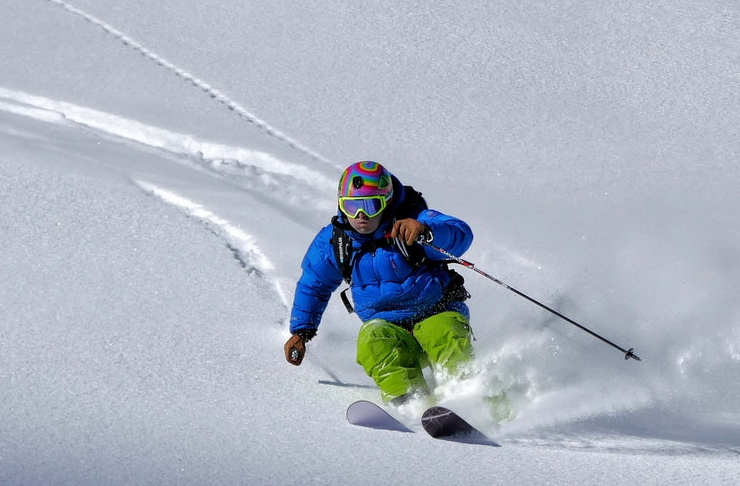 Go Skiing Or Snowboarding
Just because it's wet out, doesn't mean you can't still have some fun indoors, so grab your winter woollies and snowboard and take a drive out to Silverdale's Snowplanet for some fun on the slopes. Don't worry if you don't own any snow gear, because you can hire everything there. At Snowplanet you will find a dedicated beginners area as well as a Terrain Park for those who are more experienced. If skiing or snowboarding feels too much out of your comfort zone then opt for snow tubing. Whizz down the track before hitting the 7Summits Restaurant and Bar to relax and unwind and watch all of the action on the slope.
Cosy Up With A Coffee
Aucklanders and coffee, we're a thing. And what better way to beat the rainy day blues than with an aromatic cup of joe. There are many cafes that take their coffee very seriously. Head to Kingland's Atomic Roastery where you'll find an open and airy interior and some of the best experts in town. One of the friendliest places in town, Coffee Pen, only uses specialty coffee which is the finest 3% beans of world production, so it's safe to say that it's top notch. Need more inspo? Here is our round-up of where to find the best coffee in Auckland.
Stay Indoors And Binge On Netflix
Sure, sometimes staying indoors when it's raining can feel a tad claustrophobic, but sometimes it's the best things ever—particularly when there's so much to binge. Luckily for us, there are plenty of streaming services available. From Netflix to Lightbox to Neon to TVNZ On Demand to THREE Now, we have no shortage of new shows to watch. So, grab a blanket and butter up the popcorn and embrace the rainy Auckland day. If you want to keep things easy, why not check out the best movies on Netflix right now.
Take A Dip In One Of Auckland's Indoor Pools
It may seem counter-intuitive, but why not enjoy the skies opening with rain by heading to one of Auckland's many indoor pools. If you love a bit of adventure, then the Mt Albert and Henderson Aquatic Centres will see you enjoying waves just like you were on a beach. If you're after a little calmer on a rainy Auckland day, then the Tepic Baths in the CBD or Newmarket's Olympic Pool are the way to go. With lap pools and warm spa-like pool, you'll find relaxation bliss. Need more inspo? Check out our round-up of the best indoor pools in Auckland.
Get Cultured At The Auckland Art Gallery
Auckland is lucky enough to be home to one of the best art galleries in New Zealand. Founded in 1888, it is well known—and for good reason. The CBD space is a fusion of historical and contemporary, expressed even in its architecture—two buildings combine the old and the new. With 16,000 pieces from the 11th century to today, the Auckland Art Gallery showcases works that you won't see anywhere else. With this much art you'll have to make a day of it, so grab a bite at the café and make your way through the centuries. While they have permanent exhibitions, they often have top international exhibitions visiting our shores, so keep an eye on their website to keep up to date. If you don't want to head into the CBD, Auckland is lucky enough to have a number of contemporary art galleries to make the most of your rainy day. The Corban Estate Arts Centre offers ever-changing exhibitions in their three gallery spaces, art classes, a café and artists' studios. Nestled amongst winery vines Corban Estate has a rich history and was once the largest vineyard in the country. Today the Arts Centre is home to 25 resident artists, displays even more and has a number of projects which encourage the local youth to use art as an expressive tool.
Play Some Pinball At A Retro Bar
Make the most of a rainy day in Auckland and head to a relative newcomer, Save Ferris. Situated in Grafton, a step inside will see you transported back to the 80s, think pinball machines, vintage comics and cartoon projections. The interior showcases sprawling murals, walls jam-packed with pop-culture paraphernalia including records, comics, VHS covers and a screen sharing 80's movies on repeat. Machines include Adams Family Pinball, Fix-It-Felix Jr., Donkey Kong, Funhouse, Pacman and Ghost Busters. With all that game playing making you hot, head for the bar to sip on their range of craft beer or opt for a glass of wine. Fill your hungry belly with the only item on the menu—American-style hot dogs. Save Ferris is a fun way to forget about the wild weather outside.
Enjoy Some Craft Beer
Aucklander's and craft beer: we're a thing. And, what better way to beat the rainy day blues that sipping back on the golden liquid? Lucky for us, there are many places to enjoy craft beer. Head to Wynyard Quarter's 16 Tun, where there are more than 80 varieties available from all around the country. While you're there, enjoy some meatballs, fish tacos or kumara fries to make the experience that much better.
If you prefer to head out of town, then Hallertau is the perfect spot. With a sprawling beer garden and craft beers aptly named 1 through 6, rain or shine it is always buzzing. On the menu, you'll find options for groups, platters and pizza, as well as items such as herb-roasted lamb shoulder with eggplant caviar, heirloom carrots and cherry sauce. For dessert, devour the golden syrup steamed pudding or the roasted chocolate mousse.
Play Mini Golf While Drinking Cocktails
What's better than a game of mini golf? Mini golf while drinking cocktails, of course. Auckland went wild with the announcement that Holey Moley hit our shores and it's the perfect thing to do on a rainy day. Situated on the Viaduct, there are three nine-hole courses, two downstairs and one upstairs. Firstly, have your photo taken on the Simpson's couch or in the Flinstone's car. Then, head to the bar and choose a cocktail that suits your mood. Choose from the Caddy Classics or the House Signatures. The Sugar Caddy is a New Zealand childhood dream come true. With Smirnoff Vodka, peach liqueur, passionfruit, lime and apple juice, it's topped with a lolly kebab of a jet plane, Eskimo and rainbow strip. Then, rest your drink on the little table at each hole and work your way around the course, with each more exciting than the one before it. There's a Hobbiton hole, a crazy clown hole and even an ET hole. Each one is designed for interaction—you can hop on the bike with ET to reach the sky or sit on a Harley Davidson for some speed. There's even a room where you'll find everything upside down—handstand anyone? When you've worked up an appetite, make sure you enjoy some of the mouthwatering food. On the menu, you'll find a selection of seafood like the Prawn To Be Wild, burgers like The Holey Cheezus, hotdog pizza, delicious sides and even a section for vegetarians. If you're a vegan, order the Vegan Snack Stack—roasted vegetable lasagne, crispy hash nuggets and tomato relish.
Head To The Movies
It may sound cliche, but rainy days and movies really do go hand in hand. And, with new movies released every month and a variety of theatres to go to, it's a win for everyone come those dreary winter days. If you're looking for the ultimate viewing experience, catch the latest flick at Queen Street's Event Cinemas. Elevate your movie with some wine and a Kapiti cheese plate at the Gold Class theatre or get among the IMAX experience of watching the new blockbuster hit on the biggest screen in Auckland. And if you're not central, never fear—find your local movie house here. For a more alternative affair, check out some of the best independent cinemas in Auckland. Our favourite has to be Academy Cinemas, nestled away beneath the Auckland Public Library. This underground film-junkie oasis has a boutique 16-seat cinema (which is all kinds of intimate) and a full-sized venue. They also offer up craft beer, wine, and specialty cocktails—all the more reason to ditch the library in favour of an independent film. Those on a budget haven't been forgotten because we've also rounded up where to find the cheapest movie tickets in Auckland, so you can save some coin to spend on what's important—the snacks.
Go Ten-Pin Bowling
A perfect way to spend a rainy day in Auckland is ten pin bowling. Pop on a pair of those ever-so flattering shoes and get ready to have some fun. It doesn't matter if you still use the ramp or insist on having the sides up, we're not here to judge. There are a few venues across Auckland that will allow you to show off your skills. If you're keen to head into the CBD, then Metrolanes is the place to be. Here, you'll find coloured neons to remind you of your childhood with plenty of food options such as roast pork belly pizza, dumplings and a range of cocktails to wash it all down with. Or, make a beeline for Newmarket's ten-pin bowling on York St. Hidden up a few flights of stairs, you'll find a not-so-flashy bowling alley, but it's still loads of fun. There are arcade games and even a number of pool tables for a round when you've shown off your strike skills.
Devour Delicious Food At A Restaurant
A rainy day is a perfect excuse for a foodie adventure around Auckland. Start it off with brunch at one of Auckland's best cafes. Our pick for a dreary rainy morning goes to Orphans Kitchen, nestled away in a narrow Victorian villa along Ponsonby Road. With sheepskin rugs on the chairs and a rustic, seasonal food menu, it has a relaxed, unpretentious vibe and will serve you one of the best crumpet dishes in Auckland. Make your next stop Parnell and sip on some of Auckland's best hot chocolates. Chocolate Boutique Café serves up a thick, indulgent Italian Denso topped with whipped cream and chocolate curls. For something more extravagant, hit up Crunch Tower Desserts and Drinks and try their decadent hot chocolate wrapped in cotton candy. When dinner rolls around, it only makes sense to opt for a delectable, cosy dish to devour. Luckily we've rounded up all the warming meals you need to eat this winter. Whether you're in the mood for classic Italian pizza, flavourful Indian or gooey mac 'n' cheese—we've got you covered. Don't go past a hot bowl of fish and pork bone broth, juicy cuts of pork belly and a generous handful of noodles at Ramen Lab in Takapuna. Our pick for a rainy day warmer goes to the Japanese gyokai shoyu ramen, starring slices of tender pork soaked in a rich broth and garnished with a soft boiled egg. Once your belly is full of noodles, top it off with a tipple at one of Auckland's best bars with fireplaces. We love Hotel De Brett's House Bar, a cosy establishment tucked away off the eclectic High Street. This art deco bar boasts an inviting gas fireplace and extensive cocktail list, best paired with one of their cheese boards.
Hit Up The Shops And Boutiques
Seize the rainy day and stock up on the latest trends from Auckland's boutiques. If thrifting is your vibe, opt for rummaging through the racks of Auckland's best vintage stores. Our top pick goes to Jetsetbohemian, a vintage clothing store curated by wanderluster Kirsten Tweedie. Her nomadic lifestyle is reflected in the collection, with a mix of both European and High Street brands, including hand-picked vintage pieces. Should you be after the latest sneaker drops, hit up Auckland's best streetwear shops. When it comes to urban apparel and skatewear, Loaded on High Street is your place. We're talking hats, t-shirts, hoodies, sneakers—the lot, for both men and woman. Refuel at their in-house coffee bar and peruse brands like I Love Ugly and Vans to the sound of a live DJ. Once you've got the wardrobe down, don't go past Auckland's best local designers and boutiques. Offering up handmade homewares, unique artworks and crafted goods, spend an afternoon discovering Kiwi talent on your doorstep.
Challenge Your Mates To A Board Game
Whether it's a humble game of Connect Four or a legendary match of Settlers Of Catan, board games are built for rainy days. Better yet, Auckland is home to some quirky eateries that are all about fun and games. Cakes 'n' Ladders is Auckland's only café dedicated to playing board and card games. It's exactly the kind of place you could spend all day aiming for that triple word score and devouring a slice of cake. Here you'll find one heck of a selection—there are a whopping 365 games to choose from. Alternatively try Dice & Fork, the city's first board game bar found at Victoria Park Market. Their collection boasts more than 140 games to choose from and is best accompanied by a craft brew and a selection of mouth-watering sharing plates.
Image Credit: Jaiden Bhaga, Atomic Coffee Roasters, Big Little Lies, Auckland Art Gallery, Hotel De Brett