There's been a serious proliferation in Perth's ramen offering of late and we are far from unhappy about it. The latest newbie on the scene is IPPUDO, a laid-back, fast-paced ramen joint sitting pretty in Kings Square with a line out the front that snakes around the corner. Take it from us: the food is worth the wait.
Walking in, you immediately feel like you've left Perth and entered a cheerful eatery somewhere in Japan, and that's not least because of the chorused 'Irrasshaimase!' coming from the floor, behind the bar and even the kitchen. The brand has its roots firmly set in Japan, opening their first outpost in Fukuoka back in 1985 and instigating the popularity of Tonkotsu (pork broth) ramen throughout the country! Their foray into the Perth dining scene is complete with beautiful sake bottles lining suspended shelves right around the bar, long timber tables covered in steaming bowls of broth and a large window down one side of the eatery that fully exposes the kitchen. The lights are bright, staff buzz around you and clientele hoe into their soups, but the place still feels casual and relaxed.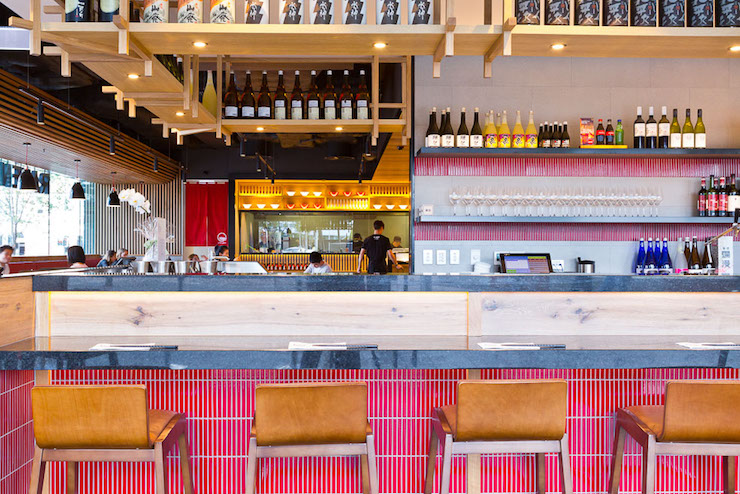 Onto the menu: you will have trouble deciding what to eat. You might be going for the ramen, but the pages and pages of delicious-looking sides and signature dishes will inevitably be distracting. While lightly pickled cucumber in garlic sesame oil might seem incompatible as an entrée to ramen, it's not—trust us. Kick things off with a serve of said cucumber, but don't eat it all at once: it's a great palate refresher to come back to as the meal goes on.
For a twist on your favourite starter dish (guac, obvs), try their Ebi Guacamole. It's a wasabi prawn avocado dip, with tomatoes and takuan (pickle daikon radish) tossed through, eaten up with delicious gyoza tortilla chips! But you'll struggle to stop there.
The Gyu Sagari Yaki is a great share dish: this is tender slithers of Angus beef in a delicious ponzu sauce, topped with crispy friend enoki! Ippudo also do freshly steamed chicken and pork buns that make for a great pre-ramen snack, and the Yam Fries are an absolute must-order—there's nowhere else in Perth doing something like them and they are now seriously holding court on our list of favourite chippies in Perth. They're served with a delicious soy mayo as dipping sauce—we recommend asking for three of these because you'll be absolutely bathing your fries in it!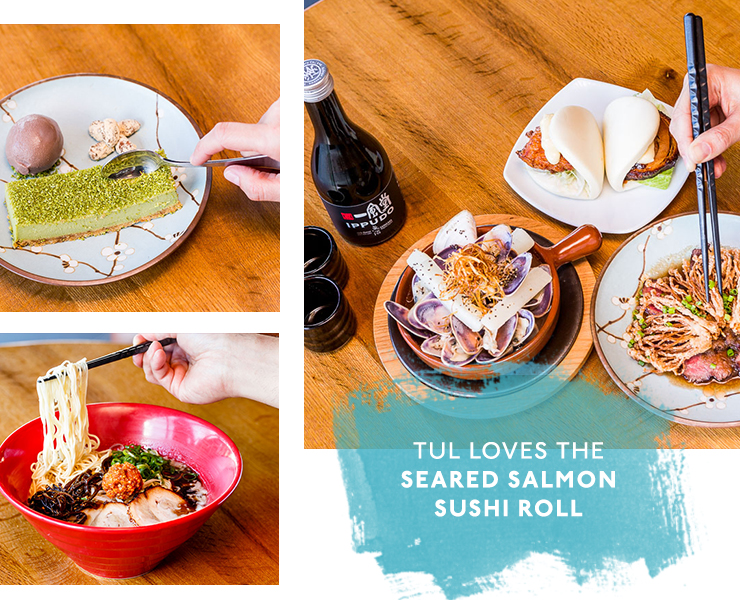 Now, no matter what you're here to eat, you absolutely cannot leave without ordering the seared salmon sushi roll. Seriously, wow. These things are the toasted marshmallow of the sushi world: creamy, melt in your mouth salmon, wrapped around rice that's so finely cooked you forget it's there, topped with spicy cod roe mayonnaise and lightly seared. You get a serve of five big pieces for just $15, but a word of warning: you will become addicted.
Finally, onto the ramen. There are three styles to choose from; we think the traditional recipe is the way to go (especially given you can add extras), but there are two spicier and richer options for those who want something different (think garlic oil or spicy minced pork miso additions).
The original pork broth is perfectly textured, creamy and seriously heart-warming, and comes with thin noodles cooked to a density of your choice, pork loin, bean sprouts, black fungus and spring onion, plus a perfectly cooked, flavoured egg if you want it—we think it completes the dish, so don't order without it. The glorious option to double your noodles exists, too! Turn it up a notch with a dash of their table chilli oil and some sesame seeds, and slurp away until your heart's content.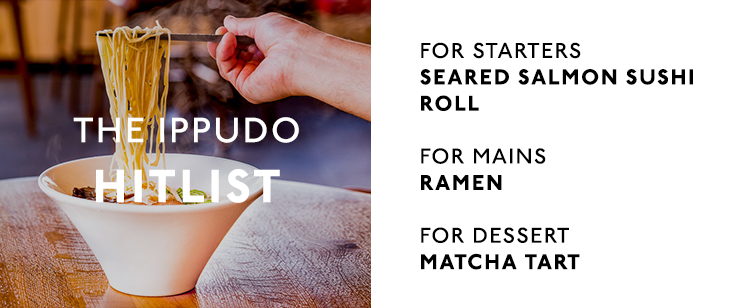 You may think you don't have room left for dessert at this point, but find some, because theirs are delicious. The matcha tart is insanely good: earthy but sweet, creamy and crunchy! It comes with a dollop of coconut chocolate ice cream that sets the whole thing off. Otherwise, grab the sesame panna cotta, which is so soft and refreshing you could almost have it for breakfast. It's topped with caramelised strawberries, blueberries, sesame seeds and crushed peanuts—yum.
Now roll home, dream about your food, and come back for more at the earliest opportunity.

Image credit: Emma Bryant