If you hadn't noticed yet, Perth is the gift that keeps on giving. We've been spoiled with event after event this summer and the fun's definitely not disappearing with the sunshine in 2018.
Joondalup Festival is back in its 20th year! From Friday 23 March to Sunday 25 March, the City of Joondalup will be overflowing with incredible art installations, cabaret, eats for days and plenty of music for all to enjoy. Can we get a hell yeah?
It's all happening at Central Park in the Joondalup City Centre, so clear some space in your calendar, call your friends and get out of the house this autumn.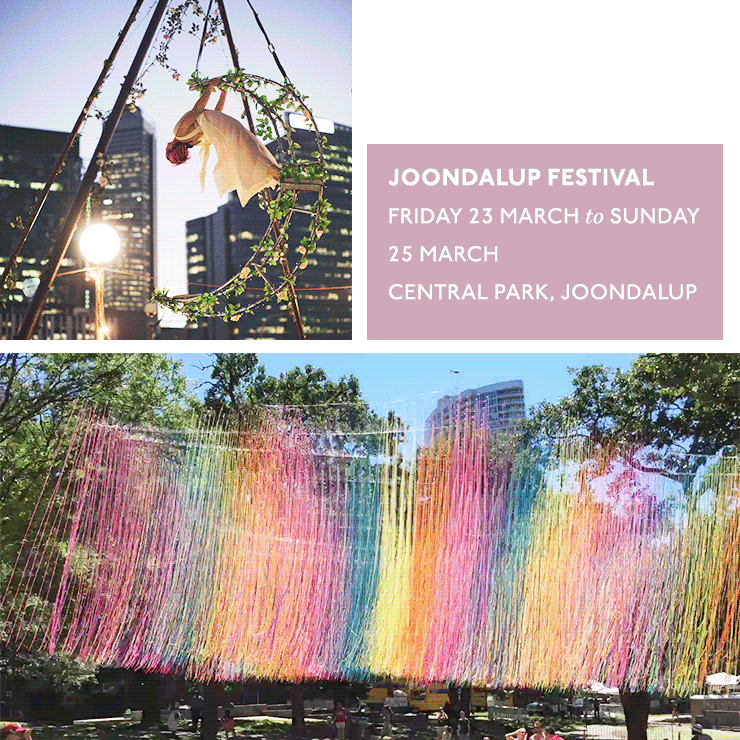 Festival Highlights
HOT TEA Art Installation
Emmy Award-winning artist, Eric Rieger (AKA Hot Tea) is bringing his rainbow yarn to Perth to create a large-scale custom installation at this year's Joondalup Festival. Fresh from his stint in Minneapolis where he created a work of art that featured at this year's Super Bowl, his phenomenal explosion of colourful wool is set to take over Central Park and will no doubt put a smile on your dial, not to mention make your Instagram feed look legit. While he's in town, Eric will also be hosting a series of exclusive workshops, get in quick to book one of those!
Kate and Pasi
If you want to see girl power played out on stage, do not miss Kate and Pasi, a show where a 50-kilogram woman takes on a 100-kilogram man (and we're pretty sure she's going to dominate). If you're imagining weight-lifting competitions and wrestling, you'll be quite surprised and enamoured in the way Kate and Pasi battle it out on stage.
Inflection
Steel raindrops are the best way to describe Inflection, an installation by architect and sculptural artist Sean van der Poel. But they're more than that! Each metal dome has been crafted with what Sean calls "musical tongues" laser cut along the surface which resonate sound as you make contact with them. Forget the piano, we want to learn how to play one of these beauties!
Twilight Lantern Parade
Always a crowd pleaser, the Twilight Lantern Parade is back for the sixth time and this year it's celebrating sustainability and the effects of urbanisation on Lake Joondalup by telling the Water Story. Over 1,000 performers will storm the streets on the Saturday night at 6.30pm with illuminated lanterns and puppets in tow. It'll be worth keeping the kiddos up late for this one.
Kif Kif Sisters
If you've got a serious case of the post-Fringe blues, then you're going to want to get to see the Kif Kif Sisters. These identical twins have travelled the world over with their new vaudeville and physical comedy act. Audience involvement is non-negotiable—you've been warned.
ONE TRiBE Finale
To cap off the festival on a high ONE TRiBE will be taking to the stage to wow you in an immersive Aboriginal experience featuring song and dance. The finale will include projections, a traditional smoking ceremony, pyrotechnics and plenty of audience involvement (read: chanting).

Eats and Drinks
It wouldn't be a festival without delicious food and food trucks. Be sure to bring some cash and scope out what's on offer in the Dining Precinct and the Market Place.
Other Entertainment
There'll be local acts playing across three locations across the weekend including Arthur Kings, Alex Turner and Nadene Elly. There's also fun circus and cabaret acts to catch in the Parlour and Kazador spiegeltents, as well as street performers. You'll be sad you can't see and do everything!
Image credit: Supplied
Editor's note: this article was produced in partnership with Joondalup Festival 2018, presented by the City of Joondalup. For more information on our editorial policy please click here.