An oldie but a goodie, Middle Eastern restaurant Meeka in Subiaco should be right at the top of any foodie's bucket list. Standing strong for around 10 years now, the recent addition of the wood-fired oven and the new Turkish pide on the menu, as well as the return of the Turkish delight doughnuts was more than enough to get us down for a recent dinner.
The menu is a glorious combination of Turkish, Lebanese, Israeli and Moroccan dishes, which means amazing spices, loads of fresh herbs, slow cooked meats and, of course, hummus. It's basically impossible to narrow the choices down, so you should probably just get the chef's surprise menu. It's $60 and can be served to as few as two people, so you'd be foolish not to. If you're not going to take our advice and do the chef's menu, you'd better gather alllll of your friends because the servings are ha-uge. And trust us when we say you're going to want to order it all!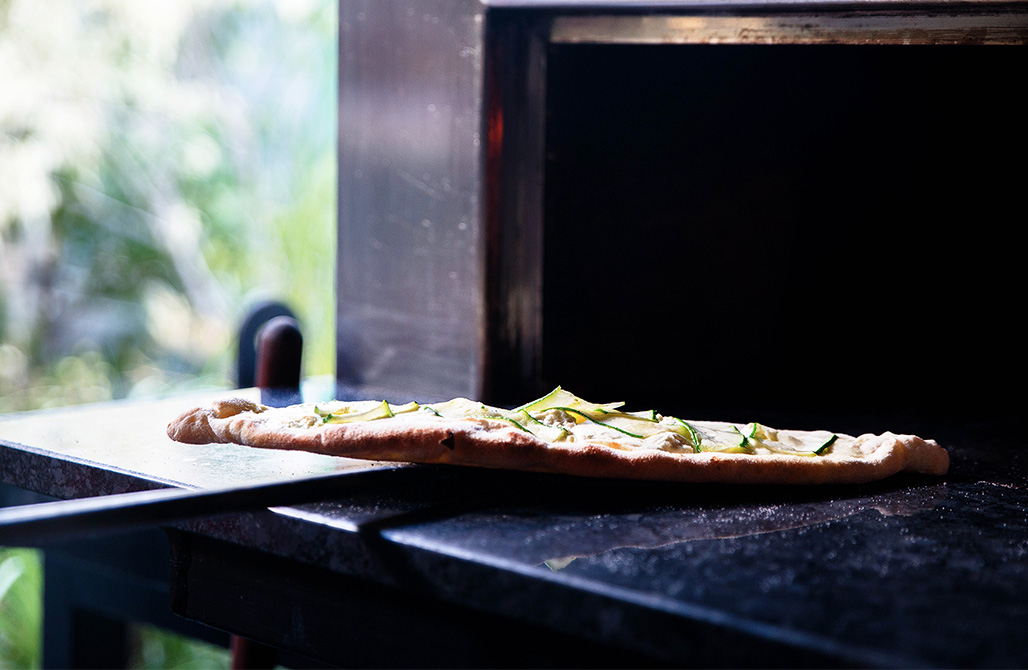 Before anything else, we devoured the hummus, because hummus is life. Obviously. Meeka's version of our favourite dip is everything you could ever want it to be—and more. Topped with coriander seeds and honey roasted pumpkin, it's smooth and creamy with just the right amount of garlic and is the perfect accompaniment to the house made bread.
But more than the hummus, you can't go to Meeka without getting the Baharat fried cauliflower—it's one of the tastiest cauliflower dishes in all of Perth, if not Australia! Fried to crunchy perfection and spiced just right, the candied almonds and coriander salt are just the cherries on top of this magical dish.
The duck pastries with feta and chilli jam and the charred local octopus with Turkish pepper labneh and spiced corn were also highlights, and the wood-fired beetroot with labneh and dukkah is the only way we want to eat our vegetables from now on.
Next up, we had the chicken and the lamb tajines. Both were incredibly delicious and there's no way we could choose a favourite, so it looks like you'll just have to order both too. But heads up, the tagines are huge and could easily feed two, if not more! The lamb tagine was full of chickpeas, carrot, onions and delicious harissa candied almonds, while the chermoula chicken tagine was slightly fresher with dates, eggplant, olives and preserved lemon yoghurt. Both come with couscous or, for the gluten free among us, quinoa.
Whatever you do, make sure to leave room for the Turkish pide (pronounced pee-day, NOT as though it rhymes with ride). If you haven't had Turkish pide before, it's a bit like a Turkish pizza and Meeka does it damn well. We had the three cheese pide with pine nuts, zucchini, sumac and so.many.herbs. Trust us when we say it was absolute cheesy perfection.
While you wouldn't think we could fit much more in after all that, we are big believers in the dessert stomach and went all out with the dessert tasting plate. This changes on the regular but the combo will always be up on their specials wall (along with the zillion other specials they have each night) so there's no need to go in blind.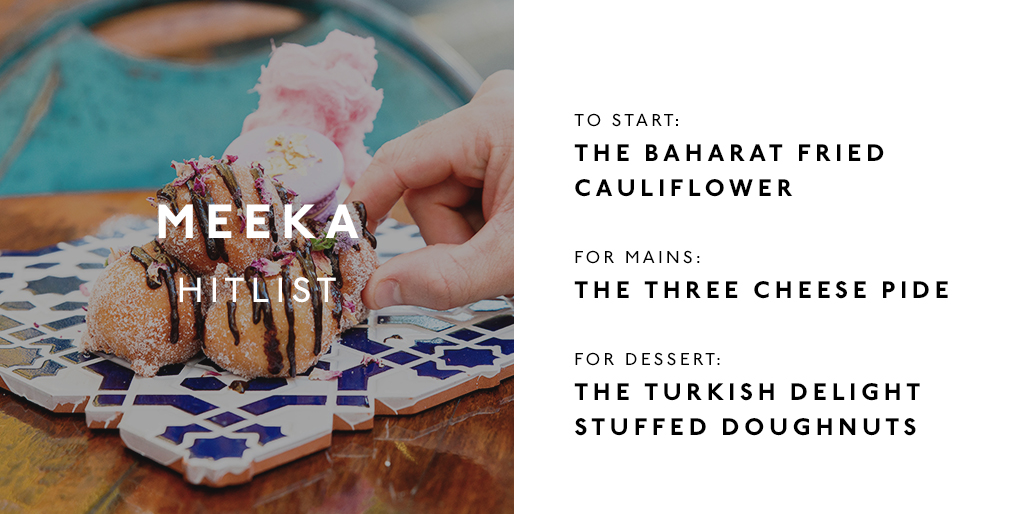 We were lucky enough to get the Turkish delight stuffed doughnuts and they were the best dang doughnuts we've had in years. Yep, we said it. We also had a choc cherry mousse cake which was crazy rich but also very more-ish (if only we had more willpower), pistachio ice cream topped with fairy floss and curd and custard choux buns which were so cute we almost didn't want to eat them…almost.
With all that superb food, we almost forgot to tell you about the wine. The wine list at Meeka is a thing of beauty. Curated by winemakers Navneet Singh and Faye Clarke, it's full of wines from boutique producers from Australia and around the globe, and it's not at all surprising that it's been awarded two glasses in the Australian Wine List of the Year Awards every single year since 2012.
In case it's not clear by now, we'll spell it out for: if you haven't been to Meeka recently, you're going to want to get there immediately if not sooner!
Image credit: Nancy Hanna