Over the past few years, Perth's health and wellness scene has taken off and we are loving it! From the juice cleanse companies to the healthy cafes, from the wellness warriors to the hip yoga studios sprouting up all over town, Perth has got it going on.
To celebrate all of Perth's health magic, we've created a cool little health and wellness series which will allow you to gain insight into the lives of some of Perth's healthiest cool cats. They'll share their tips and tricks and a whole lot of inspiration to help you live the healthiest life ever. Yesss!
This week, we met Bree Kirk-Burnnand, who runs the fun fitness group Happy Healthy Hoops. A lover of exercise that doesn't feel like exercise, Bree holds the Guinness World Record for the most hula hoops spun at one time (a whopping 181 hoops). She is super passionate about sharing her love of hooping with the world. We took ten with Bree to talk about her business, her top health tips and where she likes to grab a coffee in Perth.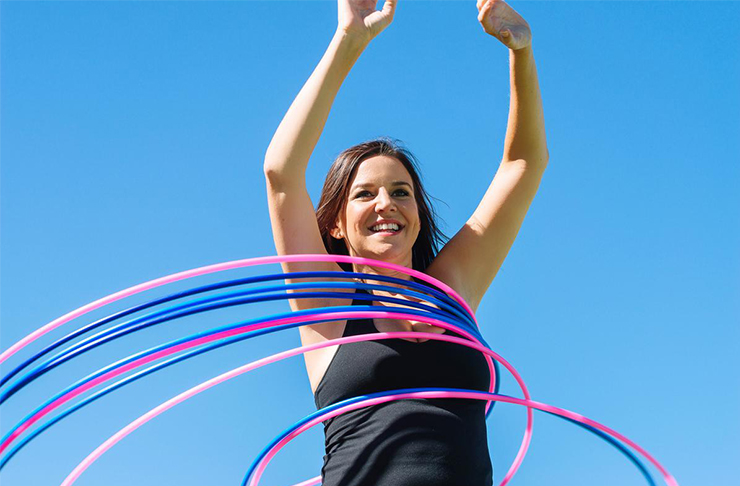 HEY BREE, TELL US A BIT ABOUT YOURSELF!
I was 29 and working as an accountant in London when I watched my first hula hoop performance at a circus. I was completely mesmerised, but it was only when I was looking for fun fitness classes a couple of months later that I realised you could hoop for fitness. One class and I was addicted. I ordered a hoop that night and from there it was hours of fun. I used to have coffee dates with friends in the park and we would all hoop while we drank our coffee, I took my hoop to work so I could practice in my lunch break—I was obsessed. Teaching came naturally to me and I wanted people to hoop with so I took every opportunity to teach my friends.
WHAT SPURRED YOU ON TO START YOUR BUSINESS?
I started hooping because it was fun, I didn't see it as much more than that, but five months after starting I stepped on the scales and realised I had lost 5kg. I was astonished because if anything, I was eating more than normal. I just thought, there are so many girls out there like me that don't want to go to the gym who could really benefit from hooping.
HAVE YOU ALWAYS BEEN FIT AND HEALTHY?
NO! I certainly have not. I'd always had a serious aversion to fitness. Being a really uncoordinated kid I hated team sports, I was always the worst and the last one to be picked for teams.
As an adult I was that girl who got a gym membership in January, went every day for two weeks and then you never saw her again. I was lazy and I didn't want to do anything that was boring or painful. My diet was okay but it had to be because I wasn't doing anything else.
WHAT'S A REGULAR DAY LOOK LIKE?
Every day is different for me. I've normally got classes to teach but it varies so much. I could be teaching HoopFit or HoopDance to a group of kids, a seniors group or doing corporate team building.
I also spend a bit of time at Spacecubed, I get a lot of my administration work done there and it's full of other entrepreneurs so I have loads of people to bounce my crazy ideas off and I love listening to what they are creating.
BEST PART OF YOUR JOB?
The squealing or the "look look"! It's those moments when my students nail an exercise/trick and they can't contain their excitement. I know they feel like kids again and that's really nice to be able to bring such a feeling of joy to so many people.
IF YOU WEREN'T DOING THIS, WHAT WOULD YOU BE DOING?
I really hope I would be working on another start up. I love business and working from Spacecubed has really inspired me. I love seeing people taking risks and following their passion.
FAVOURITE FORM OF EXERCISE?
Hooping of course! But I'm also addicted to seeing what I can combine hooping with. So far I've managed to combine hooping with yoga, Pilates, stand-up paddle boarding and roller-skating.
YOUR TOP HEALTH TIP?
Find something fun. Health isn't just about burning calories or dieting, it's about being happy and having a balanced life. If you can laugh while you are exercising you are on the right track.
BEST PLACE TO GET A HEALTHY TREAT IN PERTH?
Health Freak Cafe in Scarborough. I love taking my treats down to the beach and enjoying the view.
WHAT'S NEXT ON THE HORIZON FOR YOU?
We have recently won Optus Big Ups so I'm currently working with the creative team at Optus to develop an amazing advertising campaign. This will really help the business grow and we are looking to set up Teacher Training so that other like minded people can teach HoopFit and our other programs.

FAVE LOCAL PERTH SPOTS...
FOR A DRINK
El Grotto and Scarborough Beach Bar.
FOR BREAKFAST
Little Sisto and Voyage Kitchen.
FOR A COFFEE
Milktooth Coffee Dealers when I'm working in the city and BOHO Espresso when I'm working from home.
FOR DINNER
At the moment I'm a big fan of La Cholita, I could eat their guacamole for days.
Want to know the best places to get healthy in Perth? Search Health in The Directory!
Image Credit: Nancy Hanna