When a neighbourhood icon like Cottesloe cafe The Other Side gets a new owner and announces a revamp, regulars wait with bated breath to see whether their morning coffee spot will still fit the bill. But when the pair who brought us Daisies Cottesloe took the reigns at The Other Side, we knew there'd be no need for concern. And we were right!
The 'new' Other Side is the same little coffee joint you know and love, with a few new bells and whistles to enjoy. Like the brand new, gorgeous forest green coffee machine that takes pride of place atop the service bench, for example. Black panelling and powder coated black accents give the small space a bit more definition than you might remember, but the service still comes with a big smile. With fiddle-leaf figs and other greenery scattered about, exposed brick walls and minimalistic ply benches to eat at, the space feels both laid-back and vibrant: an excellent combination when it comes to pleasing the breakfast crowd.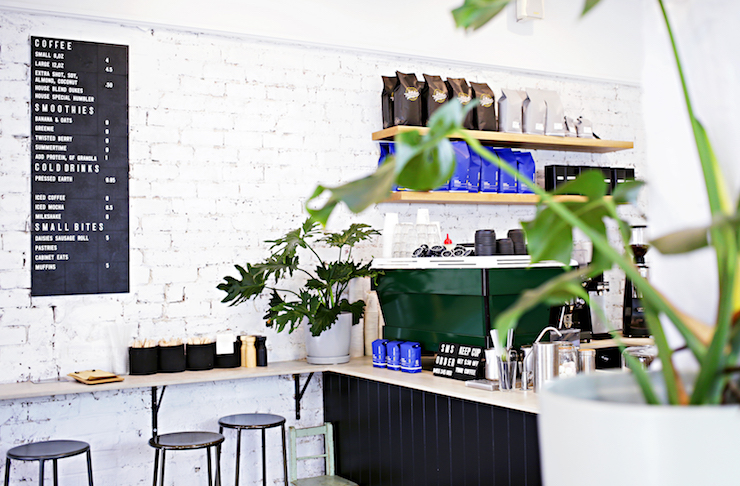 About that; there's a new menu on offer, too. While many of the same favourites can still be enjoyed, the menu's been fleshed out to include a bit more of a serious breakfast offering and we're pretty stoked about it. You can nab yourself anything from pumpkin bread and a smoothie (we recommend the banana and oat) to eggs on toast with a filter coffee!
Not straying far from the classics, their smashed avo is seriously good. Avocado and peas smashed over a crusty piece of Mary Street sourdough, topped with a generous helping of delicious feta, and lime and chilli jam for dousing. The chef, who hails from Cottesloe's Boatshed Market, makes the chilli jam (as well as all the chutneys!) in house according to her very own recipe. For anyone who's ever had the chilli jam from Boatshed, you know this to be a very good thing. By the way, you can grab your avo smashed over a piece of Honest Goods paleo bread if that's more your thing—yum.
Other heroes (and by that we mean aside from the chilli jam) include the brekky burger, which is a nice, compact lil' guy full of egg, bacon, and spinach in a brioche bun, toasted and served with that chutney we mentioned. It's delicious, and while all you'll wanna' do is hang out and eat, the burger will suit all your takeaway needs too. The coconut porridge is delicious: it comes with chunky rhubarb and berry compote, toasted pepitas and shaved coconut, decorated with edible flowers and strawberry! It's a thing of beauty. Speaking of which, their banana split with coconut yoghurt, quinoa praline, blueberries and hazelnut has got to be one of the most Instagram-worthy breakfasts going around.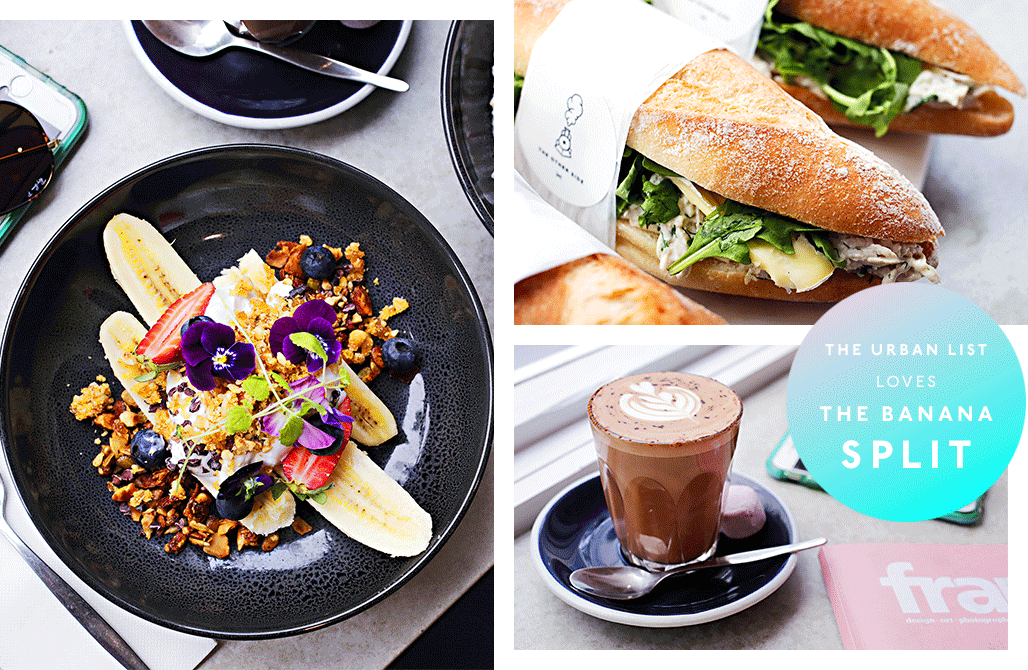 Of course, the place is right by the train station and has been serving corporate commuters well for a while now—and that hasn't changed. In the cabinet you'll find a bunch of quick eats, including all your Daisies favourites: those delicious muffins you know and love, plus sausage rolls, which, if you haven't heard, are a 100% certified breakfast food. Not to mention takeaway birchers and chia puddings, as well as little lunch boxes that you'll be familiar with if you've ever stopped in at Daisies—they're full of goodness.
To top it all off, the owners are pretty darn environmentally friendly. Takeaways are all in biodegradable packaging, smoothies are slurped through metal straws, and we're told that a new composting system is in the works. To be trialled at Daisies first and then rolled out at The Other Side too, all biodegradable waste (including their takeaway coffee cups!) will be turned into compost under a new initiative with Write Solutions Australia and Biopak. The team are aiming for 95% of their waste produced to be composted or recycled in the near future—so you can enjoy your brekky with a clear conscience!
And enjoy it you will. The perfect spot for an easy breakfast and the paper, catching up with friends over a long coffee date or a quick and delicious takeaway, The Other Side is your new, old favourite local.

Image credit: Elle Borgward