If hunting down hidden gems is your idea of a good time then buckle in, we're about to uncover one of Perth's best. With dark, moody vibes that are ideal for date night, Hunter & Barrel in Whitford City is basically a meat lover's paradise. We're talking coal pits, spit rotisseries and slow cooked (you guessed it) meats that are total #foodiegoals.
Complete with leather seats, wine barrels and wooden tables, it's the kind of cosy restaurant you never want to leave. The menu is inspired by the hunter and is full to the brim with comfort food (think farmer's sausages, hunter's pie and mac and cheese with crispy pork belly). Meanwhile, the drinks list offers delicious wine varieties from all over the world.
As soon as we sat down, we ordered a light red and prepared ourselves for the long haul—the smell alone is worth staying all night for. So that we could make the most of the meat, glorious meat, we skipped entrees and went straight for The Hunter's Feast.
WTF is The Hunter's Feast, we hear you ask!? It's a delicious platter of juicy goodness, made up of half beef rump cap skewers, chicken skewers, crispy pork belly AND wagyu sausage, served with thick-cut chips, chopped green salad and grilled flatbread. Oh, and because healthy eating is all about balance, we treated ourselves to potato mash, skillet corn (sautéed with truffle butter!) and seasonal greens, too.
Yes, really. And we ate the entiiiiire thing. Wellllll, kinda. We shared it between two but let's just say the meat sweats weren't far off for either of us. The meat is cooked over the coal rotisserie to add depth of flavour, and boy, oh boy, was each and every single thing bloody tasty—even the seasonal greens!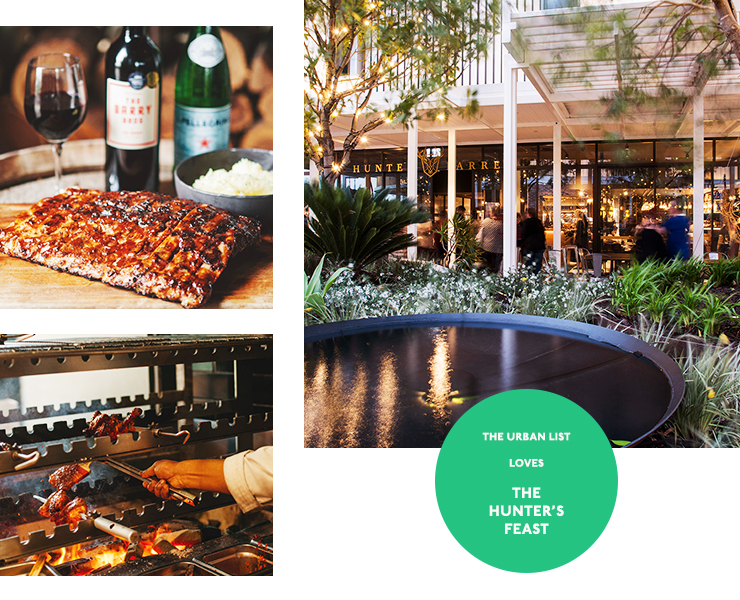 After a break (we seriously needed one), we did what any true sweet tooth would do and ordered dessert. It was a tough choice between the calorific sundae with Fiore di latte ice-cream, waffles, hazelnuts, Nutella, banana, chocolate shavings and whipped cream, or the piping hot skillet pie with Chantilly cream, so we got both. And we strongly suggest you do the same.
Whether you're going to Hunter & Barrel for mid-week date night, or for the sole purpose of feasting, you're in good hands. The perfect place to impress a first date, catch up with mates or take the whole fam, arrive with an empty belly and don't forget your stretchy pants.
Editor's Note: This article was produced in partnership with Seagrass Boutique Hospitality Group and is wholly supported by The Urban List. To read our editorial policy click here.
Image credit: Hunter & Barrel