It's almost Easter and that means one thing: time for an escape down south. Ok, well maybe it means two things. Time for a trip down south AND a fair whack of chocolate.
How many times have you legged it all the way down the coast without a breather, only to arrive with stiff legs and in dire need of a nap? We've done the hard work and come up with three awesome stops along the way to get out of the car, grab some fresh air and some unexpected adventures en route.
None of these are more than a 20-minute detour off the main drag down to Margaret River and its surrounds. Buckle up, don't forget to charge your phone (there are some seriously Instagrammable spots) and get set for a road trip to remember.
Here's your new bucket list of cool ways to break up the next drive southbound. It's all about the journey.
Dolphin Discovery Centre
Bunbury
The first two hours on the road are fine, fuelled with a coffee or two and some pumping tunes. However, hit the urban edges of Bunbury and it's time for a breather and some lunch. Give the Macca's drive through a miss and get out of the car for a sandwich with a side of fresh sea air at the newly opened $12 million Dolphin Discovery Centre. The restaurant and cafe is open from breakfast at 7am until 10.00pm; so you can stop by no matter what time you are passing—coffee or cocktails, eggs bennie or fish and chips. Grabbing a bite is just the entree of this adventure though: there are dolphins to be found.
Make the most of the warmer months and head out for a swim with them in the wild for a once in a lifetime experience, or keep your feet dry and stay in the boat on a Dolphin Eco Cruise. There are over 50 resident dolphins that call the Koombana Bay home and they are not at all shy when it comes to introductions, with a swim success rate of 96%. If you don't have the sea legs for a trip out, you can still see the dolphins on the beach in front of the centre at the Dolphin Interaction Zone, manned by a helpful team of Dolphin Volunteers.
The centre's new state of the art Interpretive Centre is also home to some fantastic aquariums, so you can get up close to the other creatures that are at home in the waters of Koombana Bay. Stingrays, octopus, eels, and plenty of fish are looked after here, as well as the incredibly important Marine Turtle Rescue and Rehabilitation program. These baby turtles are lucky enough to be given a helping hand as they are cared for until big enough to be released to the ocean.
Gnomesville
Dardanup
Quirky, unexpected, and one of a kind, Gnomesville is a village like no other. Founded 21 years ago, the first gnome appeared and since then thousands of gnomes have made their way to call Gnomesville home. With well over 10,000 of the gnomes, it's full of colourful little guys and gals that have journeyed from all over the world to this destination (perhaps with a bit of human help). You can bring your own garden gnome to join in the fun and to enable them to live the ultimate gnome lifestyle. A selfie at this stop is bound to pump up your Instagram feed with likes. Best of all though: it's completely free. Just a short turnoff from Bussell Highway, be sure to duck into the Dardnaup bakery for one of the best meat pies in the state. Be quick though, they are so good they sell out early every day.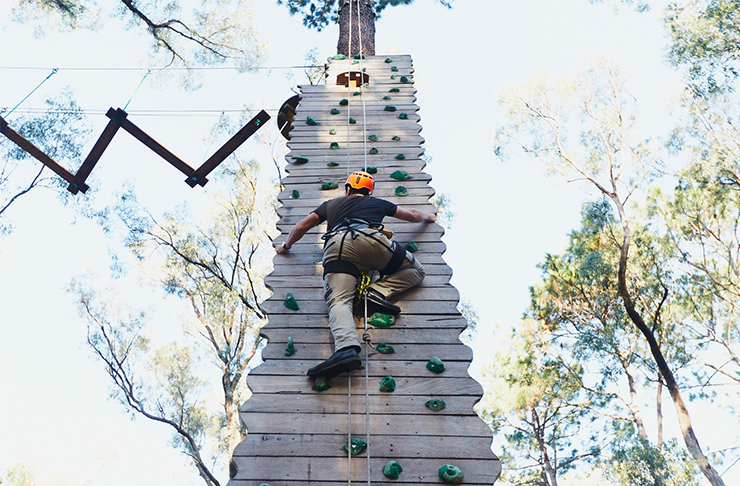 Forest Adventures South West
Busselton
Smack bang between Bunbury and Busselton is an adrenalin-fuelled, caffeine free, pick me up. Forest Adventures South West is set on eight acres of native Tuart Forest. Strap on a harness and get going, as there are 77 activities to get through on six high wire courses among the treetops. Under the expert guidance from the ground staff, you will be conquering your fears in no time, working your way from the beginners course through to the advanced course for those that are ready for a real challenge. 13-metre base jump anyone? Or perhaps you'd prefer to settle in on the 500 metres of flying foxes, a high wire unicycle and ample Tarzan ropes to swing through the trees from. You'll not be needing that long mac to wake you up for the rest of the journey after this pit stop.
Looking for all the new restaurants, cafes and breweries to hit up when you're southbound? Look no further.
Image credit: Caitlin Hicks, Andy Tootell, Gnomesville and Forest Adventures