It is amazing how one minuscule, little fish can divide a room; let alone a dining table. That pesce-tang, with its salty aftertaste, engenders love and hate in equal parts. If you happen to be an anchovy hater, you may be unnerved to hear anchovies make an amazing taste enhancer and, God forbid, you may have unwittingly consumed these tiny sea dwellers.
Talented paper engineer, Benja Harney (Paperform) is an all-round creative, he works both locally and across the globe building intricate sculptures, pop-up books, artworks, and installations—all out of the unassuming A4. In addition to his paper finesse, Benja is a superb chef and a major proponent of the anchovy effect.
We got down to the nitty-anchovy-gritty with Benja . . . he will make you a cooking with anchovies believer!
TUL: Why anchovies? Why do you love them?
Benja: Anchovies are one of those things! You either love them or you hate them. They're kind of like olives in that way. They pack a sophisticated, adult-punch of flavour and once you're hooked, it's hard not to include them into the base of many dishes.
TUL: What inspired you to start using these diminutive pesce?
Benja: A good friend of mine is a culinary talent and he encouraged me to use them more in my cooking. Once rendered down, they add a subtle flavour that is almost hidden. I've found a few anchovies always help to bring a rounded sense of depth to the final concoction.
TUL: When cooking, what dishes do you add anchovies to?
Benja: I kind of sneak them in anywhere I can! If a recipe calls for onions and garlic as a base then in they go! Beef Bourguignon, curries, bolognese, soups - you name it. They are great fresh in a Caesar salad or in scrambled eggs on toast. Sometimes I add one to a salad dressing. I always make pizzas at home. My favourite is my self-concocted 'Green' pizza.
'Green' pizza instructions as follows:
Use a pita bread pizza base.
Smear with pesto and a smidge of tahini, then cover in a smattering of cheese.
Add green olives, heaps of anchovies, chopped parsley and some finely diced Polskie Ogorki pickles.
Yum!
TUL: When and how should we add anchovies to our cooking?
Benja: In general I would say, use sparingly. Two to three is usually more than enough for any dish. Chop them finely and add at the very start of the cooking process so they render down nicely. When you fry them with garlic and onion they just disappear—your anti-anchovy friends will never know!
For your viewing pleasure, please find some of Benja's amazing creations below. Excitingly, Benja has been invited to exhibit his work in Seoul later this year, at the World Pop Up Art Exhibition, to be held at Art Centre IDA.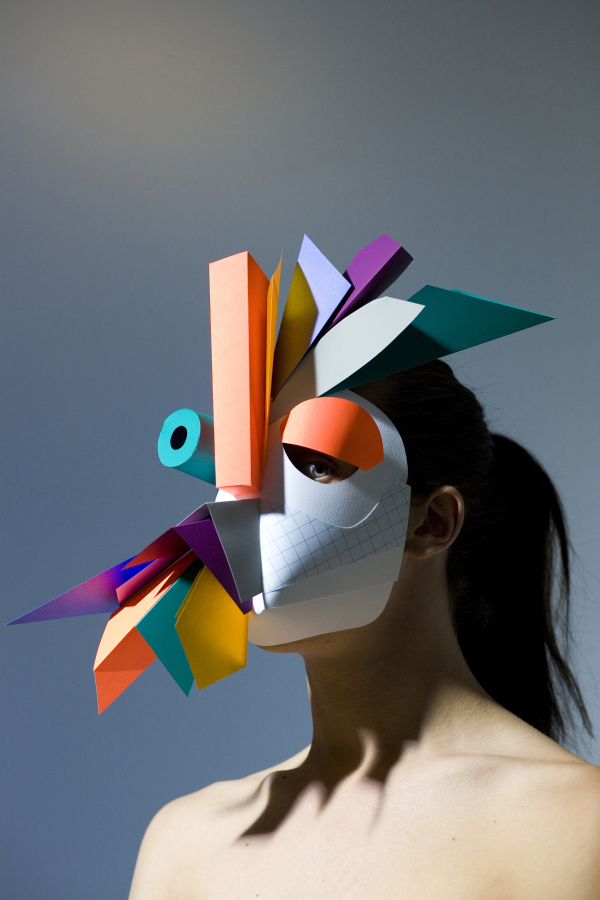 Paper Mask courtesy of Paperform.
Hermès window installation 'wings plus saddle' courtesy of Paperform.
Kylie Minogue pop-up book 'The Goddess Edition' courtesy of Paperform.
Artwork from Benja's 'New Platonic' series courtesy of Paperform.
Top image credit: BBC Good Food